SPAG
The Society for the Promotion of Adventure Games
ISSUE #58

SPAG #58
is copyright (c) 2010 by Jimmy Maher.
Authors of reviews and articles retain the rights to their contributions.
All email addresses are spamblocked -- replace the name of our magazine with the traditional 'at' sign.
IN THIS ISSUE
---
Editorial
IF News
IF at PAX East 2010
:
How Suite it was
by Harry Kaplan
The Storytelling in IF Panel
by Duncan Bowsman
Two Panels at the IF Suite
by Harry Kaplan
A PAX Story
by Robb Sherwin
Revisiting the Phoenix Games:
Phoenix Rises Again
by Adam Atkinson
Crobe

Review
by Marius Müller
Lines and Rectangles: Navigating within a Textual Virtual World
by Jimmy Maher
The Story of JACL
by Stuart Allen
An IF Exhibition
by Fabien Vidal
Jay is Games Casual IF Competition Reviews
Basic Train-ing
The Blueprint
Containment
Couch of Doom
Critical Breach
The Cube
Drama Queen 7: Mother Knows Best
Dual Transform
Escape in the Dark
Escape into Fiction
Fragile Shells
Golden Shadow
Heavenly
Hoosegow
I Expect You to Die
Into the Open Sky
Ka
Lurid Dreams
The Manor at Whitby
Monday, 16:30
An Open Field
Paint
Party Foul
Roofed
Survive
Terminal
The Usher
Virtuality
Zegrothenus
A Zeroeth Dimension
A Survey of the TWIFComp Entries
by Valentine Kopteltsev
Other Game Reviews:
Raising the Flag on Mount Yo Momma
Last Lousy Points:
Working with Beta Testers: Some Guidelines for Authors
by Al
Some Comments on

Love is as Powerful as Death, Jealousy is as Cruel as the Grave
by Michael Whittington
EDITORIAL
---
So, Roger Ebert, hardly most gamers' favorite film credit to begin with, recently inflamed the passions of gamers everywhere yet again by reiterating and reemphasizing a position he first took many years ago:
that games can never be art
. Since SPAG is of course devoted to a form of computer gaming, albeit a definitively non-mainstream one, you are probably expecting me to denounce Ebert at this point, to follow the lead of thousands of bloggers and commenters in pointing out how very wrong he is. The thing is, I'm not really
sure
how wrong he is, even as I also believe -- and I say this entirely with hyperbole -- that interactive narrative is the most exciting
artform
I could imagine being involved with right now. Contradictory, no? Well, maybe, but maybe not.
What I think is the most interesting paragraph in Ebert's essay begins thus: "One obvious difference between art and games is that you can win a game. It has rules, points, objectives, and an outcome." If we accept these attributes as necessary for us to call a game a game, Ebert's position becomes perfectly reasonable, if by no means completely ironclad. While I might profess to find a certain artistry in the elegantly simple yet endlessly challenging rules of
Zug um Zug
, the board game my wife and I have been playing obsessively almost every evening for the last few weeks,
I'm not sure I'd call either the ruleset or any of our individual game sessions art. Ebert makes exactly this point later in his essay, when he falls back on that old standard of non-gamers trying to understand games, chess, as an illustration.
But let's read the rest of the paragraph we just began, because here things start to get really interesting: "[Game zealot] Santiago might cite a immersive game without points or rules, but I would say then it ceases to be a game and becomes a representation of a story, a novel, a play, dance, a film. Those are things you cannot win; you can only experience them." Well, much or most modern IF does not have "points or rules," unless by rules you refer to the rules of simulation from which the storyworld is constructed -- and in that case virtually every activity we engage in has "rules." Nor does it have a winner in the sense that chess or
Zug um Zug
does. Ergo, according to Ebert IF is not a form of game at all, but rather a "representation of a story, a novel, a play, a dance, a film." Absurd, right? Or is it?
Of course, Ebert is still being rather condescending in referring to these artforms which we can no longer call games as mere "representations" of other, better established narrative forms rather than a distinct form of narrative in their own right. But if we can overlook that, he's stumbled upon a pretty interesting idea here, one I've (he humbly notes) have been kicking around for a number of years now.
If you're reading these words, you likely know the conventional story about how videogames, IF included, came to be. The Cliff's Notes version states that people had always played games throughout history, but these games had been somewhat limited in their allowable complexity and ambitions by the fact that they had to be administered by fallible humans. When the computer came around, it made the ideal device to allow us to play complex games easily without fiddling with all those nittygritty rules. Because humans love to contextualize things in terms of narrative, many designers inserted stories into their rulesets to provide a motivational framework for play and to add an element of emotional investment to what would otherwise be a mere series of challenges of skill and/or reflexes.
But let's try a different history on for size. Let's begin not with humanity's love for games, but rather its love for stories. Certainly we can see a trend in certain kinds of art toward the telling of stories in ever deeper and more immersive ways. A few hundred years ago the novel came along, introducing the interior monologue; as time went on, novels were written in ever more immediate ways, with more quoted dialog and more realistic and frank depictions of their characters and their characters' actions. Some novelists tried to go further, introducing the stream of consciousness as a literary device to literally (hah!) put the reader inside the heads of a character without the premeditated intervention of even a first person narrator. Others tried to involve their readers more in the story by presenting them with a puzzle they could attempt to solve before the novel's protagonist; these came to be called mystery novels. Around the same time, film appeared, a whole new, arguably still more immersive (or at least effortless) way to connect with a storyworld. Where to go from there? What if we could simulate a storyworld and let our "reader" actually enact a role there, let her literally become a part of the story? Well, that's exactly what we began to do in the second half of the last century, to some extent first in ever more simulation-oriented board games, then in tabletop role-playing games, and finally (and definitively) with the arrival of the personal computer and works like
Adventure
and
Ultima
.
Works
like
Adventure
and
Ultima
, for in this history narrative-driven "videogames" are not games at all, but rather the latest manifestation of this trend of telling stories in ever more immersive ways. Of course, this history may very well be as simplified and ultimately unsatisfactory as the traditional one, but it does highlight something that I believe has caused a lot of confusion when discussing videogames: the very term "game" has become hopelessly overloaded in our culture, made to apply to too many disparate things. Certainly, IF is not really a "game" in the way that Ebert thinks of a game in the dim light of his limited experience. In fact, I think that IF has more in common with the literary than the ludic tradition. I therefore thought about introducing in this little editorial some lengthy, unfamiliar word to replace the term "game" with in this context (ideally of obscure Latin or, even better, Greek extraction so as to score the maximum Pretension Points), but I decided I am unlikely to change people's habit of referring to works of IF and so many other sorts of interactive narrative as games -- and indeed, I am incapable of breaking even myself of the habit, as I've learned again several times over when I've tried to do just that.
Of course, Ebert is no epistemological genius for having stumbled across this confusion. Indeed, it's a point of confusion he remains blissfully unaware of, since he doesn't know enough about narrative-driven "games" (told you I couldn't help myself) to understand how they work or, I think, entirely understand that they exist at all. And much of the essay is vastly less interesting than the bits I've just highlighted, as when Ebert claims that games cannot be art because no games have been created that are on the level of great art produced in other mediums, a logical fallacy that would have horrified Aristotle. I agree wholeheartedly that no work of interactive narrative can hold a candle to Proust, or even a film both Ebert and I love like
Before Sunrise
for that matter, but I think it has more to do with the adolescent stage of interactive narrative and, more regrettably, many who experiment with it than it does with intrinsic limitations of the form itself. Interactive narrative is not even my personal favorite artform as a consumer; print literature, film, and music have all given me more rewards and enjoyment over the years. It
is
, though, the most exciting, because it's young, still evolving, and so full of imagined possibilities that may or may not be realized -- rapidly, or at all.
But I still like old Roger Ebert a lot, and have nothing but respect for the way he has handled his health problems and just kept on working, and for the obvious and overwhelming passion he has for the great art of film. We all have our blind spots, after all. I'll continue to read Ebert's movie reviews, but I'll continue to come to people like those who contribute to SPAG and the other institutions of IF to learn where
that
artform is going next. Speaking of which.. have you noticed how bursting this issue is? Pretty exciting, huh? So, on with the show!
Back to Table of Contents
IF NEWS
---
The Gothic in Contemporary Interactive Fictions
One Van Leavenworth was recently awarded his PhD by Umeå University in Sweden. The subject of his dissertation was, interestingly, IF, and it features deep readings of several works of modern IF. You can download the PDF and read it (yes, it's in English) at the link that follows.
http://urn.kb.se/resolve?urn=urn:nbn:se:umu:diva-30353
Post-Comp Comp Results
As mentioned last issue, Sarah Morayati recently hosted a contest to give authors who entered last year's Comp an opportunity to revise and submit their entries for another round of judging. Eric Eve's
Snowquest
won first place as most improved, and
The Believable Adventures of an Invisible Man
by Hannes Schueller took second. Congratulations and props go to all who entered for taking the time to polish their entries one last time. Schueller's game in particular went from a deeply flawed, confused entry to an enjoyable, playable little satirical puzzler. Check it out if you haven't already.
http://selfasfractal.blogspot.com/search/label/interactive fiction
IntroComp 2010
Jacqueline Lott will be hosting another IntroComp this year. Introcomp gives authors a place to submit introductions to proposed larger works to get some early feedback and decide if the idea is worth pursuing to its conclusion. You need to send your intent to enter to Jacqueline by May 31, and your "finished" introduction by June 30.
http://groups.google.com/group/rec.arts.int-fiction/browse_thread/thread/b3256a9681aed640#
@party IF Competition
@party, a demoparty that will take place in Harvard, Massachusetts, on June 18 through 20, 2010, will be hosting an IF competition for very short (circa 30 minutes) games as part of the festivities. You don't have to attend the event live to enter a game. Don't know what a demoparty is? Well, go to their website and be enlightened.
http://www.atparty-demoscene.net/
Works of Fiction
JB, author of such French IF games as the multimedia epic
Ekphrasis
, has just released his first work of IF in English.
http://ginko968.free.fr/jeux/wof.htm
Grand Prix 2010
This contest for works of IF in German was revived this year after a four-year hiatus. Have a look if you can read German for seven very interesting entries. Congratulations to Michael Baltes for winning with his game
Ares
. Perhaps this heralds a welcome uptick in activity in the German IF community.
http://textfire.de/comp/index.htm
Local IF Groups
A small group of IF enthusiasts who call themselves the People's Republic of Interactive Fiction have been meeting -- previously informally, but now in a somewhat more organized way -- in the Boston area. Prompted by their example and perhaps by the excitement of face to face contact at PAX East, there are now also groups formed or in some stage of formation in Chicago, San Francisco, and Seattle. Check out their entries on the IF Wiki to learn more about them -- and if these groups aren't accessible to you, you could always ask around to see if there is sufficient interest to form your own in your hometown. Anyone for Aalborg, Denmark? Well, maybe that's a long shot...
http://www.ifwiki.org/index.php/People's_Republic_of_Interactive_Fiction
Play

Adventure

over the Phone
Call 610-332-7236 from the US, or sixtendearben from anywhere over Skype, to play
Adventure
via voice recognition and sound, courtesy of Richard Rutenberg. I'm not certain how practical it is to seriously play this way, but this is certainly a very neat little hack to try out.
http://www.610dearben.com/
Back to Table of Contents
IF at PAX East
---
Many members of the IF community came together last March at Boston's Penny Arcade Expo East videogaming convention. The gathering marked the most significant gathering of IF authors and technicians ever, with several generations present, from Don Woods, coauthor of the original
Adventure
, to a good selection of the Infocom implementors, to longtime post-commercial IF auteurs, to new rising stars. It also hosted a special preview cut of Jason Scott's long in the works documentary film on IF,
Get Lamp
, the full edition of which should come out at last sometime this year. I'm very excited to commemorate the event with several articles describing what it was like from people who were there. Special thanks also to Ben Collins-Sussman, for providing the wonderful pictures that accompany these articles.
---
How Suite It Was
by Harry Kaplan (harryandmary SP@G hmkaplan.com)
Assembled by Harry Kaplan from contributions by Sam Kabo Ashwell, Jon Blask, Stephen Granade, Juhana Leinonen, Jacqueline A. Lott, Iain Merrick, Sarah Morayati, Paul O'Brian, Andrew Plotkin, Aaron Reed, and Jack Welch
Interactive Fiction held its head up high and proudly late March at PAX East 2010, a major (as in over 60,000 attendees) gaming expo held over a weekend in Boston, MA. According to my best-efforts research, what quickly became known as the IF Summit was our first presence at a major gathering of gamers since commercial IF gave way to graphic adventures in the early 1990s. I choose the word "our" in the preceding sentence quite deliberately. The blogs, posts, and emails passed on to me by this article's many co-authors drive home nothing so clearly and consistently as the intensity of the connections IF attendees made with each other – hard as it may be to believe – in the flesh.
Andrew Plotkin, for instance, recalls:
… buckets of people talking about IF, in clusters and groups. Hoo boy. Newcomers, oldtimers, mudders, newsgroup people who aren't mudders, people from other IF forums -- just lots of talk. I've had more in-person talk about IF and interactivity than I usually do in two months -- and that's two months including Boston IF meetings.
And where were these buckets of people talking? Andrew had reserved Room 2305 in the Back Bay Hilton, a short hop across the street from PAX East itself, dubbing that space "The People's Republic of Interactive Fiction Hospitality Suite" or IF Suite for short. (And let all members of the People's Republic know that without Andrew's commitment and tireless co-ordination during the month prior to PAX East, the IF Suite would have been nothing but a gee-wouldn't-it-have-been-great-if.) Mike Hilborn, Jason McIntosh, Doug Orleans, and Kevin Jackson-Mead assisted Andrew in room setup. Jack Welch shared his first impressions in a familiar format:
Walking in, there's a closet on the right (closed) and the door to (presumably) a bathroom to the left (open a crack). The room itself was roughly square, with a large bed against one wall. On the other side of the room was all of the hotel furniture. My survey at this point was less than scientific because I wanted to take in everything at once. Out the windows, I could see the Charles River, and on the far side, the MIT dome. On a far table, I could see a bunch of books, and recognized Second Person and Twisty Little Passages from their cover designs. In front of the flat screen TV, an aluminum bowl with M&Ms (sans peanuts), and behind them, a larger bowl with potato chips. Nearer to the front door, some kind of fixed-in-place supporter with all sorts of goodies to look at, including some vaguely d6-like purple cubes.
That "fixed-in-place supporter" also had useful giveaways directed at IF beginners we hoped would find us, including a flyer of planned events; an attractive postcard-size IF cheatsheet, created by the collaborative design team of Andrew, Lea Albaugh, and Rob Wheeler; and a starter CD full of playable IF supplied by Robb Sherwin. Jason Scott, the indefatigable GET LAMP! filmmaker, had also been kind enough to supply several computers for IF play.
Jack wrote his room description early Friday, prior to the firing of the PAX East starting gun, and it may not sound like much. But just add people, and, as Paul O'Brian wrote:
At any given moment, there were usually two or three conversations going -- newbies connecting with veterans, different subsections of the community interconnecting, people getting acquainted who had never really met before. People talked about IF, and also about their lives, what was happening at the conference, and what was for dinner that night.
… holy cow, this room was packed the entire weekend! There was something really special about this locus of passion and force about IF. I loved talking to people who were new to the scene. I loved talking to people who had become community celebrities in the time I've been out of the loop. I loved talking to people I've known for years from the other side of a screen. I loved being in that room.
This cattle –car snapshot wouldn't be complete without Sarah Morayati's accurate observation:
There were a lot more women than I was expecting, both at the main convention and in the suite! This makes me happy. Perhaps now the media can stop treating us as some kind of niche demographic needing to be pandered to with cutesy extrusions of pink.
And Juhana Leinonen's pat on the back:
While it was a pleasure in itself to meet people with whom you could actually talk about IF and have a meaningful conversation, I want to make it known that the IF crowd is the nicest and most amicable people I have ever met. Usually in any group there's at least one douche in a dozen, but I guess they all stayed home this time.
Just who were all these folks on a weekend-long IF group high? The attendees, numbering somewhere between forty and fifty, are individually named on the IFWiki's PAX East 2010 page, but I'll let Iain Merrick size up the crowd:
We got a really energetic mix of fans, hobbyists, academics, historians, central figures from the glory days of commercial IF in the 80s, and even Don Woods who co-created the entire medium. Many old friends I hadn't seen in years, many people I'd heard of but never met, many people I'd never heard of but hope to meet again. Definitely the most interesting bunch of people I've ever seen gathered in a single room.
As well as Don Woods, who seemed to find the IF Suite a congenial hangout and even attended the IF outreach panel held there, Steve Meretzky dropped by on Friday night following the formal PAX East GET LAMP! panel discussion. Academia was represented by MIT's Nick Montfort. Nick had lent the IF Suite a selection of academic literature for display, and also apparently ran a bit of an after-hours salon at his apartment. On Sunday, as PAX East proper was breaking up, Jacqueline Lott…
was contacted by Mr. Montfort to invite the whole crowd back to Cambridge for drinks and cheeses and stuff. I passed along that message, and when the appointed time came we all headed off to Montfort's.
The get together was good. A bit less formal (if that were possible) than what had been happening in the suite, more stories swapped, more impressions of the historic weekend that was now drawing to a close. Eventually I seized upon the opportunity to start up a game of Werewolf... though I'd been playing the game for years on ifMUD, I'd never played one in meatspace before. Good times, even if I'm a crappy moderator and Duncan Bowsman is always a wolf.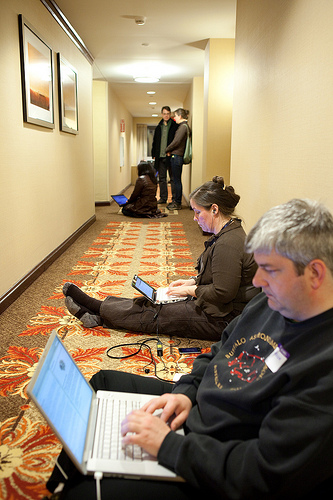 The formal (or, in the case of the two panels held in the IF Suite itself, formal-informal) PAX East IF events are covered elsewhere in this issue of SPAG. However, no history of the weekend would be complete without a nod to the Speed-IF competition organized by David Cornelson and running in parallel with everything else that was popping on Saturday. If you've ever hankered to write an IF that married the Irish Potato Famine to spellcasting, this was positively the Speed-IF for you. Again, the reliably observant Jack Welch:
Sometime after lunch and caffeine, the Speed-IF started, with Dave Cornelson rustling up participants and everyone in the room calling out themes to incorporate into the games. After getting their assignments, writers broke off singly or in small groups. Some stayed in 2305, but there was still a lot of ongoing discussion there, so most went out into the hall, into the overflow room, or otherwise paced the halls of the hotel trying to find inspiration.
Actually, at this point, Ben [Collins-Sussman] and I went down to the coffee bar in the lobby and pitched ideas back and forth for an hour or so (pouring ourselves a hot steaming cup of daily hotel wifi access in the process). When we returned, we found a comfy place in the hallway near an electrical outlet and started coding. While I was working on the mechanical framework of the story and adding some of the objects in from our brainstorm session, Ben was setting up a mercurial repository for the project.
We had parked ourselves at a strategic location (although, not out of strategic ambitions -- we just wanted to see what was going on). Down the hall from us, spaced about evenly with electrical outlets, were other writers: Jacqueline Lott was there for a while, I think Sarah Morayati was further down, and I recall Jenni Polodna being there for a while. For the most part, we all pounded on our keyboards, with occasional conversation.
After submission, the games were played by small groups, a novelty which Jack said "had some of the flavor of the more traditional table top RPG, where people sit around a table and call out their actions." The weekend following PAX East, these games were the focus of Jacqueline Lott's weekly Club Floyd. Should you have missed that electronic get-together, it's not too late – you can find links to all the games, currently hosted on David Cornelson's Textfyre site, on the IFWiki PAX East 2010 page.
My own memory of the pre-PAX planning done via both the IFWiki and a group email barrage is that a tremendous amount of thought was given to materials for and handling of eager IF beginners within the Suite. However, my memory of the event itself is that we did not see a huge number of such individuals there. Polling others, I found several different takes. Closest to my own perception was Sam Kabo Ashwell:
For what it's worth, I didn't really expect the IF Suite to be very much about outreach in itself; I thought it was more about better connections and more energy within the existing (and heavily fragmented) IF community, a role it fulfilled well beyond expectations. Any outreach that _did_ happen is awesome, but I think hoping for a great big outreach blitz is trying to run before we can walk, to horribly mangle my metaphors.
Aaron Reed was somewhat more upbeat on this topic:
There were at least two people I knew of in the IF suite who were new to the whole thing and came up because they heard about it at the event. We also attracted Jared (the "Action Castle!" guy) who knew classic IF but not modern IF, and I think there were a few other people in that category. Certainly the majority of people were the IF in-crowd, but I don't think the outreach attempt was entirely unsuccessful.
Jack Welch, to whom I will clearly owe the lion's share of the vast royalties I'm being paid for this article, made an extremely thoughtful response:
Regarding your specific questions about "recruitment", I don't think we lured a large number up to the room, but I know that some materials were distributed. I think we made major strides, though, in "soft sell". Just by virtue of having had the movie event and panels within PAX, we exposed thousands to the genre. I n many cases, these people would already have known something about IF, but we supplied a reminder.
Most of the people who have come to IF have gotten interested for some reason and then gradually explored their way into the community. I think this will be true in the future as well. We've planted some seeds, and given some hints of where to look for more information. People who are inclined to investigate will find their way in, and it will likely be a gradual process as they acclimatize to the existing ecosystem.
So much for the beginners; what about the veterans? There isn't even room to quote from everyone who maintained that, as IF authors, they'd been pretty seriously galvanized. Jon Blask:
For us older people, many of whom are not as excited as we were when we found IF on the internet 10+ years ago, it was a great reminder that there are still new frontiers to be discovered in IF and that more progress and innovation are still ahead of us. I know of at least three IF authors who haven't written anything in years that have either already started coding something new or intend to, and I'm sure there are several more.
Stephen Granade:
My main takeaway is that I need in-person IF events on a more regular basis. I've come back with a head stuffed full of ideas and new directions. I got a chance to be loud and passionate about IF in a way that I haven't done in years.
I've been letting certain things in my life de facto define who I am and what I do. Being at PAX helped me also think about what I enjoy doing and what I want as my legacy. IF falls in both of those categories.
The most – all right, I'll say it – touching reminiscences came from Paul O'Brian and Aaron Reed. :
Paul:
Back when I was active in the interactive fiction community, and also going to conferences for work, I used to daydream about an IF conference where we'd have bunches of key people from the past and present, panels about various aspects of the form, face time with all these people I just knew as words on a screen, etc. Today said: "I'll see your dream, and raise you an IF movie!"
Aaron:
It was constantly weird and wonderful to discover and remember who the people in the suite were, and all of the ways they'd touched my life. I mean, here's vaporware, who's answered probably hundreds of technical questions about Inform on the newsgroup, half of them from me; and oh wow, that shy girl in the corner is Sarah Morayati who wrote Broken Legs? And suddenly I remember that, crap, Andrew Plotkin didn't just make Glulx, he wrote Shade, and Hunter in Darkness, and A Change in the Weather, and Spider and Web, and like half my favorite IF games.
And even after getting home I kept having new moments of mental connections: if I'd remembered Jacqueline Lott wrote The Fire Tower I would have thanked her for it, and oh yeah, Jenni Polodna wrote one of my favorite reviews of Blue Lacuna, filled with laudations and smackdowns that both felt deserved. It's a wonderful feeling to know everyone in a room full of strangers.
And Jacqueline Lott gets the last word:
I'm hoping we make this a somewhat regular habit.
Back to Table of Contents
The Storytelling in IF Panel
by Duncan Bowsman (bowsmand SP@G gmail.com)
---
Andrew "Zarf" Plotkin, Robb Sherwin, Emily Short, and Aaron Reed met in Boston the first day of PAX East to discuss "Storytelling in Interactive Fiction" in a panel moderated by J. Robinson Wheeler. None of them had expected the event would be so well-received that they would have to start turning people away (one enforcer even tried to turn Zarf away!). The successful panel took aim at several concepts including the player/PC disconnect, NPCs, puzzles, competitions, and exploration in interactive fiction.
Emily Short brought up the topic of the player/PC disconnect in her opening manifesto, citing its possibilities as a potent narrative tool. Compelling IF examples included Violet and Rameses. Robb Sherwin talked at length about one narrative strategy in using this disconnect as a tool: hooking the player in with a PC in a sympathetic situation, but then gradually revealing the repugnance of the PC's personality to the player.
Mr. Wheeler then steered the discussion toward the topic of NPCs. Emily had given a talk earlier at GDC about how converation trees lend a very static presentation of PC/NPC relationships without the sort of give and take of real conversations. She argued that a move away from conversation trees as a way of creating a more give-and-take model of conversation with more expressive NPCs could result in deeper, more dynamic emotional involvements with NPCs on the part of the player. The panel cited her game Alabaster as a good example of an experiment in that field, in which gameplay is largely controlled through conversation. Short noted that Alabaster tracks more variables than usual in conversation.
Zarf mentioned that IF currently tends to use NPCs well as background in the gameworld, but that for better interaction a game should model NPC reactions at a high narrative level. Aaron Reed reinforced his opinion, through example of Blue Lacuna, that a player's narrative choices should be impactful not only on a story's ending, but on all of its parts. Mr. Sherwin provided an anecdote about an NPC in one of his own games who had engaging dialog, but failed to do much other than stand around during a firefight scene. In his next game, he says, he plans to fix that by making NPCs that aren't the player's friend, so there's no way they'd help.
The moderator suggested puzzles as a method of pacing narrative; it turns out Mr. Plotkin had a lot to say about the issue. Namely, Zarf discussed in-depth the way in which the traditionally formalized notion of "puzzles" in IF has broken down with wider playing-- for example, examining an object to get its description and figure out how to use it could be considered a puzzle on the same level as a maze. Both have solutions that motivated by the plot and advance the plot in some way at their completion. Aaron Reed indicated that puzzles had changed a lot since original adventure games, where solutions tended to be of the "use X on Y" variety. The IF community strives to write less "reading the author's mind" puzzles that make designers feel clever and stultify players-- play between the author and player should tend to be more cooperative rather than designers trying to defeat the player. Emily Short cited Make It Good as an effective example of a game in which the "puzzles" were more about the protagonist and a good story than about being puzzles for puzzles' sake.
The panel also talked about competitions in the interactive fiction community, spurred by J. Robinson Wheeler's talk of Centipede and the IF Arcade comp. Zarf gave a shout-out to Jay is Games for running their recently quite successful comp, while Aaron Reed mused that IF is perhaps the polar opposite of an archetypal casual game. The hardcore casual audience then came up as a counter to that accusation, along with mention that Zarf was busy getting IF to work on the iPad. Plotkin then wondered why commercial games didn't involve more text; Mr. Reed suggested that, however short-sighted, voice-acting had supposedly destroyed the need in the view of major developers.
The panel entered its final subject before the Q&A, exploration, when Emily went into the subject of narrative variability and cultural understanding in the gameworld as a product of choice in her game Floatpoint. She mentioned the development of a quest log, to which Robb Sherwin responded that if a modern player has to write things on paper, the game in question has failed. Emily contended that commercial games may be better at creating, for example, maps, but Aaron countered that non-violent exploration is something IF does considerably better than other games. He offered 1893 as an example, further stating that his favorite parts of a recent commercial title, Half-Life 2, were the parts in the beginning which also involved non-violent exploration of the game world. He would have played a game that consisted only of that. Emily cautioned that while letting the player do things at their own pace was admirable, a designer must still let the player know how to make advancements that bear narrative significance.
Back to Table of Contents

Two Panels at the IF Suite -- by Harry Kaplan (harryandmary SP@G hmkaplan.com)

---
(or, Who Needs a Three-Theater Convention Center?)

"IF Outreach" and "No Hints Please: Adaptive Difficulty Strategies," the two panel discussions staged in the IF Suite during the PAX East weekend, each played to a full and receptive room. Clearly the IF community could teach PAX East a thing or two about planning, as no attendees had to line up an hour prior to either, nor was anyone denied entry into the IF Suite for fear of fire code violations.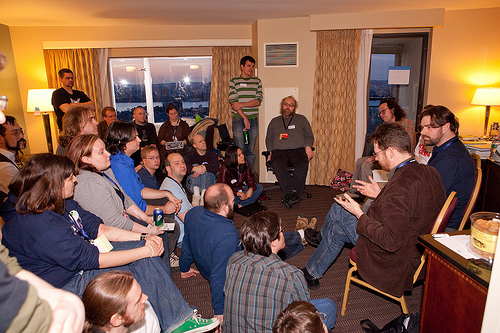 Saturday evening's "IF Outreach" panel was moderated by me and populated by John Bardinelli, Chris Dahlen, Jason McIntosh, and Andrew Plotkin. John frequently reviews IF at the casual games portal Jay Is Games, the recent sponsor of a room-escape IF competition; Chris writes on many forms of popular culture and serves as Managing Editor for the gaming magazine Kill Screen; Jason has authored IF and comments regularly on every visible form of game on his blog The Gameshelf; and, if you don't know who Andrew is, what are you doing reading SPAG?
Outreach is such a large umbrella topic that any number of its elements could have served as the focus of their own panels. The moderator imposed some order on the proceedings by introducing four deliberately broad generalizations and asking for comment. Discussion, which included relevant audience contributions, never flagged, but could fairly be described as all over the map. Those with sufficient interest can view a video of the two-hour give-and-take on The Gameshelf, courtesy of Jason and his cinematographer Jake Eakle. In addition, anyone who wants to continue the discussion is encouraged to consult the IF Outreach page in the IFWiki and to join its email distribution list.
Below are some of highlights of the evening:
Gamers as potential IF aficionados

Although "casual gamers" are unlikely to spend more than half an hour with a game and are adamant about playing in a web browser environment, John felt they were a particularly good target audience for what he termed "small form IF." Precisely because they do not regard gaming as a primary hobby, they are not bonded to any particular game genre and so very open to unfamiliar rulesets. Remembering what attracted him to Infocom games in his youth, Chris felt that the exploration of environment and the ability to interact with the story world, two features central to IF, were a natural fit for RPGers and fans of alternate reality games. He believed that the popularity of the recent RPG Dragon Age was due not to its system of strategy and tactics, but to the dramatic effect of the players' choices on the evolution of the story and its world.
Both Andrew and Jason took umbrage at the word "gamers." Andrew felt that its use "prejudiced the question" and preferred to frame the problem in terms of expanding the horizons of those who enjoy fictions in more familiar presentations, be they books or games. Jason felt that "gamers" automatically implied hardcore hobbyists and preferred the phrase "game players," wanting, like Andrew, to consider a more generalized target audience.
IF's reputedly difficult learning curve

Jason pointed out that in the 1980s, typing in text was the only way to communicate with a computer and therefore did not perplex any game player. Today, however, new players of IF need it brought home that they are expected to type. For PAX East, Andrew and Lea Albaugh had created a handy postcard-size IF-for-Beginners guide (now available at the website of the People's Republic of Interactive Fiction) listing on one side virtually all the commands necessary to kick off an IF. Andrew and others also believe that the ability to play any IF in a web browser will open up the form to those unwilling to deal with installation and use of separate interpreter software.
While the IF parser, with its acknowledged limitations, has often been scapegoated – John reported that the Jay Is Games crowd sometimes complains that "the parser is dumb" – no one seemed to feel that giving the parser a PhD education was the right way to proceed. In fact, Emily Short maintained that incorporating true Natural Language Processing technology could have very negative effects on IF. A middle-way approach suggested by David Cornelson was to use testing transcripts for a given game to identify common player inputs not recognized by the parser, and then to expand the parser's vocabulary accordingly prior to release.

Taking IF commercial

This topic provoked real controversy, with a number of post-PAX blogs indicating an active hostility to the notion that making money could possibly be more helpful to IF than harmful. The moderator hereby takes blame for this antagonism, having failed to frame the issue not as a money-making gambit but as a strategy to reach an audience of significant size for whom IF might otherwise remain invisible. Chris, very familiar with commercial rollouts, suspected that selling IF as a form per se, either to individuals or to publishers, was probably not the way to go. He felt that a better route would be via individual games that would provide outstanding, unique experiences and expose players to one of IF's strongest suits – the "voice" that gets inside the player's head and stays there. Andrew agreed that some people might never be enticed into IF simply because it was an unusual form, but, once having discovered it through a positive encounter, might then feel motivated to explore it.

IF outside of the gaming setting

David Cornelson shared his lessons learned considering the institutional hurdles IF would have to overcome to be embraced on a large scale by school systems. Nonetheless, he still sees IF as a good and educationally valuable fit for young people because of its potential to teach logical thinking, whether that be done in school or on educationally-oriented websites. Paul O'Brian suggested crafting small IF episodes around, say, American history to accompany traditional textbooks. And by making reading itself more participatory, IF might make the very activity of reading more exciting.
On another note, Andrew mentioned that he had long had the idea of reaching out to science fiction sites by posting very short sci-fi IFs on a regular basis, perhaps every two weeks. Jason pointed out that regular serialization of material is done very successfully all over the Internet, and John felt that the regulars at Jay Is Games might really go for serialized IF, especially because of the community feel that can be created by "everybody swimming downstream together."
Finally, Jacqueline Lott brought up the tantalizing possibility of IF on e-readers like the Kindle. Granted, there are technical interactivity issues, but the devices do have keyboards, and people buy them because they are enthusiastic about reading…
[If you will forgive just one instance of editorial intrusion: Last year my game
The King of Shreds and Patches
was featured on the biggest of the Lovecraft reading / tabletop RPG gaming sites,
Yog-Sothoth.com
. I received more downloads and enthusiastic email feedback from that exposure than I did after the game's initial in-community announcement or after Emily Short kind writeup on the independent gaming review site
Play This Thing!.
This suggests to me that there indeed be considerable potential in "marketing" IF games that work within an existing literary genre to readers with an interest in that genre. --JM]
No Hints Please!

Sunday afternoon's panel, "No Hits Please: Adaptive Difficulty Strategies," was moderated by Jim Monroe and included Aaron Reed and Dave Gilbert. Jim is a champion of independent media with not only IF but also novels, graphic novels, and films to his credit; Aaron, currently pursuing an MFA in Digital Arts and New Media at UCSC, tackled the panel's topic head-on in his 2009 novel-length IF Blue Lacuna; and Dave morphed from a hobbyist game designer into a full-time professional when he founded Wadjet Eye Games, developing thee graphical adventure Emerald City Confidential for a casual games publisher in 2009.
In contrast to Saturday's panel, this discussion was highly focused, built around a specific and well-defined design issue. Nonetheless, an unintended connection between the two panels was noted, as setting an appropriate level of difficulty and introducing hints smoothly (even with near-invisibility) can crucially affect a new IF player's enjoyment. The first twenty (highly worthwhile) minutes of this panel can be viewed on The Gameshelf, the rest unfortunately lost to the discharge of the video camera's battery. Debate will no doubt continue in IF newsgroups and blogs, and by example within future IF implementations.
Dave had encountered unexpected frustrations in trying to create a graphical adventure suitable for casual gamers. Initial testing showed him that he had wildly underestimated the degree to which his target audience had to be led through puzzle solutions, or, for that matter, needed their puzzle goals made crystal-clear. Having come of age with older text and graphical adventurers, he hadn't anticipated that gaming conventions second-nature to him would be baffling to his target audience. Also, casual gaming's norm of a free first-hour demo – the try-it-before-you-buy-it approach – had created implications not only for pacing but also for the degree to which the game must "welcome" the player.
As IF authors, Jim and Aaron agreed on the importation of sensing and easing confusion in new players right from the get-go, the challenge being not to dumb down the game for veterans. Aaron was pleased with Blue Lacuna's ability to extrapolate play style and level from the details of player behavior (e.g., newbies tend to miss non-obvious puzzles and don't think to type "inventory"), though he didn't feel he'd solved the problem of how the game should pitch itself to different audiences. Jim was intrigued with the approach of integrating extra information into the game-world for unskilled players, without drawing attention to the enrichment. The inside-out version of that same strategy would be to turn off default notification features ("Here is your next quest! Start by going to such-and-such location!) for experienced players.
Everyone agreed that IF would be well-served if hints did not live out-of-world but were a seamless part of the game experience. As Jim put it, "Don't think if players get stuck but rather when players get stuck."
Back to Table of Contents



A PAX Story

by Robb Sherwin (robb.sherwin SP@G gmail.com)

---
"There's a certain weird glory about devoting yourself to a project to the point of stupidity, losing sight of the rest of your life. This plays into the mythos of the solitary artist. But that's not a sustainable approach, and it doesn't guarantee great art[.]" --
Emily Short
In January of 2010 I realized PAX East was coming up. I had been working on the same text game for almost four years. I felt I could finish it and make some hard copies to sell at the show. Jason Scott invited me to spend time with him at a vendor table. Releasing during a con, that's some rock star stuff right there. It would take some extra work and long nights, but I felt I could do it. I felt I could go into crunch mode again. The PAX show was the end of March, after all. It was only three months.
People sell their indie games for many different reasons, but speaking only for myself, having physical media at the end of a text game project is important. Creating IF is an activity crazed loners could easily adopt. I've tried to incorporate a social aspect by involving my friends to "act" as game characters, but that's just a few hours over the lifetime of a project. Since the process is so solitary, I want something tangible at the end. I like having a slipcase on the bookcase. I enjoy the idea of a hard copy of an indie game.
And so you know where I am coming from, I don't know that I'd like my job to be "making Interactive Fiction." I can't say that's my endgame. I mean, it's never come up, so that's like saying that I don't know if I'd accept the offer to pitch for the Blue Jays. But let's say it does - we're not all moving to Rockville, South Dakota to make them. It would involve working from home and I think I'd eventually become odd.
But there was one aspect I never considered before, and I got an education at the tables - the skills it takes to write and program a game have nothing to do with the skills it takes to promote and sell that game. I guess I knew it intellectually, but it would be demonstrated quite clearly before the weekend is over.
The vendor tables at PAX were on the second floor of the show. You had to pass them to get to the cacophony of sound and flashing lights that was the purely new-game halls of PAX East. It was easy to forget, between all the IF stuff and talks, that there was an actual gaming convention going on, and companies were showing off games like
Civilization 5
and that
GTA
game where your car is a horse.
Jason wasn't just selling copies of the
BBS Documentary
- also available was Jason Shiga's interactive comic
Meanwhile
, Nick Montfort's book
Twisty Little Passages
, and the book Nick wrote with Ian Bogost about the Atari VCS called
Racing the Beam
. There was a printed copy of a lengthy palindrome, and some hard copies of
Fallacy of Dawn
that I made for the show.
I was seated next to Jason and MC Frontalot on Saturday and Sunday. I was shocked as to just how much energy it takes to do what they, and many other vendors do. They are "on" constantly. They are shaking hands, signing autographs, hearing the same questions over and over again, hearing totally NEW questions that require their tired synapses to fire... all while trying to make some money. Personally, I felt much more at ease talking up the other items for sale at the table than my discs. My enthusiasm was genuine and I thought the stuff available made for fascinating reads at reasonable prices. There's something that just seems wrong about trying explain why a person ought to by my stuff, especially when there's other things at the table that I've bought and enjoyed. I understand that this feeling is missing from the great majority of people who have sold things since capitalism was invented on Adam Smith's ship once the limes ran low, but if selling directly to the public is ever something you're romantically considering and you
don't
possess it, you're going to feel weird.
Jason, however, was ready to instantly converse at length about any of them. His enthusiasm was infectious - at one point, when Nick was by the table, I found myself unable to remember to tell him that the section on
Pitfall!
in
Racing the Beam
was the best analysis and breakdown of an old video game I've ever read, because it was hard-coded in me to talk about certain sections of the book that were totally spoiler-free, and I was too exhausted to deviate from the mental script. Ten minutes after Nick left, it struck me that, Christ, I'd been meaning to write him about Pitfall! for months now. What happened?
People came up to the table in an almost continual flow. I remember trying to make sure that I didn't blow it with each new interaction, because you have a new opportunity to piss that person off or make them feel small or lose track of them or do one of a dozen other things to seem like a jerk. Eventually you're going to be in a situation where you've been talking to one person for waaaaay too much time, and a very patient and very interested party is behind you. It's a balancing act. (I did think it was a bit easier for Frontalot, as he had people properly queueing at all times, and therefore there was sort of an imparted social knowledge that, hey, ten people are behind me. There was always less of a line at our table, but I think as a result, there was less perception that someone else wanted some facetime.
But yeah, I didn't make my deadline for my work-in-progress. I made hard copies of a game I originally released nine years ago instead. I failed to reach my goal, though I was in what felt like "crunch" for three months, and ended up in an emergency room two days before the show. I went virtually without sleep for a stretch of three days, I was popping piracetam and constantly drinking cups of coffee with sugar, Coffeemate AND the extra ingredient you get when you take your coffee that way: shame.
The abuse came to fruition during the drive home, in a snowstorm in Denver. I left work around six, and felt a jolt of electricity go through me as I started my commute. It happened again an hour later. The storm made the drive take forever, and I steered myself to an ER, freaking out because I thought I was having a heart attack. My phone gives me the exact address (Dying? There's an app for that!) and I find the parking lot. I'm finally about to park... and someone, a released patient or free-frolicking lunatic, has decided to cut across the snow as slowly as possible. For the first time in my life I weigh the pros and cons of running someone over. If not for the fact that Grand Theft Auto 4 would be blamed, I don't.
I got an EKG. My heart is fine. They suggested some medicine for something else. They had to draw blood twice over four hours to determine that my heart was okay, and during the wait I remembered
what I had once read from Paul Zimmerman
, a senior writer for
Sports Illustrated
. Dr. Z was once offered $8,500 to write a book about the '77 Denver Broncos during their week before the Super Bowl. The catch was that it had to be written in eight days. He asked New York Times editor Dave Anderson if it was humanly possible. "It's possible," Zimmerman was told, "but if you do it, you'll wind up in the hospital."
You can give everything you have to Interactive Fiction for a lot less money than almost nine grand in Seventies Dollars and it doesn't mean you can sell them in person. The skillsets required are completely different. At one point on Saturday, Jason had to get up from the table, to get more copies of
Meanwhile
. (Jason Shiga kicked everyone's ass at the show.) I worked a register at Electronic Boutique in college, psh, I can handle it. But when he got up to go to his armored van, I was a tiny bit apprehensive of the future queue. I was prepared to tell them that Jason would be back shortly. Until then, well, I ran a BBS. I am elite! I can talk up some copies of the BBS Doc.
Almost nobody visited the table.
One person did, and when I told him I wasn't Jason, he said he'd come back later. If you attended PAX for text reasons, you'll remember that Jason wears a top hat, suit and giant sideburns. He has occasionally worn clothing that seems Steampunky. He is easy to spot from a distance. He's met a lot of people at these sort of things and has his fingers in a lot of pies - take him OUT of the equation, and at the table is some square-headed nobody who runs an unpopular, unpleasant purple gaming forum, makes some text games about shooting people and little else.
Really, this doesn't just apply to text games. If you're going to sell an indie game at a convention like this and you don't already have, say, a Wikipedia entry or decent Internet-Q rating, I think there's going to be a lot of dead time, dead space, dead air. Having a talent for telling tales and being an engaging personality is what's clutch here. I mean, given enough time, I could probably make a movie on an esoteric subject at some point in my life. Like, not a gonzo documentary on
Knight Orc
, but something people would conceivably pay to see. I could maybe make a movie in the future, but I left PAX with absolutely no idea on how I would get people who are basically my peers to stop by a table. Maybe I just spontaneously came upon the reason for booth babes, but still. No, otherwise, idea. Maybe it's just baraka. Maybe I would have had better luck if I had worn a sleeping or minish cap and gone as Mr. Do! or Link. I do know that you can work to exhaustion at your hobby until you lose your girl, your job and maybe your good health, but that line didn't start back up again until Jason returned.
I don't want to conclude by saying it's impossible. It's improbable for
me
. With that in mind, I actually signed some copies of
Fallacy of Dawn
for people who were kind enough to buy it in person, and that still blows my mind. It will be a memory I always treasure. If you get a chance to do that - do that. I gave a copy to Mike Dornbrook, who visited the table and told me some stories about Infocom and the Invisi-clues that I had never heard before. With PAX East such a huge success, I'm looking forward to the events we arrange in the future and with any luck I'll have my work-in-progress ready for the next one. I've switched the way I work so that it's much more sensible, and I don't mean I just substituted downers and quaaludes, but, like, legitimately sensible. If video games can teach us anything, it's that fruits, vegetables and proper sleep are important - why, just look at the aforementioned Mr. Do!.
Back to Table of Contents

Revisiting the Phoenix Games

---
Shortly after
Adventure
took the computing world (such as it was at the time) by storm, a small group of professors and students at a prestigious university decided to try to write their own IF. The experiment was a success, and led to more games as well as the founding of a company to sell them to early personal computer owners. Perhaps you know where I'm going with this...
But guess what? The university in question this time is not MIT, and the company in question is not Infocom. They are rather the University of Cambridge in Great Britain and Topologika respectively. A team consisting principally of Adam Atkinson, David Kinder, and Richard Bos have recently done a wonderful service in making Z-Machine versions of many of these games available, converted from their original source code to be as authentic as possible to the originals that ran on Cambridge's mainframe, Phoenix. Their work is particularly valuable because many of the Phoenix games were never released as Topolika titles, and thus were lost entirely after Phoenix was shut down in 1995. In the first article below, Adam Atkinson tells about the process of recovering and porting the games as well as much more about their history. In the second, Marius Müller tells about his experience in trying one of them as an IF youngster with no memory of playing these games in their old school heyday.
Phoenix Rises Again
by Adam Atkinson (AJFA1) (ghira SP@G mistral.co.uk)
---
Note that as is traditional, Phoenix users will mostly be referred to by their userid when this is known to me.
Cambridge University used to have a mainframe called Phoenix. ADVENT (
Colossal Cave
) and Dungeon (
Zork
) came to it as they did to many others. In about 1978, Jon Thackray (JGT1) and David Seal (DJS6) invented an adventure language and wrote a compiler and player program so that they and others could write more text adventures. They and Jonathan Partington (JRP1) wrote
Acheton
, which seems likely to have been the third mainframe text adventure ever. Because the compiler, documentation and player program were available to all users of the system, other games were written and between 1978 and about 1989 a total of 15 text advenures were written, plus a few other things like an implementation of the
Mystic Wood
boardgame. Phoenix was around until 1995, so a fair number of people will have been exposed to these games in their original form, and since many had commercial releases by Acornsoft for the BBC Micro and/or Toplogika for various platforms, quite a lot of people at least in the UK have encountered some of them on microcomputers. Indeed,
Philospher's Quest
, a commercial release of the Phoenix game
BrandX
by Peter Killworth (PDK1) and Jonathan Mestel (AJM8), was one of the first, and thus for a while one of the most successful, games for the BBC Micro, I am told. (I wanted but could not afford one, and settled for a Dragon 32.)
The language seems now to be referred to as TSAL for "Thackray/Seal Adventure Language" but I don't recall it having a name at the time. (From which other languages did it need to be distinguished, after all? Although actually the language used for Topologika games was different and games needed to be re-written.)
The Phoenix games were available to anyone with an account on Phoenix, which at least from the early 80s onwards was potentially anyone at Cambridge University who wanted one. One Cambridge student who played them enough to mention them in "The Craft of Adventure" and the
Inform Designer's Manual
is Graham Nelson (GAN10), creator of Inform,
Curses
and
Jigsaw
. (Note that Johnny-come-latelies like GAN10 and myself have 5 character userids.)
JRP1 wrote many games, and a few other people wrote 1-2 each. It seems likely that quite a few were on the system by about 1980. Most of the games are treasure hunts in the style of
Colossal Cave
and
Zork
. They contain some features which are now out of fashion (e.g. mazes), and others which appear to offend modern sensibilities. You can die instantly. You can make the game unwinnable and later discover that you need to return to an earlier save. There is usually no "examine" command, and when it does exist it does nothing useful. Some of the later games do have the Infocom "verbose/terse" options, as the author(s) saw them and liked them. The abbreviations "i" for inventory and "l" for look are not recognised. There is no "undo" command. There are inventory limits. There is a two-word parser. It is possible that some people will be interested in these games, or maybe just
Acheton
, only for historical reasons, as the Phoenix games constitute their own separate tradition. Many of them are good games, though. If you try to play them, just accept that puzzle sequencing problems, instant deaths, and maintaining a rich collection of saves are just the way it works.
Acheton
's 162 objects and 403 rooms make it pretty large by any standards. The other surviving games are mostly a lot smaller than this.
Sangraal
, for example, has 99 objects and 169 rooms, and
Murdac
has 46 objects and 74 rooms.
One game with an unusual style is JRP1's
Avon
, which contains items, situations and text from the works of Shakespeare. For example, the description of the starting location is:
You are standing on a flat plain. From here it seems that all the world's a stage, and all the men and women merely players: they have their exits and their entrances to the north, south, east and west.
A knowledge of Shakespeare is not necessary, nor perhaps even useful, in solving this game.
As reported in
SPAG 18
, GAN10 wrote a program to convert the TSAL source code of text adventures from the Phoenix mainframe into Z-Code so that they could be played with any old Z-Code interpreter. This source code was obtained from the authors and from Charles Jardine (CJ10), who had a backup tape of Phoenix, and permission was obtained (by Gunther Schmidl, GAN10 and AJFA1) from the authors and from Topologika to release z-code conversions and the Topologika versions for free. Gunther Schmidl used his own money to get the Topologika games so he could release them. We are gratful to all the authors and to Brian Kerslake of Topologika for agreeing to this. More details of this can be found in rec.games.int-fiction postings from 1999 on
http://groups.google.com/
At the time, conversions of the games
Crobe
,
Sangraal
and
Fyleet
were made available (as they had not had Topolgika releases), but the conversion of
Acheton
(which was the reason the whole exercise started) never quite happened.
In August 2009, Richard Bos wrote a walkthrough of the Topologika version of
Acheton
, and this prompted David Kinder to work on improving GAN10's script from 1999. He wrote to me asking if I was me, and I said I was. Thus the Phoenix Resurrection Project Resurrection Project was born. David Kinder does the programming and all three of us play the games. I still have the yellowed line printer paper from the 80s with my maps and notes on it from when I played (many of) these games first time round, though actually I mostly worked from memory except when getting through mazes, when I used the source code.
It transpired that there was a TSAL instruction implemented incorrectly in the original translator script, so that the version of
Acheton
it produced in 1999 was unwinnable. Richard Bos playtested the version produced by David's update of the script and at the end of February
Acheton
was released at
http://www.ifarchive.org/indexes/if-archiveXphoenixXgamesXzcode.html
Richard and I then started playtesting conversions of other Phoenix games, starting with
Crobe
,
Sangraal
and
Fyleet
since they were known to have been winnable in the earlier release.
Some of the changes made in the current version of the script seem quite minor but make the games much less frustrating to play. For example, the TSAL specs say that the player program truncates all input words to 5 characters, and the original translator script made no attempt to do this. However, since the games were written taking this for granted there were various cases where an object was called, say, "emerald" in the game but was described to the player as "emeralds". Since "emeralds" was not a word known to the game, any attempt to refer to it failed. Similar problems can be found with "pocket", "peridot" and so on. To make the games more faithful to the originals and less annoying, David fixed this.
The original script also asked for missing first or second words but failed to use them, and David fixed that too. (There was a comment in the source about how this needed to be fixed.)
We already knew about the possibility of source code corruption whereby variable names for substitution into strings had been replaced by question marks in some games' source. (More details in 1999 Usenet postings) There were only a few remaining cases of this, easily fixed.
Some messages in the games only look right the if games are being played in a fixed-width font. David special-cased these somehow.
Since I already knew how to solve them I tested
Fyleet
,
Sangraal
,
Crobe
,
Murdac
and
Hamil
and they were all fine. Likewise
Avon
, tested by David. It will be understood that at this point we thought the translator must be perfect. Then it was discovered that both
BrandX
and
Parc
went into infinite loops, and that BrandX didn't tell you about items in containers: we'd rather unwisely started by playing almost exclusively games written by JRP1, and there were language features he never used but other authors did. These problems have been fixed.
The five-letter limit is a part of game play on two occasions that we know about so far: if the game needs you to type a particular word over five letters long to solve a puzzle, it makes you type it as two words. For example, if you say "longshoreman" instead of "longshanks" the game can't tell the difference, so the puzzle requires you to say "long shanks" to solve the puzzle. For the sake of faithfulness to the original we have to leave this alone, but since the 5 letter problem is not a feature of modern IF environments, we've had to document this possibility while being as vague as possible about which games have this sort of scenario. If you play one of these games and it's rejecting your perfectly correct longish one-word answer to a problem, try to split it in two.
One problem that's still in (at least) one of the games is a bit confusing: The language spec seems to say that the original player program would not allow object loops to be formed (e.g. put bag in sack, then put sack in bag) but it's not clear how it did this. We ran into this in
BrandX
where it's possible in our version as it stands to wrap polythene in itself and ruin the game. The Topologika version also breaks if you do this, so it's not clear that this is something that we "need" to fix. If anyone out there can confirm that the original player program really did prevent object loops, we'd be interested to hear how it did it.
Game Recommendations
Of the games we have source code for, only
Parc
,
Xeno
and
Nidus
have yet to be checked by us. (If you really want to try them, see
http://www.ghira.mistral.co.uk/
and download the "file for g4g9".) It's possible that they will contain exciting new problems.
Of the ones released on ifarchive, my own recommendation would be that if you want to try something from the Phoenix collection, play
Crobe
or
Sangraal
if you want a relatively easy Phoenix game, or
Acheton
if you want one of the oldest text adventures around (originally written in c. 1978 though the game as it exists now is an expanded version produced around 1980 or 1981). If you play
Acheton
, your "to do" list within the game will grow and grow for quite a while.
Of the others,
Murdac
and
Hamil
are small and not too hard,
Fyleet
is a bit bigger and somewhat hard, and from what I've seen in the walkthrough Richard Bos wrote,
BrandX
appears to be very hard indeed.
Spycatcher
has a non-fantasy setting (as does the as yet unreleased
Xeno
).
Parc
and
Nidus
have, like most of the others, fantasy settings. Note that in Phoenix games with treasures, it's usual for these to be identifiable by the fact that their descriptions end in exclamation marks.
While playing the games during testing, I've enjoyed
Crobe
,
Sangraal
,
Fyleet
and
Acheton
the most. Some I've not really played, such as
BrandX
and
Spycatcher
.
Fyleet
has some wonderfully awful puns, which are what inspired me to use even worse ones in
Nidus
(the source code for which has unfortunatly not been lost). I also like the wishing well in
Fyleet
, where a treasure can be spent to gain an item or ability which will enable you to get further in the game than you might otherwise be able to. Clearly, you can restore from saves and use different wishes each time to explore the game further each time. Eventually you need to decide if a wish is needed at all, and if so which one, of course. (This reminds me a little of the enhancer spell in
Enchanter
).
I like the begining area in
Crobe
a lot, but since there is a review of
Crobe
elsewhere in this issue of SPAG
, I will say no more about it.
My recollection, possibly incorrect, is that
Sangraal
was written especially for beginners. When it was originally released on Phoenix, JRP1 gave advance notice of this and said that the first ten people to finish the game would have their names added to a blackboard in the game containing "the names of previous Adventurers of note". Obviously, I slept during the day, got up just before the game's release, and played it until I finished it. It's almost certain that other people finished it with less total playing time than I did. But I'm first on the blackboard, and that's what matters, isn't it?
The games which I seem to recall had the reputation for greatest difficulty on Phoenix were
Quondam
by Rod Underwood (RU10), which has been lost, and
Xeno
by AJM8 which exists but has not yet been released since we've not verified that it can be completed yet. (I, at least, preferred to start with games I knew how to solve.)
There are three games we do not currently have the source code for. These are
Hezarin
(possibly even larger than Acheton), Quondam and Xerb. It seems that there may be some chance of recovering
Hezarin
since the author may still have it on paper. I would type it in myself if necessary.
Feel free to contact me if you need help with the games, need to report bugs, or have the source to a missing game.
Back to Table of Contents
| | |
| --- | --- |
| Title: | Crobe |
| Author: | Jonathan Partington |
| Author Email: | J.R.Partington SP@G leeds.ac.uk |
| Release Date: | 1986 |
| System: | TSAL; converted to Z-Machine |
| Version: | |
| Reviewer: | Marius Müller |
| Reviewer Email: | marius.ts.mueller SP@G gmail.com |
When Adam Atkinson first mentioned the Phoenix restoration project, I looked at the games more out of curiosity than any really motivation to play with any determination.
When I joined the IF scene, I joined what is called the modern Interactive Fiction scene. I frowned upon games that weren't merciful on Zarf's scale. My only interest lay in literary works, or at least works far away enough from the dreaded "text adventure" to not rely on puzzles too much. I was never good at puzzles. I was never interested in puzzles. And I found puzzles in IF to be fiendishly hard.
I expected playing a Phoenix game would be charming, but in the long run uninteresting and fruitless, maybe a bit like going back from, say playing Doom 3 to playing Doom, just a look at where it all came from.
So, Crobe. It has unimplemented NPCs as puzzles .The solution to most of them is to find an inventive way to kill or annoy them - with one notable exception, (see below). It has Instadeath rooms (though only a few without warning), a light source (infinite) and some word puzzles.
The most notably of the dreaded "old school features" of the game are the two mazes. Nowadays we don't take kindly to generic room descriptions, but here they're even part of the puzzle. But I was surprised. One maze is easily solved, once you can make sense of the odd behavior of a NPC (and very deadly if you try to use brute force). It has a very funny, clever and rewarding end message, too.
The second one, on the other hand, is a shining example for why mazes suck. It's very appropriately called bedlam. There are critters who kill you if you stay to long, pretty random connections between rooms and three nasty tasks to fulfill. I felt relief after making it through, and I played it with the source at hand to brush through. (If anyone finds out or remembers how to map this, drop me a line. I'm really curious.)
The story of the game is as generic as you'd expect: you're this hero, town in danger, troll boss called Karg, etc.
The first thing that surprised me was the consistency of the world. I expected modern and traditional elements mixed together, like I've seen in some versions of Adventure, but Crobe has a straightforward fantasy world. (If you ignore the table of elements puzzle. Or maybe the table of elements is older than I thought?)
The second thing was that I didn't mind dying a lot as much as I thought.
It seldom felt like a penalty, in fact the death message often incorporated valuable hints, so at some points I actually killed myself to understand some mechanisms better.
There are two kinds of puzzles here. One is "USE OBJECT" mostly to kill someone to get a treasure, the other relies heavily on environment. There is some pretty clever and rewarding stuff in the second category One sequence involves pirates and a merchant ship, a cave and fog and a lamp. And an apparition of Libra. You can sink either one of the ships - choose wisely. In another part, you need to strategically place some light sources to get rid of a meddlesome wraith. Again, dying helps.
There is one aspect of older games I always liked: their sparseness. For instance, the star sign room makes good use of a description that has to be sparse. The wall are decorated with zodiacal symbols (Aquarius, Pisces, Aries, etc.)
In fact, all twelve are implemented. (Of course not as objects. Crobe doesn't bother with those. You "use" them by saying them. Granted, most of them kill you, but two or three are pretty useful.)
In many instances, you could, of course, take the easy way out and explain it away as the habit of the time. A bunch of students throwing together all the puzzles they can think of to present as food for thought to others, neber bothering about narrative in something that was, or is, a basically a game.
But there are some moments that just tickle something inside me – the lair of the Troll King is guarded by an invisible man, who continously trips you over. Once you expose him, he runs away and tumbles into an abyss (to his death, as you might have guessed by now.)
Now, why would a man with the power of invisibilty hang around outside the troll's lair? How was he bound to the Troll? Maybe some curse? Why didn't he give himself up once exposed? Did he trust he could escape (he tries crossing a tighrope)? Or is there something else, something darker? After all, he's human and works with trolls.
I don't know if the author even tried to imply any backstory here. I'm just trying to say that I found these small hints more intriguing then some long explanations in other games.
In conclusion: Do I recommend Crobe? Yes and no. It was an interesting playing experience, but Adam Atkinson gave me lots and lots of small nudges, read spoilers. Some parts are desk-biting unfair, frustrating or just dull. But it has some noteworthy moments. Even one or two awesome ones.
The humor is in-style. Some puzzles are quite clever. Apart from Bedlam, it's never actively unfair or mean.
So grab a walkthrough (I've heard there's one in the works by a handsome German dude) and give it a whirl. It might be refreshing to cave crawl for a while instead of spending your time dream travelling through vistas of surrealistic dreamscapes, and getting a nifty treasure for every solved puzzle might be a refreshing change from being rewarded by a textdump about past guilt.

Lines and Rectangles: Navigating within a Textual Virtual World by Jimmy Maher (maher SP@G filfre.net)

---
[Last year a couple of academics who shall remain nameless planned to start a journal dealing with the history of digital entertainment. This sounded (and still sounds) like a pretty great idea. They asked me to contribute a piece about the representation of space in IF. So, I spent a few weeks putting that together, and sent it to them. Unfortunately, it appears that their journal never quite got off the ground. They broke this bad news to me in a very classy manner, by simply not responding to my emails... but life is too short for bitterness. Um, isn't it?

So, I've decided to give this orphan a home here in this issue of SPAG. Some of this might strike most of you as fairly obvious, but I hope there may also be some sections that are worthy of thought as we consider how the simulational structure of our storyworlds affects what kind of storytelling we gravitate toward doing within the IF form. --JM]

The genre of textual interactive fiction (IF) represents one of the older continually viable forms of computerized entertainment, with roots stretching back well into the 1970's. While IF has undoubtedly evolved enormously in both its literary and its simulational aspirations since the original Adventure (1976-77) by Will Crowther and Don Woods, a surprising number of its modern conventions have changed little since they were introduced in that formative work. Among these is IF's representation of space within its storyworld. Indeed, the trademark hand-drawn IF map consisting of rectangles representing "rooms" and lines representing the links between them remains one of the most common signifiers of the form, almost as ubiquitous as the blinking cursor standing next to a ">" prompt. A phrase lifted from Adventure's maze section – "a maze of twisty little passages, all alike" – has likewise been used time and time again in reference to IF, even furnishing the title of Nick Montfort's Twisty Little Passages (2003), to date the only academic study of the form published as a book. Montfort cleverly interpolates the phrase's original meaning as a simple description of a single storyworld's geography with something more intrinsic to the player's experience of all IF:
From the perspective of the interactor, a work of interactive fiction can itself be seen as a maze of twisty little textual passages – some alike, some different; some produced by the computer, some typed by the interactor – that is to be traversed. But of course it is also a maze of simulated passages through an IF world; this is what distinguishes works in this form from hypertext fiction, chatterbots, and random poetry generators.[1]
Montfort's insight into IF as a work of "twisty little textual passages" is a very valuable one that is well worth the longer consideration Montfort and others have given it. This essay, however, is about those "twisty little passages" that traditionally and contemporarily are used to form the storyworld geography of IF. I will consider the reasons that IF geography took the form it did in Adventure and other early works, and look at how the attitudes of IF authors and players toward their games' geographies have changed as the form has evolved from a strictly ludic approach to one that sometimes comes with genuine literary aspirations, and as notions of what constitutes a fair design have changed. I will ask how the IF model of geography has affected the types of gameplay and storytelling that generally can and cannot be implemented successfully as IF. Finally, I will examine some recent expansions upon and alternatives to the traditional IF geographical model. For any of this to have meaning, though, we must understand the traditional model of IF geography that still affects all contemporary designs, even those that are reacting against it. We can usefully divide this model into two parts: the "rooms" that contain the player and the method the player uses for navigating from room to room.
A World of Lines and Rectangles
IF relies heavily upon a containment model for its storyworld simulation. The storyworld is made up of "rooms" representing individual locations; these rooms in turn can contain actors in the story (including the player's own avatar) as well as various portable and non-portable objects for these actors to interact with: trees, chairs, books, etc. Actors can "contain" some of these objects in the sense that they can pick them up, carry them around, or wear them, and some objects can even contain other objects: a jewelry box, for example, might contain a necklace which the player could remove from the box and wear on her own person. Here is the opening room description from my own recent work of IF, The King of Shreds and Patches:
Fletcher's Printworks
Your modest home and place of business is dominated by your printing press, a large contraption of wood, metal, and stone standing in a place of honor at the center of the room. Surrounding it are its attendants: a drying rack, a few large boxes of movable type, several stacks of blank paper, a bucket of ink and a bucket of water, and a simple work-table. Between the encroaching Plague and the typical bleak London winter most readers have abandoned the city for more hospitable climes. There is therefore little business for your trade right now, but all stands ready in hopeful anticipation.
Your small bed is an afterthought in the corner, near the blazing hearth and its accompanying pile of firewood. A small round mirror is mounted above the bed. The door to the street is to the north.
Your trusty walking stick leans against the wall.
On the table are an ink ball and a tympan (empty).[2]
We can construct a simple containment table – or, to use the more common programming term, object tree -- of this opening situation as follows:
Fletcher's Printworks
Printing Press
Drying Rack
Boxes
Movable Type
Blank Paper
Bucket
Ink
Bucket
Water
Work Table
Ink Ball
Tympan
Bed
Hearth
Fire
Pile of Firewood
Mirror
Walking Stick
You (the Player)
Handwritten Note
Printworks Key
5 Pennies
Several of the objects in the room are themselves either containers or potential containers. At least one of them – the bed – even has the potential to contain the player (and by extension all the player carries) should she choose to lie on it.
At some point, the player will be ready to leave Fletcher's Printworks. She can do so by using the door that is described as standing to the north of her. An IF player traditionally navigates through the storyworld using the eight cardinal compass directions (almost universally abbreviated to "n," "ne," etc.) and the additional directions "up" and "down" (abbreviated to "u" and "d" respectively). In our example, a connection links the northern exit of Fletcher's Printworks with the southern exit of another "room," called Thames Street West. When the player opens the door and goes north, she now becomes part of that room's object tree. (Thames Street West is actually an outdoor location, but is still by convention referred to as a "room.") Thames Street West connects in turn not only to Fletcher's Printworks to the south but also to Fish Street Market to the east. We can thus construct a map of our storyworld's geography by drawing a matrix of rectangles representing rooms and lines representing the connections between them:
In-game auto-map from The King of Shreds and Patches, illustrating outdoor London only.

This containment model of geography has advantages for both the programmer and the player of IF. It is well suited to the hierarchical representation of data found in computer code, being easy to represent with arrays, structures, and linked lists, and it is in most cases relatively straightforward to map. Given that fine-grained spatial positioning is extremely difficult to describe using only text and given what a difficult task the automatic generation of acceptably readable prose is under any circumstances, this almost absurdly extreme simplification of real-world spaces is really a very elegant solution that eases the burden of not only the writer and programmer of IF but also the player who must understand and navigate through the storyworld.
For the origins of the traditional IF geographical model, we can first look to a game that I consider along with Joseph Weizenbaum's chatbot Eliza (1966) to be one of the two most important predecessors to full-fledged IF: Gregory Yob's Hunt the Wumpus (1972). In Wumpus, the player is trapped within the same matrix of rooms as a rather fearsome beast, the eponymous Wumpus. Her objective is to kill the Wumpus before it kills her. Wumpus is far from a work of true IF; the player does not have a full parser at her disposal but rather only a few simple commands, and the game's storytelling ambitions are minimal at best. Nevertheless, its concept of the "room" is essentially the same as that of modern IF. Connections between rooms, however, are not described using compass directions but rather only in terms of the rooms to which they lead. This fact in combination with a geography that is randomized anew for every game makes mapping both an extremely difficult proposition and the real heart of the player's challenge:
You are in room 14
Tunnels lead to 4 13 15
Shoot, Move or Quit (S-M-Q)? m
Where to? 4
You are in room 4
Tunnels lead to 3 5 14
Shoot, Move or Quit (S-M-Q)? m
Where to? 5[3]
Yob even wrote of Wumpus as "a topological computer game – Imagine [sic] a set of points connected in some way and the player moves about the set via the interconnections."[4] The player's objective through all this moving about is to get herself into a position to shoot the Wumpus with an arrow from an adjacent room – the only interaction between rooms that the game allows. One part of the traditional geographical model, the room as container, is thus already in place. Several years later, Will Crowther added more coherent and understandable compass-based navigation to complete the model in the archetypical work of IF, Adventure, which spread wildly through institutional computing networks in 1977 and 1978 and led to the many "text adventures" released into the commercial home computer market over the next decade.
The player's purpose in Adventure is simply to explore and to collect some of the "FORTUNES IN TREASURE AND GOLD"[5] that are rumored to exist there. Her avatar is characterized not at all, and no higher purpose beyond exploring and looting the landscape ever appears in the game. Adventure's writing is nearly as minimalist as that of Hunt the Wumpus. Its first room description is actually one of its more verbose, and in its entirety runs thus: "YOU ARE STANDING AT THE END OF A ROAD BEFORE A SMALL BRICK BUILDING. AROUND YOU IS A FOREST. A SMALL STREAM FLOWS OUT OF THE BUILDING AND DOWN A GULLY."[6] Adventure is conceived as a ludic challenge, not as an exercise in storytelling. Most of its immediate successors, such as Infocom's Zork, would follow the same pattern, for the expectations of Adventure's audience were vastly different from those of the modern IF community. Properties that are derided as trite, irritating, unfair, or unoriginal in modern games were accepted or even regarded as essential to adventures of this early era. Modern IF authors generally conceive of themselves as working with their players in a storytelling partnership of sorts; those of this early era, though, felt differently, as modern author Robb Sherwin memorably described in stating that "Zork hates its player."[7] Perhaps nowhere was this attitude toward IF as challenge to be overcome rather than story to be experienced more obvious than in the storyworld geographies of early games.
One of the most important of those early games is Zork, written by a team of MIT hackers as a response to Adventure and later ported by them to early home computers to be released as a trilogy by the company they founded, Infocom. Below is illustrated a section of Zork 1's (1980) sprawling map, which includes most of the above-ground areas. (The player's goal in Zork, as in the original Adventure which inspired it, is simply to loot a great underground dungeon of all of its treasure. Also like Adventure, some of its earliest puzzles involve simply gaining access to said dungeon.)
A section of the map included in Infocom's official Zork I hint book.
At first glance this map might look straightforward enough, but a number of things are worth considering here. This map was included in the Zork I hint book, not the Zork I manual; making using of it would be considered cheating, a way of circumventing one of the principle challenges of the game. One must consider, then, the process a player would have to go through to draw it for herself. Firstly, after one leaves a given location in a certain direction, moving in that direction's antonym does not guarantee a return to the starting point. For example, after going north from West of House, one might expect to be able to return by going south, but this is not the case; rather, the player must travel west. Further, Infocom's map illustrates the individual locations as being of differing sizes and shapes, and the links between them also vary in length. The player can arrive at this knowledge for herself only through laborious trial and error, only through realizing again and again that the map cannot possibly "work" as she has so far drawn it, only through tossing away countless sheets of graph paper to begin again or (in less extreme cases) covering the page with ugly eraser blotches. A player tackling Zork I with no outside knowledge could arrive at the neat map above only through a considerable amount of patient labor, labor that was not only not begrudged but was considered intrinsic to the genre of the adventure game. We must remember here that the adventure game was born not out of any literary movement but rather from a community of hackers who were accustomed to working patiently and doggedly to figure out the often under-documented landscape of the early machines with which they worked. Sorting out the geography of Zork I, then – not to mention solving some of its more obtuse puzzles – fit in nicely with that tradition. A 1984 article entitled "Solving Electronic Adventures" recommends that the player first map the landscape as the beginning step of a methodical approach to solving a game:
Continue mapping as much of the game as possible without picking up objects or taking any action except those that enable you to keep going. In this way, you'll get the lay of the land, enabling you to anticipate where many of the traps and obstacles are, which avenues seem the most promising, and maybe even the location of a vital item that might have taken hours to find by playing the game blind.[8]
This author obviously engages with a text adventure as a system to be understood and a problem to be solved, not as a narrative experience of any sort.
Zork I's above-ground geography might not show any kindness to its player, but it does at least represent a fairly coherent landscape with a certain logic to the position of its various rooms. Even this, however, cannot be said for its dreaded maze, truly one of the more extreme examples of the game's hatred of its player.
Zork I's Maze, from Infocom's official hint book.
Here the connections twist about arbitrarily, sometimes even doubling back to return the player to the same room she just left. Further, almost every room within the maze boasts the same description, making it impossible for the player to tell by that means alone in which of them she actually stands. She knows only that (in homage to the original Adventure, which also boasted a maze) she is in "a maze of twisty little passages, all alike."[9] The solution for this problem is to drop an object in each room of the maze, making note of what was left where. One can then reference the individual rooms not by name or description but by the objects they contain, and with sufficient patience and laborious testing of every direction from every room eventually construct a map of the whole layout. Just to add a final layer of complication, though, Zork I includes a thief character who will sometimes venture into the maze to collect the player's carefully placed objects.
Mazes of this sort have come to occupy a place all their own in adventure gaming lore. Adventure has one, Zork has one created in explicit homage, and every designer thereafter for a considerable time seemingly felt obligated to include one of their own. Mazes even made their way into a considerable number of early graphic adventures, and still crop up there on occasion today. Their popularity with designers is odd, for they are almost universally loathed by players. As Graham Nelson noted in his seminal essay on adventure game design, "The Craft of Adventure," "the dogged exploration of a maze is dull indeed, repetitious and irritatingly drawn-out."[10] When Adventure was new, the solution to its maze must have been come with a flash of excitement to players. Now, though, there is no sense of excitement or discovery in the solving of a maze, and has not been for many years; most gamers worked out the methods of the solution long ago, leaving only their tedious implementation. Mazes are viewed rather as a lazy design choice, a way of artificially lengthening a game or serving as an amusement to the designer rather than the player; for, as Nelson also notes,[11] they are ultimately more interesting to program than they are to solve. And yet they continue to appear even in a surprising number of modern works presumably informed by decades of IF design discussions, and players continue to knash their teeth in response. Reviewer David Monath has this reaction upon discovering the maze-like section in Aaron A. Reed's recent (and otherwise aggressively literary) "interactive novel" Blue Lacuna:
A maze!! In 2009? In interactive fiction?? Really?! This was one of two points in the game which resulted in near profanity. I feel betrayed, insulted, callously disregarded and manipulated, and this paragraph is set aside to demonstrate there is a genuine emotional response which games create in players, sometimes as a result of theme and drama, and other times because of godless, generally-blessedly-forsaken game mechanics with no possible purpose other than to pad gameplay hours by utterly derailing any semblance of plot or mission. I will forever recall the horror and disbelief as I was forced to haul out the blank white paper and open a new MS Excel sheet so I could banish this wretched foe sent by the demons of game design to thwart my sense of wonder and exploration.[12]
Reed's response that this area of his game – which he, with some justification, does not wish to call a true maze because every room in it does have its own unique description – was created as "an homage or echo of a classic IF trope"[13] is interesting in itself. Why do authors even in 2009 still feel the desire (obligation?) to pay homage to this particular little-loved trope? It seems that the idea of the maze is still bound up with the idea of IF itself, perhaps because Adventure and so many of the early games that followed had one. For that matter, we might say that the maze is part of IF's very DNA; Adventure's predecessor Hunt the Wumpus was itself, as we have already seen, essentially an elaborate maze puzzle.
Some authors have paid homage to the tradition of the maze in a way that does not rely so much upon annoying rote emulation: the pseudo-maze. This is an area of a game's geography that appears to be a maze, but need not and indeed even usually cannot be solved by the traditional item-dropping procedure. There is rather another "trick" which the player (possibly after spending a great deal of time in fruitless mapping attempts) must figure out. Once the solution dawns, its implementation is generally much less drawn-out and tedious than the traditional mapping procedure. Perhaps the most famous pseudo-maze stands as the only real puzzle in Adam Cadre's Photopia (1998), one of the most well-known and beloved games of the post-commercial era:
Before the crystal labyrinth
You are standing on a ridge above the entrance to a vast crystal labyrinth. You'd be tempted to call it a city, with its haphazard collection of iridescent towers and spires and arches -- "iridescent" means shimmering with rainbow colors -- but from what you can see from your vantage point, there is barely enough space between the crystal walls to permit one person to pass between them. The labyrinth is ringed by steep mountains, so going around it is impossible: your only choices are to enter it to the west, or to head back the way you came.
>w
You step into the crystal labyrinth and immediately get lost.
In the crystal labyrinth
You are in a dazzling crystal maze, with passages leading out to the north, south, and west.
>n
You wander around the maze of glass until you find yourself at another intersection...
In the crystal labyrinth
You are in a dazzling crystal maze, with passages leading out to the west, east, and south.[14]
The player can wander through this "crystal labyrinth" indefinitely and work through reams of graph paper in the process; it cannot be mapped. The solution relies on intuition rather than brute force; the player must pick up on some subtle hints that were offered earlier and realize that she can fly. Victor Gijsbers writes that this puzzle "utterly undermines the idea of puzzles and points to a freedom beyond puzzles," for to solve this "most archetypical of IF puzzles" we must "refuse to solve it."[15] Certainly the general aesthetic of Photopia could hardly be more different than that of Adventure and Zork, and Photopia's "maze" is a prime illustration of this. But Photopia also post-dates those games by some two decades. The Zork I maze is not the only example of its type to appear in Infocom's canon – and in fairness and storytelling mimesis Infocom was generally worlds ahead of its contemporaries. British developers Level 9, for instance, breathlessly advertised that their 1983 release Snowball contained more than 7000 rooms, while neglecting to mention that over 6800 of these were generic members of an enormous, anonymous maze.[16]
The occasional maze aside, a chronological analysis of the Infocom canon does reveal a steady progression in player friendliness, a shift toward a more cooperative and less adversarial philosophy of play. The games' geographies thus become more coherent and easier to map. Here is a map from one area of the game that I consider to be Infocom's all-around best, Trinity (1986):
The Siberia area of Trinity, from Infocom's official hint book.
Here connections between rooms do not bend but rather always line up coherently, and the space between rooms remains relatively consistent. The player has an excellent chance of properly drawing this straightforward map on her first attempt, with no erasing, head-scratching, or starting over. Trinity, like a number of later Infocom titles, even goes a step further in including a map of its most complex area in the game package itself for the player to reference. Clearly, Infocom by this point was coming to regard mapping as less and less intrinsic to IF. Possession of a map was no longer a form of cheating, but merely a tool to help the player over the more tedious parts of text adventuring and allow her to focus more fully on the story and the environment. This trend has continued in the post-commercial era, as exemplified by a game like Photopia that requires no mapping at all due to its taking place in a linear series of tiny, self-contained areas, and that includes a maze only to subvert the very idea of the maze.
Many authors, however, aspire toward more complex storyworld simulations than that of Photopia, a work for which the most common criticism is that it is not a true interactive fiction at all but merely a short story shoehorned into the IF format. These authors still wish to allow their players to wander freely, and must still give them some mechanism for doing so. That mechanism mostly continues to be the same one invented for Adventure. Mazes and other forms of confusing geography are generally seen as bad by the modern community, but what of this traditional geographical model, even a kindly implemented version thereof? Many in the modern IF community speak of it as being the "least bad" solution rather than a truly good one. A considerable amount of effort has been expended in recent years to reach out beyond the community in the hopes of attracting fans of other forms of gaming and reading to IF. Certainly the necessity to make a map could potentially turn away a sizable number of these people, and even in games that provide a map or have a simple enough geography not to require that the player make one the system might still strike many as odd. Navigating via compass direction in an explicitly ludic work set in a magic cave complex might not raise any eyebrows; navigating via compass directions in, for instance, a realistic kitchen sink drama might. As the community works to expand the sorts of tales that IF can tell, all traditional aspects of the form, geography included, are worthy of reevaluation.
Blurring the Lines
We can chart IF's progress in the post-commercial era roughly along two tracks: toward a deeper and more realistic underlying world simulation, and toward better and more polished surface literary qualities. In a simplified sense, we might even think of the two latest and most advanced development systems, TADS 3 and Inform 7, as representing the furthest progression heretofore in each of these areas respectively. From both perspectives, the traditional IF geographical model can be read as problematic. While an IF game knows in what room a given actor or object is placed, it does not model its position within that room. Within a bedroom, for instance, the player can choose to lie on the bed, but her position within the room when not on the bed is undefined – as is the position of the bed on which she might lie, for that matter. Further, every room in an IF game is in simulational terms exactly the same size; a king's hall of state is the same size as a privy in the same castle. In fact, we might better say that the IF room carries with it no concept of size at all; in almost no work of IF is it possible to fill up a given room with so much stuff that nothing more is permitted. This extreme (over)simplification of the real world has a huge impact on IF's potential for simulation and emergent behavior. Virtually all attempts at creating a satisfying tactical combat engine for IF, for instance, have met with failure, for without a mechanism for knowing where combatants stand in relation to one another the engine can allow for little tactical skill from the player. Such systems thus end up feeling like little more than a series of arbitrary die rolls. It has in fact become something of a truism among many players that simulated combat in IF simply cannot work, and that its presence is a justifiable reason not to even attempt a given game. In other situations, one way to convey an illusion of size is to split a given "room" (in real-world terms) into a number of smaller "rooms" (in IF terms). Our King's Entry Hall might thus become King's Entry Hall South, King's Entry Hall Central, and King's Entry Hall North, for example. This, however, carries with it problems of its own; IF world modeling traditionally only allows for interactions between objects and actors within the same (in IF terms) room. We would thus have to engage in some tricky (and possibly inelegant) hacking to even allow the player to observe the king on his throne at the northern end of his hall from a position further south. For some types of games and stories these limitations never become a factor, and there are often ways to work around them even when they do. Nevertheless, they have certainly influenced the stories and designs that have been implemented – and, perhaps more importantly, have not been implemented -- successfully as IF.
Even where the containment model does work well, or at least acceptably, navigation by compass direction can be aesthetically displeasing. What follows is the opening room description from Nightfall, Eric Eve's masterful psychological thriller that placed second in the 2008 IF Competition:
Platform 1
The train accelerates northwards up the track, its rear carriage disappearing into the distance. Just a minute ago this long, draughty platform was crammed with the last batch of people leaving the city. Now there isn't another soul in sight. The indicator boards are all blank: no more trains will be leaving here today - if ever. Just to the north the bridge across to Platform 2 has been blocked off with a steel gate; the only way out from here is thus east, back to the ticket office.
>e
Ticket Office
It's the sheer emptiness of this place that strikes you. Just a few minutes ago a press of people were jostling one another in ill-natured queues, increasingly anxious to buy their tickets to safety. Now every ticket position is closed, and there's no one here, just a bare empty hall with nothing to see but the now irrelevant timetables posted on the walls and the station clock ticking ever on into the fateful night. The equally deserted platform is just to the west, while the way out to Station Road lies to the north.[17]
Those less accustomed to IF conventions might be jarred by the references to compass directions found within Eve's otherwise atmospheric text. While many early IF authors seemed to regard their room descriptions as little more than a name and a list of exits, those of the modern era strive for much more, and struggle mightily to find a place for purely functional exit information in their prose. Even in the hands of an experienced, skilled author like Eve the effect can still be jarring. The necessity to describe the world in terms of compass directions would certainly seem a real challenge to IF's literary potential. In addition to being ugly in a literary sense, these direction descriptions can also be hard on a player's sense of mimesis, her belief in the world of the game as a real place. As I write this article, I have no idea which direction the window in front of me or the door behind me actually faces, and I do not think I am unusual in this. A few cultures[18] and disciplined professionals such as those in the police and military aside, people do not naturally tend to describe their surroundings using absolute directions, but rather rely upon relative directions: "left," "right", "in front of," "behind," etc. From whence comes this sudden, infallible sense of direction for the IF protagonist? The lack of a concept of which way the player faces at any given time of course makes a relative directional system impossible, and the lack of any knowledge of where she stands in a given room or even of the very concept of room size itself further confounds realism. In response to these concerns and others, various proposals, experiments, and even completed games have arisen over the years. These can be broadly divided into two categories: those that keep the traditional geographical model entirely or largely intact while attempting to ease its aesthetic problems and/or the burden it places on the player; and those that entirely replace the simple room containment model, the compass rose navigation model, or both.
An easy remedy to the textual ugliness of placing directional possibilities in room descriptions would seem, at first glance anyway, to be to place them somewhere else instead. Indeed, many have experimented with just this solution. Scott Adams, the first developer to create a text adventure on a home computer, in fact used this method:
Forest
You're in a forest.
Obvious exits: North, South, East, West, Up.
You can also see: trees[19]
As the quotation above should make clear, Adams's concern was not with his prose but rather to keep his word count to an absolute minimum in order to shoehorn his games into the primitive PC's of the day. More modern developers, however, have occasionally chosen similar directional listing systems for the former reason. TADS 3 by default even includes an "Exits" listing in a persistent status line at the top of the screen, and some authors have implemented even more aesthetically appealing graphic compass roses to convey the same information. Such devices can certainly serve as a useful convenience, but do not serve as an end-all solution for authors disturbed by having to clutter up their prose with exits listings. Consider Eve's Nightfall once again. While that work is written using Inform 7, it uses a TADS 3-style status line exits listing thanks to an extension Eve himself wrote. For the sake of experimentation, let us remove the directional listings from the description of the Ticket Office:
Ticket Office
It's the sheer emptiness of this place that strikes you. Just a few minutes ago a press of people were jostling one another in ill-natured queues, increasingly anxious to buy their tickets to safety. Now every ticket position is closed, and there's no one here, just a bare empty hall with nothing to see but the now irrelevant timetables posted on the walls and the station clock ticking ever on into the fateful night.
This snippet certainly reads better without the last sentence, but how well does it serve the player? Thanks to the exits listing, she knows that she can travel north and west, but she has no idea what she can expect to find in those directions. In addition to providing a raw listing of exits, the room description serves to orient the player in more subtle ways to her position in the storyworld. Tellingly and justifiably, virtually all TADS 3 games that I have seen continue to include directional information within their room descriptions as well as on their status lines.
Another way to ease the player's burden is to offer her a map of the geography she will traverse. As mentioned earlier, even Infocom and other commercial companies were known to do just this on occasion, and authors of the modern era also have continued to do this with some frequency, releasing printable maps in PDF or similar format along with their actual game files. Inform 7 even offers a quite sophisticated suite of tools for auto-generating maps from a game's source code. Providing a map certainly makes sense when a story takes place in an area the player's avatar is presumably already familiar with, such as her own house or city. Even in this more literary age, though, much IF is still about exploration and discovery, and in these cases this solution is more problematic, for they inevitably spoil some of the player's surprise. An alternative for these situations is to include a dynamic map in the game itself. Infocom's 1988 release Beyond Zork was to my knowledge the first to implement such a scheme, albeit in a limited fashion due to the low screen resolutions of the era: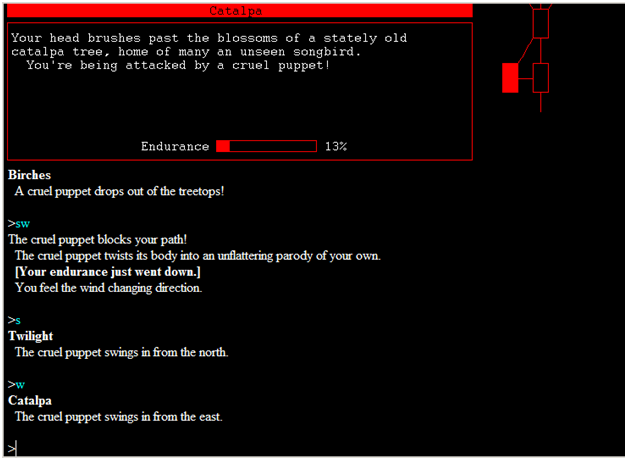 Infocom's 1988 IF / RPG hybrid Beyond Zork, with auto-map at the top right.
My own The King of Shreds and Patches opts for a hopefully more usable implementation of this solution. As the player uncovers more of the game, an on-screen map is updated continually to show newly available rooms. Her own position on the map is marked with highlighting in another color. The IF interpreter Nitfol by Evin Robertson has an option to present an on-screen map for games that never had the feature programmed into them. While this sounds like a wonderful idea at first blush, an idea that could even retro-fit a modicum of modern user friendliness into the classics, Nitfol's implementation of it leaves something to be desired. Its mapping system is all too easily confused, and its on-screen appearance is not the most attractive or easy to decipher under any circumstances, being made from ASCII characters only. Further development of Nitfol was abandoned in 1999; no one else has seriously taken up its mapping ideas since, perhaps due to the sheer difficulty of the programming task.
While these aids simplify the player's navigational task without abandoning the traditional IF system of geography, others similarly attempt to address its world-modeling weaknesses. Various schemes have appeared from time to time to divide rooms up into sub-locations or sectors to more finely track the player's movements. This 1996 proposal from George Caswell is unusually detailed and specific:
The general rule would be that any object inside a given sector is in a position that would be visible from any other point in the same 'sector'. For the system, scope would, be default, include 'close' parts of any adjacent sector- For example, if you're in a junction with three corridors branching out from it, you would be able to see just about everything in the junction, and a short distance into the corridors (by the default look action.)[20]
In outlining a similar scheme, Andrew Plotkin even proposed a new suite of what I will term micro-movement verbs, with (for instance) "e" meaning to move east within a room and "ee" meaning to move one room eastward. [21] Such schemes tend, however, to break down quickly when moved from the abstract planning to the concrete implementation phase. Their problem is not that they present an impossible programming challenge on the world-modeling level, but rather the lack of a way to convey that underlying model to the player smoothly and coherently using only text, not to mention the difficulty the player will inevitably have attempting to hold such a complicated model of her surroundings and her proximity to them in her head. If some regard the standard geographical system as too complex for the player to keep track of, this only compounds the problem by several orders of magnitude. These fiddly schemes would move IF in the exact opposite direction advocated by those looking to open the form up to more and different types of players and readers. I can imagine them working only in conjunction with graphical aids and non-parser-based movement controls, an interesting but largely unexplored area as of this writing.
That said, more limited versions of these ideas have worked successfully in finished games. Sam Gordon's Final Selection is a single elaborate, multi-stage puzzle that takes place within one deeply implemented office. The player's avatar automatically moves about the room to accommodate her interactions with the various objects it contains:
Office of the Director
This room reminds you of a Victorian study: it is roughly square and all the exposed walls are panelled with dark oak, up to a height of about six feet, with bare cream plaster above. In the centre of the room is an old mahogany desk, with a leather chair behind it. Beyond the desk is a stone fireplace, with a framed painting above it. One of the side walls is completely taken up with a book case, most of which is closed with glass doors. On the opposite wall, above a wooden table, is the only window, and sole source of light in this rather gloomy room. In the fourth wall is the single door. There is a clutter of miscellaneous items everywhere, and in the four corners of the room, you can see a hatstand, an antique globe, a wooden corner shelf and a low cupboard.
At present you are standing beside the Director's desk, in the middle of the room.
On the mahogany desk are a blotter, a bell, a newspaper, a brown book and a magazine.
>x fireplace
You leave the desk and walk over to the fireplace.
The fireplace is about three feet wide and the same height. It is made of a light sandstone, carved in a decorative style. The mantelpiece is of dark oak, matching the surrounding panelling. The fire is not lit but some wood is laid upon some screwed up paper in the grate.[22]
Final Selection is, however, a very small and specialized work. Implementing even its limited in-room movement system in a game with a wider geography would likely be more problematic.
Just as it is problematic for modeling small increments of space, the traditional geographical system also introduces problems when modeling large, open areas, for it does not deal well at all with interactions between rooms. Luckily, existing IF development systems do allow authors to address such issues, although not without a certain amount of pain. Consider this scene from Shakespeare's famous Globe Theatre in The King of Shreds and Patches:
Globe Pit
You stand in the open pit of the Globe, surrounded by your fellow groundlings. The stage juts into the pit from the south, filling almost half of its area, while three levels of seating for the Globe's wealthier patrons encircle you. A flight of stairs leads up to these box seats. The theater's single public entrance is to the north. The gray winter sky shines down on the throngs of playgoers, steam from their breath rising into the chilly afternoon air.[23]
Naturally, the player can expect to be able to view the stage from her position in the audience, but said stage is nevertheless a separate and distinct area from the audience pit. IF development systems use a concept known as "scope" to determine what objects in the storyworld are accessible to the player. Normally, everything in the same room as the player that is not otherwise blocked – such as an object in a closed cupboard – is available for her to interact with. Everything else is not. In the example above, though, we wish to allow the player to view the action on-stage, examine and listen to the actors, etc. On the other hand, we do not wish to allow her to touch or physically interact with anything on-stage; she is too far away. Both Inform 7 and TADS 3 offer quite sophisticated options for manipulating scope, options which can work quite effectively in the hands of a careful author. Scenes like the one above can thus be staged much more effectively using these latest tools than they could be using earlier development systems; the author can explicitly instruct the game as to which objects in adjacent rooms are accessible and which actions can be performed upon them. Both systems also offer the possibility to construct over-arching backdrops that span several or many rooms, convenient for modeling the sky or a distant cityscape. Nevertheless, one could certainly argue that all of this represents a mere patchwork of workarounds for the failings of the traditional system. But even if a patchwork it is, realistic alternatives to the room containment model are essentially non-existent in implemented (as opposed to vaguely theorized) form.
Another aspect of the traditional approach, though, compass directions, has indeed been replaced in quite a number of games. Many have offered a GO TO command to instantly move the player to a given location. This works well in small, contiguous areas such as a residential apartment, but is more problematic in cases where the rooms the player must pass through in transit are significant. Both Night fall and The King of Shreds and Patches therefore offer a GO TO command that moves the player only one room in the direction of her destination. She is thus expected to enter the same GO TO command again and again until she reaches her destination. Inform 7 even offers an automatic pathfinding mechanism that makes this scheme exceptionally easy to implement. Both games still implement compass navigation, however, deploying GO TO simply as a convenient player shortcut.
Blue Lacuna, meanwhile, deploys another system entirely, navigation by keyword, in the service of its ambitious story.
Beach, Near the Abandoned Cabin
The ocean pounds faintly beneath the western horizon, the lagoon practically glowing as it warms in the sparkling sunlight. Spotless white sand almost blinds you as it curves around the lagoon.
The beach stretches away towards the cluster of boulders or the rocky rise, or you could also head down to where the waves are breaking. The cabin lies back up the beach.[24]
In keeping with Lacuna's innovative single-keyword recognition parser, the player can travel to, for instance, the boulders by simply typing that word. Some commentators found Blue Lacuna's keyword navigation straightforward and elegant in comparison to compass directions: "This offers a more intuitive way for players to remember what lies in relation to what especially when the number of 'rooms' get fairly large," writes Halsted Larrson.[25] My own experiences with the system were considerably more mixed. Below is an illustrated map of the island on which the majority of Blue Lacuna takes place:
Aaron Reed's illustrated map of Blue Lacuna's Environment.

This map is not considered to be a necessary aid for the player, but is rather found in the "Hints" section of the Blue Lacuna website. The player wishing to have an unspoiled experience, then, would be expected to understand the island's layout and navigate without its aid. I found this very difficult to do while relying on keyword navigation. Perhaps in concession to players like me (and in another of Lacuna's homages to IF tradition), one can eventually discover a compass on the island which when opened allows traditional compass direction navigation. I felt much more comfortable using this method, and while this might be attributed to my being a long-time IF player and thus intimately familiar with the method, I do believe that conceiving of larger areas using a keyword navigation system must present a problem for at least some other players, as it provides no hooks at all from which to hang a mental map of a storyworld's layout.

The most systematic experiment into IF navigation yet conducted is Michael J. Roberts's Rat in Control (2003), which compares navigation by compass with another oft-proposed alternative, navigation by the relative directions forward, back, left, and right. The initial room description in the former mode looks like this: "This is the inside of your cage. The door is to the north."[26] In the latter, it looks like this: "This is the inside of your cage. The door is ahead of you." In this mode, the player can not only move in any relative direction but also turn left, right, or completely around to reorient herself within a room. Turning around in the initial room would lead to this room description: "This is the inside of your cage. The door is behind you." Roberts's purpose here was to acquire a sampling of player feelings about how effectively each of the modes worked, to see whether relative navigation might be a valid alternative to functional but arguably inelegant and mimesis-destroying compass navigation.

To reduce the bias from the long experience (most of) us have with the conventional compass style, the game starts off with a "training" period that lets you spend a while learning its map in the mode you want to try; so if you play in relative mode from the start, you'll at least have a chance to become accustomed to that mode. Once you reach a certain milestone in the game, it switches to a series of timed "missions," which are just

navigational tasks that it asks you to perform while timing you.[27]

Player reactions to the relative mode were uniformly negative. Nikos Chantziaras was typical:

I tried it. It didn't work out. I really tried, but I ended up drawing a map (on paper), which means I just converted everything to the usual compass-directions method. This "left" and "right" thing is very, very confusing. Okay, this approach works in Doom and Quake (you don't care about directions there), but in text games it just doesn't.[28]

In a complex, fully fleshed-out game, not only would the authorial burden of describing each room from each possible perspective be immense, but the player also would likely only find the end result tedious and confusing.

Thinking Outside of the Rectangle

Compelling arguments for the traditional system can certainly be made. We might suggest to those bothered by the unrealism of the player's character having an infallible compass in her head that compass navigation is merely a convention, a necessary tool to allow the player to orient herself, and not reflective of real world directions at all. Perhaps this has always been an implicit, subconscious assumption of most IF authors and players: many games over the years have been set aboard ships, yet almost all have allowed compass navigation in addition to "port," "starboard," etc., even as their ships must inevitably turn to face in many directions. I have rarely if ever heard this remarked upon or complained about. We could even take this idea of compass directions as handy interface conventions only to an extreme and claim that the twisted connections between rooms in a maze do not represent the real storyworld but rather the player's avatar's confused perception of same.

Perhaps the more interesting question to ask is whether the even more fundamental room containment model might be replaced with something else, and if so with what. Complex spatial models like Caswell's proposal seem hopelessly unrealistic and unwieldy for both author and player, at least without extensive visual aids and/or an alternate control scheme for navigation that does not rely upon tedious typed commands, but perhaps we might move in the other direction, toward an even less fine-grained model of the player's location in the storyworld. Early IF works are almost exclusively stories of exploration, meaning that their maps and the player's location on them are of crucial importance. Most of their puzzles ultimately lead to the player gaining access to more areas of the storyworld, a process that ends only when the map is completely revealed and, not coincidentally, the player has won the game. What seems natural in Adventure, though, feels out of place and oddly archaic in a character study like Stephen Granade's Common Ground, played from the perspective of an ordinary suburban teenager and set in her own home:

Your Bedroom

You've spent a lot of time in this room, enough that it's really beginning to get on your nerves. You're tired of the stupid posters, you're tired of your stupid bed, you're tired of everything. You just wish it weren't such a hassle to try to change any of it. Besides, if you were going to change anything, you'd start with the clothes in your closet. To the west, across from your window, is a closed door going out.

You see a flowerdy bag here. Sitting on the vanity is a geode, mascara, eye shadow, pink blush, and foundation.[29]

While the exact locations of the characters in a heroic fantasy novel such as The Lord of the Rings are certainly of vast importance to the reader at almost any given point, we are seldom aware of geography at all in, for instance, a Dickens novel. Similarly, Nathan Jerpe suggests that IF authors consider ways to pace and communicate progress in their works through temporal rather than spatial measurements, although he is lamentably short of specific suggestions for accomplishing this.[30] He does, however, point hopefully toward "one-room" IF, an entire sub-genre that has its own annual competition and that is by its nature forced to tell other types of stories in somewhat non-traditional (for IF) ways. Just as the lack of fine-grained spatial detail makes compelling tactical combat difficult to implement in IF, though, I have yet to see a compelling model for portraying a world of larger scope in a more abstract yet understandable fashion.

It might seem slightly odd, but the basic components of IF were already originated by Crowther and Woods by 1977 and largely perfected by Infocom by 1985. The modern community's work has largely consisted of huge improvements in countless technical and aesthetic areas, but Adventure's basic world model has remained intact – implemented at a vastly greater level of detail, but intact. IF is, however, hardly unique among gaming genres in this; one still uses the same keys to move about and still collects weapons and power-ups in modern critic's favorite Bioshock (2007) that one used in the canonical first full-fledged first person shooter Doom (1993). Similarly, both the room containment model and the compass navigation model remain the IF standard today. The traditional IF navigational model has proven itself remarkably robust on the whole, and is unlikely to be supplanted in the near future, but rather to soldier on, oft criticized and unappreciated as it may be. We simply do not have anything as effective with which to replace it, even after three decades of questioning and experimentation.


[1]

Nick Montfort,

Twisty Little Passages: An Approach to Interactive Fiction

(Cambridge: MIT Press, 2003), 91.

[2]

Maher, Jimmy,

The King of Shreds and Patches

, 2009.

[3]

Yob, Gregory,

Hunt the Wumpus

, 1972.

[4]

Yob, Gregory, "Hunt the Wumpus,"

The Best of Creative Computing Volume 1

(Morris Plains: Creative Computing Press, 1976), 247.

[5]

Crowther, Will and Don Woods,

Adventure

, 1977.

[6]

Ibid.

[7]

Sherwin, Robb, "nevermind," Usenet post to rec.games.int-fiction, June 5, 2001.

[8]

Adams III, Roe R., "Solving Electronic Adventures,"

In Games Magazine

(June, 1984), 52.

[9]

Lebling, David and Marc Blank,

Zork I: The Great Underground Empire

, 1980.

[10]

Nelson, Graham,

The Inform Designer's Manual

(4th ed.) (St. Charles: Interactive Fiction Library, 2001), 385.

[11]

Ibid.

[12]

Monath, David, Review of

Blue Lacuna

, SPAG Magazine #54 (March 31, 2009), http://sparkynet.com/spag/backissues/spag54.html#lacuna.

[13]

Reed, Aaron A., "Is mapping dead?", Usenet post to rec.arts.int-fiction, March 31, 2009.

[14]

Cadre, Adam,

Photopia

, 1998.

[15]

Gijsbers, Victor, SPAG Specifics Commentary on

Photopia

, SPAG Magazine #53 (November 16, 2008), http://sparkynet.com/spag/backissues/spag53.html#Photopia.

[16]

Granade, Stephen, "History of Interactive Fiction: Level 9," Brass Lantern: The Adventure Game Website, http://brasslantern.org/community/history/level9.html.

[17]

Eve, Eric,

Nightfall

, 2008.

[18]

Wuethrich, Bernice, "Learning the World's Languages – Before They Vanish,"

Science Magazine

#5469 (May 19, 2000), 1156-1159.

[19]

Adams, Scott,

Adventureland

, 1978.

[20]

Caswell, George, "Idea for movement system, take 2…", Usenet post to rec.arts.int-fiction, November 16, 1996.

[21]

Plotkin, Andrea, "Free idea," Usenet post to rec.arts.int-fiction, September 20, 1996.

[22]

Gordon, Sam,

Final Selection

, 2006.

[23]

Maher, Jimmy,

The King of Shreds and Patches

, 2009.

[24]

Reed, Aaron A.,

Blue Lacuna

, 2009.

[25]

Larsson, Halsted, "

Blue Lacuna

– Usable Interactive Fiction," blog post to Notes and Opinions, February 16, 2009, http://sandjack.blogspot.com/2009/02/blue-lacuna-usable-interactive-fiction.html.

[26]

Roberts, Michael J.

Rat in Control

, 2003.

[27]

Roberts, Michael J., "Rat in Control," Usenet post to rec.arts.int-fiction, April 10, 2003.

[28]

Chantziaras, Nikos, "Re: Rat in Control," Usenet post to rec.arts.int-fiction, April 11, 2003.

[29]

Granade, Stephen,

Common Ground

, 1999.

[30]

Jerpe, Nathan, "The Room as Metaphor in Interactive Fiction," Brass Lantern, 2009,

http://brasslantern.org/writers/iftheory/roomasmetaphor.html

.

Adams III, Roe R. "Solving Electronic Adventures." In Games Magazine, June, 1984. 52-53.

Adams, Scott. Adventureland. Adventure International, 1978.

Cadre, Adam. Photopia. 1998. http://ifdb.tads.org/viewgame?id=ju778uv5xaswnlpl.

Caswell, George. "Idea for movement system, take 2…" Usenet post to rec.arts.int-fiction, November 16, 1996.

Chantziaras, Nikos. "Re: Rat in Control." Usenet post to rec.arts.int-fiction, April 11, 2003.

Crowther, Will and Don Woods. Adventure. 1976-77.

Eve, Eric. Nightfall. 2008. http://ifdb.tads.org/viewgame?id=3a4kqs374jqu2li6.

Gijsbers, Victor. SPAG Specifics commentary on Photopia. SPAG Magazine #53 (November 16, 2008). http://sparkynet.com/spag/backissues/spag53.html.

Gorden, Sam. Final Selection. 2006. http://ifdb.tads.org/viewgame?id=o7knzkbjicpiw729.

Granade, Stephen. Common Ground. 1999. http://ifdb.tads.org/viewgame?id=gdy6gaia4nm66km2.

Granade, Stephen. "History of Interactive Fiction: Level 9." Brass Lantern: The Adventure Game Website. http://brasslantern.org/community/history/level9.html.

Jerpe, Nathan. "The Room as Metaphor in Interactive Fiction." Brass Lantern: The Adventure Game Website. http://brasslantern.org/writers/iftheory/roomasmetaphor.html.

Jerz, Dennis G. "Somewhere Nearby is Colossal Cave: Examining Will Crowther's Original Adventure in Code and in Kentucky." Digital Humanities Quarterly v1 n2 (Summer, 2007). http://www.digitalhumanities.org/dhq/vol/001/2/000009.html.

Larrson, Halsted. "Blue Lacuna – Usable Interactive Fiction." Blog post to Notes and Opinions, February 16, 2009. http://sandjack.blogspot.com/2009/02/blue-lacuna-usable-interactive-fiction.html.

Lebling, David and Marc Blank. Zork I: The Great Underground Empire. Infocom, 1980.

Maher, Jimmy. The King of Shreds and Patches. 2009. http://maher.filfre.net/King.

Maher, Jimmy. Let's Tell a Story Together: A History of Interactive Fiction. 2006. http://maher.filfre.net/if-book.

Monath, David. Review of Blue Lacuna. SPAG Magazine #54 (March 31, 2009). http://sparkynet.com/spag/backissues/spag54.html.

Montfort, Nick. Twisty Little Passages. Cambridge: MIT Press, 2003.

Moriarty, Brian. Beyond Zork. Infocom, 1988.

Moriarty, Brian. Trinity. Infocom, 1986.

Nelson, Graham. The Inform Designer's Manual (4th editon). St. Charles: Interactive Fiction Library, 2001.

Plotkin, Andrew. "Free idea." Usenet post to rec.arts.int-fiction, September 20, 1996.

Reed, Aaron A. Blue Lacuna. 2009. http://www.lacunastory.com/.

Reed, Aaron A. "Is Mapping Dead?" Usenet post to rec.arts.int-fiction, March 31, 2009.

Roberts, Michael J. Rat in Control. 2003. http://ifdb.tads.org/viewgame?id=gakwspx3ip7xo7kk.

Roberts, Michael J. "Rat in Control." Usenet post to rec.arts.int-fiction, April 10, 2003.

Sherwin, Robb. "nevermind." Usenet post to rec.games.int-fiction, June 5, 2001.

Wuethrich, Bernice. "Learning the World's Languages – Before They Vanish." Science Magazine #5469 (May
19, 2000). 1156-1159.

Yob, Gregory. Hunt the Wumpus. 1972.

Yob, Gregory. "Hunt the Wumpus." The Best of Creative Computing, Volume 1. Ed. David Ahl. Morris Plains: Creative Computing Press, 1976. 247-250. Back to Table of Contents

The Story of JACL

by Stuart Allen (stuartallen1972 SP@G gmail.com)
---
This is the story of JACL, a language for creating interactive fiction, and the journey that creating that language has taken me on. I started writing JACL sometime around 1994. At the time I didn't know of the existence of any other languages for creating IF, and I must admit that if I had stumbled across Inform at the time I probably wouldn't have started. My need would have been met and at the time I wouldn't have been able to predict how much I would ultimately get out of seeing a project like this through to completion.
It certainly isn't a road paved with rose petals writing a new IF language, that's for sure. The technical challenges are great, a huge amount of time is required and at the end of the day, when you finally release that new game, the sentiment of, "I don't see any reason to have used a new system and made me download a new interpreter either" is relatively common. I don't blame anyone for feeling this way, the reality is that there isn't anything in it for the average player to have to install a new system or learn its idiosyncrasies. I think I have been thanked for writing JACL about as many times as I have felt the need to apologise for having done so, and that in many ways encapsulates the highs and lows of the journey.
I started writing JACL as a way of teaching myself C, armed only with my trust Amiga 1000, a copy of
The C Programming Language
and a bottle of Coke. Having managed to get "Hello World" to finally compile I decided an IF language was the obvious next project. The arrogance of youth, hey?
Heh. I have just realised that as I sit hear typing this I am wearing a Top Gear t-shirt with "How hard can it be?" written below a picture of a Reliant Robin playing at being a Space Shuttle. I guess that is how I felt at the time and I can certainly say there have been plenty of times along the way when
the explosive bolts have failed to work
.
I never went to university or studied programming formally so it was a steep learning curve to say the least. I had never even heard of Lex or Yacc and knew nothing about writing a compiler so I started writing a simple interpreter from first principles. For years this Frankensteinian beast grew then shrank, got broken then fixed again, hacked and bandaged until I had a (barely) working system. I wrote
The Curse of Eldor
(possibly the worst piece of IF every written :)) as a way of testing the interpreter as I went. I entered it into the 1996 IF Comp and this line from a review sums up the situation nicely: "Unplayably buggy under both DOS and Linux: save/restore doesn't work under Windows". The game came 21st out of 27 (a fact that really makes me wonder...)
Having JACL as an interpreted language it actually something I quite like, despite at the time it being my only choice. Implementation is kept simple, performance is more than adequate and
the development cycle is quick and easy
. Sure, a nice IDE is pretty good too, but I have always enjoyed programming from the command line with vi.
By 1997 JACL was starting to work reasonably well and I wrote
The Unholy Grail
for the Annual Comp, where came 15th of 34. Not too bad I thought.
A review of the game by Paul O'Brian
included this line: "With the improvements he's already made to his JACL engine it seems entirely plausible that it could one day match the quality of the current state of the art."
Never under estimate the power of a few words of encouragement. They can sustain a project like this for years sometimes and I can't thank those types of people enough. All too often the Internet seems to be a place where people can put the boot in from the safety of their bedroom on the far side of the planet. I personally believe that you shouldn't have a go at someone unless they are within arm's length of your nose, but I digress... Anyway, when people take the time to offer a few kind words they are really giving a lot, even if it doesn't cost them much.
It is about this point in the project that I would say things had gone too far to turn back. I was starting to get a few emails from interested users and even some unsolicited cash donations. I should say that by "too late to turn back," I don't mean that I felt committed to others, although there was an element of that, what I mean is that once a project reaches a certain point it feels like it has come to life, a child that you must keep alive at any cost.
I'm not very good with dates, but sometime around 2000 the very simple and obvious thought occurred to me that all a web server does is accept a text request and return a text response. "Hmmm..." I thought as I poured myself my fourth scotch too many. "How hard would it be to make JACL work on the web?" The answer, as it turned out, was not very hard at all. I used a library called FastCGI to wrap the command processing code, gave each user a random session ID and used the normal game-saving code to save the current state of the game after each move. Voila! JACL was on the web. Sweet. Sure, there was a serious mix of presentation and code (which has now been mostly fixed), but it was certainly a big chunk of new functionality for relatively little effort.
I personally prefer the server-side approach to presenting interactive fiction on the web. Although Javascript can be used to enhanced the player's experience, it is not essential, and with careful programming (done once only in a library), games can be made to degrade gracefully to the point where they are perfectly playable with a simple console browser like Lynx. At the other end of the specrum the author also has access to the full power of the modern web browser including graphics, sound and GUI widgets. GUI widgets can be surprisingly useful even in an IF game. Options such as 'verbose' and 'brief' can become radio buttons and inventories selectable list boxes. The web interface library that comes with JACL can even be switched between a point-and-click mode and a regular command prompt for example, which can be a good training tool for new players. To support this type of functionality JACL has a language feature that allows the author to map a URL parameter to a JACL variable, along with some validation constraints. This keeps the
GUI and the game's internal model synchronised with no extra game code
. The obvious down sides to the server-side approach are latency and the need for a continuous network connection. The game just mentioned is running on a very old laptop behind a slow domestic link, external hosting would greatly improve this situation.
Interest in this new web-enabled version was much greater due to the fact that a variety of
graphical turn-based games
could be made. This interest lead to a very generous donation to the project by Andreas Matthias in the form of a web server module that could be bolted onto the interpreter to turn it into a self-contained application server. Simply run your game from the command line and point your browser to http://localhost:8080. This was perfect for development as authors didn't have to install and configure Apache and FastCGI. As JACL is an interpreted language this web server module would also check the time stamp of the game file before each request and reload the game automatically if it had changed. This made development for the web as quick and painless as it was for the console.
Having someone contribute something valuable like this is really raised the bar and inspired me to put more effort into the project myself. At this point I totally re-wrote the parser to work much more in the way it should have in the first place. I'm not saying it is perfect yet, but it is certainly now at the point where you can play a game without being overly aware of it, although I will concede that disambiguation is still an issue, particularly with
the web client
. Incidentally, this 'game' is an example of what a JACL game that has in no way been written for the web looks like online.
Eventually I stumbled across what I consider (yes, from my selfish perspective!) the finest addition to the world of Interactive Fiction ever:
Glk
. I know it has its detractors, but for me it was a chance to not only to port JACL effortlessly to many platforms, but also to go under the radar -- to appear (superficially at least) to look more the like interpreters that people were already familiar with. The pinnacle of this for me is
Gargoyle
, and I can't thank Ben Cressey enough for being so helpful in getting JACL integrated in that project. It is great for people to be able to play JACL games without the need to find and install any extra software.
Although complex graphics were always possible using the web interpreter, Glk brought graphics to the desktop interpreter for the first time. In addition to this I discovered the joy of adding sound to a game. I am a big believer in how much sound can add to a piece of interactive fiction and the Glk JACL interpreter now supports time-triggered sounds, fades, cross fades and chained sounds across eight audio channels.
An interesting observation I'd like to share at this point is that the fact that only a small number of people have written games using JACL has been paradoxically rewarding. If you write a piece of software and only a handful of people use it you have more time to give to those people. Those people (I believe) appreciate the quantity of time you are able to give them and out of those interactions some strong friendships have been formed. In fact at times those interactions keep me quite busy and I now realise that if I had a lot more users my contact with those people would be much more terse and distant, leaving the community to assist itself, much in the way it does with Inform and TADS etc. That would be fine for the community itself, but from a personal point of view I enjoy things the way they are.
Of course users, even one, means a manual, and that is something I have enjoyed too. It is the only part of the whole project that I have been able to hold in my hands and say "I made this." Or maybe I've just watched too much
X-Files
. Of course like many areas I should really say, "we made this," as many people have contributed to the content. Robert Osztolykan and Parham Doustdar did a lot of wonderful editing and come up with some interesting suggestions along the way. One simple example is the suggestion that there should be a way to querying how often a function had been called. In JACL all actions map to a function so this feature serves as a great way to handle multiple repeats of the same action or checking whether action A has been done before allowing action B, all without manually storing any extra state information. It was a simple addition that turned out to be incredibly useful, and one that I would not have thought of on my own.
So where are things at now? Recently I have had code donated by Thomas Schwarz to the web side of the project that handles user registration and password reset which I hope to include in the 2.8 release (in fact a multiplayer fork is looking likely), some Ajax code and CSS to give a scrolling history of previous commands and a French translation of the verbs library by Eric Forgeot (German was done many years ago by Niels Haedecke). Another interesting observation (well, I think it is anyway), is that the vast majority of JACL users don't come from an English speaking background. I'm guessing this has something to do with being more open to things outside the mainstream, but I really don't know, maybe it is just a statistical anomaly (and don't give me any stick about being a small sample size. :) )
As it appears to be topical at the moment I should mention that JACL runs with a very open development process, which is of course much easier to do with a small community. Almost all active users run a version straight from the Subversion repository and feedback often leads to working code within days. After a period of time many users also get write access to the repository to either contribute to JACL directly or simply to have a convenient repository to store their game code in. It is also much easier to help eachother with our games when the source is in a shared repository like that. I try to have a feature freeze for at least a week or so before a public release is made, more so with an interpreter that is destined to end up in a Gargoyle release.
The final missing piece of the puzzle for me personally now is a good game, and this is what I am busy trying to turn my 2008 IntroComp entry,
The Bloody Guns
, into. Whether I succeed on that front I don't know. I'm starting to realise that writing a truly great piece of interactive fiction is extremely difficult. The perfect blend of story, writing, puzzles and fun can incredibly elusive, but I'm giving it my best shot. I'm probably about two thirds of the way through now and particularly happy with the way that multitrack sound is enhancing the experience without being necessary to play or enjoy the game. Oh, and if you want to help beta test please send me an email! In fact a "producer" is more what I feel like I need but that is probably a bigger commitment again.
Well, to sum up, over the last fifteen years I have learned a hell of a lot, made a lot of good friends, gained a real sense of achievement and annoyed the hell out of my wife. Okay, so maybe the last one isn't so cool, but if you have an interest in something, pursue it, and don't worry that someone else has already done it before you.
Back to Table of Contents

An IF Exhibition by Fabien Vidal (fabien.vidal SP@G flap.fr)

---
[With the IF community suddenly growing more enthusiastic about interacting in the physical world following the PAX East excitement, this article comes at a particularly perfect time. There are some great ideas in here for ways to present IF in the real world in ways that are more interesting than a line of computers running games. Perhaps for PAX East 2011? --JM]
I have a problem: I like Interactive Fiction. Yes, it is a problem, because IF always felt to me has a very lonely activity, especially difficult to show and explain to my friends. Most of them are healthy enough to dislike computer games. And the others are particularly found of modern games. You know, those games full of action, colours, special effects and online fest which are quite incompatible with arid IF screens. So I feel a bit alone there... Alright, I have to be honest: I do particularly enjoy the status my hobby brings me among other gamers: I am the one who enjoys some particularly weird things, the man courageous -- or crazy -- enough to wander in uncomfortable territories but, who knows, might have discovered some unspeakable treasures. Ok, that's fun. But it is not really enough for me. I'd like to share! Share with the gamers, and share with those who hardly tolerate the computer, and only when it deals with work.
Don't worry, I have already shown some fun and very simple games to my friends. Told some good stories such as Shade and explained how much the fact that you are writing your actions adds to immersion. They were somewhat curious, but I haven't converted any. Actually, I promptly realised that I had never expected to convert them. What I was trying to do, was to share the magic. Let them feel what that wonderful toy was. Yet I had hardly scratched the surface of what IF meant to me.
If we go further back in time, as I was programming some weird hacking tool, I realised that I was picturing my programs as sculptures. I felt that the energy I was spending on my work was similar to the one of a craftsman. First hitting hard to remove rough chunks from a large stone, and very progressively, going to finer and finer details. As my programming works were taking shapes, the picture in my head was slowly turning into a composite sculpture, a mix of stones and clockworks. Chained lists were series of little cards tied to each other, with lots of mechanical strings or chains to move them around. Objects were small boxes, linked between each others with all sorts of cables, sometime with a window or a small opening to see what was inside. User outputs were clean pictures in nice frame with all the nasty mechanism trying to hide behind. When I was programming, would you have given me the wires, bits of metal, and welding skills, I could have created a different sculpture representing each procedures…
And today, when I am playing IF, I can't get rid of these pictures. I always imagine the mechanism lying behind the words on the screen; see story files being ran as automated puppets standing on the stage of the interpreter. So later, when trying to explain IF to my friends, I realised that it was not the gaming fun that I was trying to share; but that vision of a mechanical toy, telling a story.
I reckon, that's probably a very personal vision. But from this vision I thought one day "Well, maybe would it be possible to make an exhibition about IF?" The first time I had that though, it seemed as a very new and weird idea to me. IF was maybe one of the most boring and less adapted object that I could imagine to be shown at an exhibition. I remember the pictures of the computer at the Commonplace Book Project exhibition, running IF made specifically for the occasion. And I didn't like at all! For anyone to immerse into an IF story, it takes time and some skills. If you are unfamiliar with it, it takes time and energy to understand. Then, to enter into the story, you need to try many things, get stuck, try again… Every person would have to sit at least half and hour in front of the machine, and museums already pump such an huge amount of energy that I can't imagine many people investing that much concentration on the arid screens. So, an exhibition about IF only? 10 computers lined in one room, and people staring at their screen as they would do in a cyber café? Yuck. That's definitely not what I would enjoy! And it would totally miss the point that I am trying to achieve: showing the magic to computer reluctant people…
But still, there was something that seduced me in the concept. Helped by my vision of programs, I started to think of what part of IF could be displayed without the help of computers. And I don't regret the trip, as I discovered that IF world is much richer than just a few lines of text on a screen. I give a list below of some of my wild thoughts of what part of IF could be interesting to display, and how.
- The Software telling the story. I started the article with this. My head is full of images of sculptures, mixing stone, mechanism, bits of text, hidden behind a cardboard stage showing the story. I am not an artist, but I am sure that it is possible to represent software in interesting ways.
- The stories. Having the people to play a story in a museum, if it is the only thing being displayed, does not seem appropriate to me. But, I quite think that it is possible to make interesting montages with one or a few transcripts of the same story. For example for Shade we could have the transcript and next to it pictures of what the player imagines, as well as the way the setting progressively changes. To display the fact that the player impacts on the story, but sometimes with some limits, a montage can be done with one transcript branching into a few different ones. Some transcripts branches could merge back. Some would never, in the case of a story with multiple endings.
- The history of IF could also be so interesting to display: we do have a real mythology of IF. The history of Adventure / Colossal Cave is fantastic. There was the mammoth cave being charted for the first time by a freed black slave. Then, a good number of decades later, there was that father, passionate with speleology who wrote a game at the very early age of computing, to introduce his hobby to his children. There was also the early diffusion of the game, the many versions... There is material to show good pictures here, and that part of history does not only deal with IF, but also with the early ages of computing, slavery, family, and also how literature is a common dream built over generation by very different people. That story could touch a wide range of people. The early years of Zork at MIT, added with some good pictures of the people and settings at the time, the evolution of Infocom into a serious company, would also be a good story. The IF age of internet too, as the reborn of IF and the tremendous changes that the Internet brought in the relation between the aficionados is a tale that is valid for many other people in different branches.
- The geography of IF is worth something too: the location of players and writers in the world, to display the international movement. The way different communities emerged and are linked together, their respective evolution. I think that some fun maps and good pictures could be done.
- The huge variety of machines on which Z-code could be interpreted could also be a good material to display IF. I see two interesting things here: it is a good excuse to play the antiquaries here and bring a smile on the machine lovers' face. Through showing the diversity of support for IF, we also show the diversity of electronic devices, languages, computer uses that our societies imagined, and also the incredible energy of the hackers (The good ones: those who like to do weird thing with stuff not designed for that. Not the pirates.). The other point is a thought on the permanence of IF, while computing is believed to be a world where things get deprecated terribly rapidly. It is true that IF tastes changed a bit, the art evolved, but the support remains almost unchanged. For example The Lurking Horror plays as well as ever. It is a good reflection on the fact that computing is not doomed into never ending race toward performance superlatives. A fun series of pictures could be made with the evolution of IF compared to other videogames. And maybe something with the relation with book and cinema can be done to next to it or mixed with it.
- The relation between the player and the game is also fun. In can see some kind of "paintings" with just 10 or 20 words on them: the player's command on the prompt and the reply. Or the text before the prompt, followed with the player's command. These could be extracted from genuine transcript. I am sure that there is a wealth of funny little bit of texts to be extracted there, which would illustrate the artificial relation being created between the player and the machine. I could also imagine a series of pictures displaying players sitting and staring at their screen. A wide range of desk could be shot depending on the geekness, family and the nationality. Or a portrait "before", as someone looking at the camera (so us), in a relation from human to human, and a portrait "while", as someone staring the screen, in a relation from human to computer.
- We could go on the on the same track as the future documentary Get Lamp. The story of the people who create the software, stories, or the federate the groups could also be fascinating. Some good portrait and biographies could be displayed. Maybe with an interrelation tree…
- I am obsessed with the need to make these games feel more material. Another image that I have is a large bookcase, with every book representing an IF. If that library was to be built, the books would have the cover of the game, the title on the front page, on the back, there would be the pitch as given in IFDB. Maybe in the pages, there could be a game transcript? Or the source code? There could also be a memory stick, a flash card, or whatever bit of data support containing the game. Those books, organised by styles, could show very well the wealth of stories that are being written as well as the various styles and countries of origin.
Well, basically, the more I think of it, the more I am convinced that, yeah, there would be lot of things to show about IF. And that it could raise people's curiosity, even if they don't ever plan to play. A bit in the same way as I enjoy watching things related to architecture or painting from the nineteenth century, but neither plan to build nor paint anything.
Now I have a question for you. Have you ever done, or ever heard such creations related to IF? I would love to know if anyone else as a vision of IF, depicted it and of course see what it looks like! Feel free to send your comment. If they are interesting enough, this article just might have a sequel...

Back to Table of Contents
Jay is Games Casual IF Competition Reviews
---
Casual game portal
Jay is Games
recently hosted a
competition
for short, "casual" works of IF that are not too demanding on their players' time. Perhaps prompted by the $1000 top prize, the competition received no less than 30 entries. As one might expect, these were not all of stellar quality, but at least 1/3 were genuinely solid, playable games, and even many of the deeply flawed entries showed potential. Best of all, some of the most interesting games came from some welcome new authors that I hope will stick around to give us more, and perhaps more ambitious, works in the future. For those keeping score,
Hoosegow
from the new IF Power Duo of Ben Collins-Sussman and Jack Welch took a much-deserved first place, followed by Stephen Grande's
Fragile Shells
and Andrew Plotkin's
Dual Transform
. I'd encourage readers who have the time, however, to dig beyond that deserving trio to find some more diamonds, albeit sometimes in not such a state of polish as the winners.
Here a crack team of reviewers tackles all 30 games. Thanks to everyone who contributed to this effort, especially to Irfon-Kim Ahmad, who truly went above and beyond in writing detailed, thoughtful reviews of more than half all by himself.
| | |
| --- | --- |
| Title: | Basic Train-ing |
| Author: | bpsp |
| Author Email: | |
| Release Date: | February 2, 2010 |
| System: | Z-Code (Inform 7) |
| Version: | |
| Reviewer: | David Monath |
| Reviewer Email: | dmonath SP@G gmail.com |
This brief and shallowly implemented scenario has an amusing premise, but suffers not only from guess-the-verb but also guess-the-noun. The action begins with an effectively amnesiac player character imprisoned on a train (Titular Humor: Ha Ha!) hurtling toward an unknown destination beside a giant robot and a man encased in plastic. While the writing is a tad weak ("First, what can only be described as a robot."), more problematic are verbal disconnects such as that encountered trying to free "a man encased in some sort of clear plastic":
>cut plastic "You can't see any such thing."

>x prisoner "The plastic encasement . . ."

>cut encasement with knife "I only understood you as far as wanting to cut the casket."

>cut casket with knife "I only. . . wanting to cut the casket."

>open casket with knife "The knife pierces the plastic after a vigorous thrust . . ."

With a minimum of playtesting, this could have been a fun, ten-minute diversion. As it is, although Basic Train-ing has no help feature, the player can learn the necessary verbiage from the walkthrough and eliminate most of the potential frustration.
Back to Table of Contents
| | |
| --- | --- |
| Title: | The Blueprint |
| Author: | Thaidaree |
| Author Email: | |
| Release Date: | February 2, 2010 |
| System: | Z-Code (Inform 7) |
| Version: | Release 1 |
| Reviewer: | Irfon-Kim Ahmad |
| Reviewer Email: | irfon SP@G ambienautica.com |
The theme of the Jay Is Games CGDC #7, which this was an entry in, was "Escape," and
The Blueprint
serves up pretty much the most literal interpretation of this theme possible: escape from an otherwise uninhabited jail cell. It is clearly intended to be an old-school puzzler, and folks who like challenging puzzles and don't mind occasionally beating their heads against a nearby surface will get the most out of this game.
However, for me any game where I had to hit the walkthrough to take the very first action starts off on the wrong foot, and while to some degree that's a matter of gameplay preference, there were several instances during
The Blueprint
when I was sent to the walkthrough and came back thinking that there was no reasonable way for the author to have expected anybody to be able figure the solution out. There are difficult puzzles and then there's being expected to read the mind of the author, and I think that
The Blueprint
strays into the latter on at least two occasions, one of which occurs immediately at the outset of the game. Putting the player in a frustrating bind like that right off is not only not likely to make friends of many players, but also frustrates them before they're particularly invested in the game. Had I not been intending to review the game, it's unlikely that I would have continued playing.
Compounding the obscurity of the solution is a design issue that I feel is important for IF authors to be very careful about. In some cases, the solution requires interacting with objects that the player can easily be convinced aren't defined objects in the game, based on responses to other commands. When exploring an IF environment, one of the first and most important processes is determining what is a game object and what is "flavour," and the best games are ones that help you in making that determination while also keeping the sense of a real world.
The Blueprint
at times does the opposite -- convincing you that important game objects are just flavour, such that the player tends to limit how many interactions they'll attempt before moving on to search for some other solution.
Aside from that, this isn't a bad game, and some people whose minds are better built for puzzling than mine might breeze through the issues I mention here without a hitch. The story isn't especially well fleshed-out, but what's given is fun enough and certainly provides motivation and goals for the player. There's really no chance to say, "I'm not sure what I'm supposed to be doing right now." In that sense, the game succeeds.
Another plus is the implementation of multiple "positive" and "negative" endings, each just as satisfactory as the others.
Still, I think that all of this is marred by extraordinarily little player direction and hinting at a few key points in the game. If you played through
The Blueprint
without looking at the walkthrough at all, my congratulations go out to you, but I think that in its present state the walkthrough is entirely necessary, and that poses some problems for a game that rests primarily on puzzling for its appeal.
Back to Table of Contents
| | |
| --- | --- |
| Title: | Containment |
| Author: | Kevin Mintmier |
| Author Email: | |
| Release Date: | February 2, 2010 |
| System: | Z-Code (Inform 7) |
| Version: | Release 1 |
| Reviewer: | Irfon-Kim Ahmad |
| Reviewer Email: | irfon SP@G ambienautica.com |
Containment
is hard to describe as a game full of puzzles, because it's more like a single puzzle wrapped up to look like a game. That may sound very negative, but it's really not. It shapes the game in important ways. First, it gives
Containment
focus. There's not a whole lot of standing around wondering what you're supposed to be doing. Second, it allows the puzzle to be slightly more expansive than the puzzles in many other games of its size, requiring movement and problem solving across several locations, while still fitting within a single evening of fun gameplay. The author also did a good job of providing a plausible situation in which your character would know as little as the player does about what's going on, despite it being their job. (Many games set in the character's workplace fail for me because I find it hard to believe that the character would have to puzzle out how to do very basic stuff they must have to do several times every day.)
Aside from that, the game is fairly straightforward and mostly works as expected. The implementation is reasonably solid, and the settings are plausibly streamlined enough to avoid most major this-thing-isn't-really-here issues. The descriptions of some things are confusing -- for example, using compass directions to refer to doors that are in the opposite direction half the time (i.e. the "east hatch" is the "east hatch" whether you're currently standing east or west of it) was probably the wrong choice. Also, right off the bat there's a cue that tells you to closely examine a plot-critical door, and depending on whether you've done something prior, the response is either a brush-off that there's nothing interesting about it or an exhortation to go elsewhere and do something unrelated first. Additionally, there are a few other small bugs, such as a strange insistence on the part of the game to auto-open-then-close valves before following commands.
This would have been a moderately positive recommendation of a generally competent but not overly exciting game except for one thing that it did very, very right, which I found fun enough to want to give it a special note here. Like many games, there are multiple endings available. What
Containment
does (which it's possible that other games do but which I have not personally seen) is to number them and tell you explicitly which one you got and how many there are total -- say, you got ending 2 of 5. The net effect of that information was that I immediately wanted to dive back in and play again to see if I could discover a different ending, and eventually discover all the endings. (I did stop after having found only three of the five, but only because I had another engagement to get to.) I'm not sure if the novelty would wear off if all games did it, and I don't think I'd want to bother for a longer game, but for a bite-sized game like this one, it created a fun, almost Choose-Your-Own-Adventure style addictive replayability that I really thought others in the short branching game genre should consider adopting.
Because of that alone, I'd push its recommendation up a few slots in the pile. Even without that mechanic, the game is fun, short, and reasonably solid. With that added in, the hunt to find all the endings brought a genuine smile to my face.
Back to Table of Contents
| | |
| --- | --- |
| Title: | Couch of Doom |
| Author: | Megan Moser and Margaret Moser |
| Author Email: | |
| Release Date: | February 2, 2010 |
| System: | Z-Code (Inform 7) |
| Version: | Release 1 |
| Reviewer: | Reiko Yukawa |
| Reviewer Email: | telyni SP@G gmail.com |
Gritty slice of despairing life with a dash of second-rate superhero dreaming. Come on, you have to restart the rusted robot just to have an opponent, and then you don't even get to fight it. Instead you have to rescue invisible people that can't be referred to as people. This game could have used several more beta testers to catch all the issues with interactions among objects and situations. The text was well written enough except for a few typos, but it was often not effective at conveying everything the player needed to know about what was in the room.
Like the invisible assumed desk drawer from another game, this game had invisible assumed cushions on the couch which were hiding important items. To make matters worse, trying to examine the cushions directly results in "Why bother?" The player must overcome that feeling of ennui and make the effort to actually search the possibly nonexistent cushions to find the objects. Granted, that's the point of the whole game, to make the effort to do things, but too much of that will just make the player wonder if it's worth it to bother to play the game at all.
The best part of the game was the PC's cat, who is helpful in several different ways in addition to being cute and cuddly. Fortunately the cat was one of the first things I saw, or I may not have had any desire to keep playing, given the wretched state of the PC and her room.
The PC was apparently so sunk in despair (why she was in that predicament in the first place was never explained) that standing up off her couch is the pinnacle of achievement. This is so inconceivable that it's rather difficult to feel any sense of accomplishment at having played guess-the-object and threaded the maze of the authors' minds. If it hadn't been necessary to turn to the walkthrough to find the hidden objects, it might have been an accomplishment.
Back to Table of Contents
| | |
| --- | --- |
| Title: | Critical Breach |
| Author: | Grey |
| Author Email: | grey01 SP@G gmail.com |
| Release Date: | February 2, 2010 |
| System: | Z-Code (Inform 7) |
| Version: | Release 2 |
| Reviewer: | Irfon-Kim Ahmad |
| Reviewer Email: | irfon SP@G ambienautica.com |
I must admit that I got off to a bad foot with
Critical Breach
. The opening of the game is, put plainly, frustrating. You begin with no information, no context, no motivation, no goal, and almost no commands you issue work (by design, so I'm not claiming poor implementation there). Ultimately, my progression through the section occurred primarily by the game misinterpreting commands in my favour.
That introduction winds up having little to nothing to do with the rest of the game. Whether that's a good thing or a bad thing is hard to say. On the positive side, the gameplay improves dramatically thereafter. On the negative side, your patience is severely strained by the time you get to actually attempting to solve puzzles.
Here's where I need to make a personal admission. I do not like games with provide me with no background, framing, identity or motivation. While many of the classic Infocom games fall into this class of games (In
Zork I
, who am I? Why am I in the field? What gives me the right to read someone's mail, then break into and pillage their house? Why would I want to do that anyway?), it's never sat well with me.
Critical Breach
isn't entirely without context, and it actually does a good job of meting a certain amount of backstory out here and there over the course of the game, but even after the introductory section, the player is mostly left manipulating the environment because it's there and, well, what else are you going to do? Adding to that sense of disconnect is the (slight but nonetheless inexplicable) difficulty in solving puzzles that amount to making the character perform their daily job, at which they've apparently been working a number of years. Shouldn't they know how to do all of that? Why are they fumbling with figuring out how to do basic workplace tasks?
Beyond that,
Critical Breach
plays reasonably well and does an excellent job at creating tension (in fact, I wonder if that was part of the intent of the frustrating initial sequence -- to put the player on edge in ways that would become useful later). The puzzles were satisfying but not frustrating, and the writing was mostly servicable and with the occasional dry wit that really helped. Once you hit a certain point, the plot moved forward quickly in a way that encourages you to play the game in a single go if you've gotten that far, and it's very possible to finish it that way. Add in the possibiliy of multiple endings for a small amount of replayability and it's not a bad play, especially if you like horror/sci-fi puzzlers.
I just wish I'd felt more invested in the character and less frustrated with the game (again, based on the early section). So if your interest is primarily in character and story, I'd give it a miss, but the short recommendation in the previous paragraph is up your alley, then it's definitely worth the quick play it winds up being.
Back to Table of Contents
| | |
| --- | --- |
| Title: | The Cube |
| Author: | Simon Smart and Eleanor Gang |
| Author Email: | simon.smart SP@G silverclaw.net |
| Release Date: | February 2, 2010 |
| System: | Z-Code (Inform 7) |
| Version: | Release 1 |
| Reviewer: | David Monath |
| Reviewer Email: | dmonath SP@G gmail.com |
The Cube
is a fast-paced, cartoon-ish adventure, most of which consists of a predictable series of node-to-point jumps and back again, with only a single object to interact with. There are a few low-difficulty puzzles which effectively walk the player through themselves, incorporating generous hints into the text and adding a list of
Cube
's unique commands in the help feature. It might be considered easy to a fault if the authors weren't so clear about being entry-gamer friendly. The mechanics of getting the game rolling are poorly structured, in that many seemingly important described elements (engravings, lights) have no further implementation and can serve as inadvertent red herrings, but while this same problem crops up a few times, there aren't so many objects to examine that it becomes truly prohibitive to completion. Overall, it's interesting enough to justify an anticipated fifteen minutes or so on, and ranks in the upper third of the shorts to come out of the Jay is Games Escape competition.
Back to Table of Contents
| | |
| --- | --- |
| Title: | Drama Queen 7: Mother Knows Best |
| Author: | HermDog |
| Author Email: | |
| Release Date: | February 2, 2010 |
| System: | Z-Code (Inform 7) |
| Version: | Release 1 |
| Reviewer: | David Monath |
| Reviewer Email: | dmonath SP@G gmail.com |
Drama Queen
is a casual-quality sendup of the classic 1960's American spy genre, intentionally campy and highly referential, from ridiculously-named NPCs to a shoe phone and mad scientist chemistry experiments. While this is yet another game which requires the walkthrough to fully negotiate, many of the puzzles are based on a consistent internal logic with sufficient clues to at least determine the proper course of action, even if manipulating the game into executing the player's commands is often annoying. For example, the PC can phone his mother, but she isn't in scope when greeted unless addressed in a particular manner.
Drama Queen
has just as many noun and verb faults as many other games from this comp, but there are two critical differences: the aforementioned puzzles, and an engaging narrative. The author's descriptions are characterful, and there are many papers and objects in the game which provide detailed but not laborious color.
Drama Queen
can't be recommended without reservation, but it's at least fitfully entertaining and often fun.
Back to Table of Contents
| | |
| --- | --- |
| Title: | Dual Transform |
| Author: | "Nigel Smith" (Andrew Plotkin) |
| Author Email: | erkyrath SP@G eblong.com |
| Release Date: | February 2, 2010 |
| System: | Z-Code (Inform 7) |
| Version: | Release 5 |
| Reviewer: | Irfon-Kim Ahmad |
| Reviewer Email: | irfon SP@G ambienautica.com |
Dual Transform
is likely going to alienate or excite players in about the second sentence, which reads: "You've been slogging towards the goal -- true metasemanticity -- for months." If you read that sentence and think, "Oh, that's fascinatingly vague, let's see where he's going with that," then you're likely to enjoy the game. If you roll your eyes and think, "Oh, not another self-congratulatory, pseudo-intellectual indulgence," then this is probably not the game for you. (If, like many of us, you're not entirely sure which of those camps you fall into, then I'd say to err on the side of giving it a whirl. It does get more engaging from there and, well, the time commitment in finding out if you enjoy it or not is not very great.)
In the end, I don't think the game ever truly gives you a lot of philosophy to chew on, but I do think that that's a suitable filter because the game puzzles play with metaphor in a way that is likely to appeal to people who are curious in that vaguely
Myst
ian way.
And in the end, I do think that this mostly winds up being a puzzler. It's an exceedingly well-crafted puzzler, though, in that it leads you through the puzzles with such a smooth and seamless sense of building, each on the former, that the player is always engaged -- the game equivalent of a "page turner," or a great RPG that knows just the exact moment before you've completed one quest to saddle you with the next. Similarly, the environments are described in a way that makes them feel rich instead of limited, but are limited in a way that results in you very seldom spending time chasing dead ends or trying to figure out where your focus should be.
As a result, the game is mostly very satisfying but also unabashedly short. You'll play this one all the way through in less time than you'll spend getting the swing of the setting and command set of most other games. (Or maybe it just felt that way -- see "page turner" above.) And in the end, the smooth ramp of difficulty does rob it of any feeling that you've overcome a huge obstacle. In the end, it winds up feeling like an enjoyable and well-crafted short diversion, which isn't in the end a bad thing at all.
I do feel it necessary to note, and I hope that this isn't spoiling anything, that I found the ending very unsatisfying. Also, especially toward the end, the focus of the game does start to feel a lot like railroading, especially with respect to the ending itself. And after that end, I don't feel like my knowledge of or attachment to my character was any less perfunctory and clinical.
Those may sound like dire complaints, but they're really not, especially since the game is, as mentioned above, quite short. I'd definitely recommend at least giving it a go, especially if the sentence quoted above intrigues you more than it rubs you the wrong way.
Back to Table of Contents
| | |
| --- | --- |
| Title: | Escape in the Dark |
| Author: | Owen Parish |
| Author Email: | doubleprism SP@G hotmail.com |
| Release Date: | February 2, 2010 |
| System: | Z-Code (Inform 7) |
| Version: | Release 3 |
| Reviewer: | David Monath |
| Reviewer Email: | dmonath SP@G gmail.com |
Despite an implausible setup, it's hard to resist a literal locked room mystery couched in medieval thievery and flickering torchlight. However, like many quickly written exercises, the command requirements are overly rigid, noun/description implementation is spotty, and the result is an intriguing but frustrating game. The player needs to show a badge to another character, but the ability to show the badge is contingent on first precisely typing, "Ask prisoner about prisoner." If one tries to say hello to the prisoner, or asks the prisoner about another topic, or just intuitively grasps that the badge must be displayed, the game not only fails the action, but reports, "Whoever's in the other cell is too far away to see the badge." The game has just told the player that a necessary action is impossible, and explains in such a way as to ensure they will not try again, or worse, will waste time trying to devise an alternate means of introducing the badge to the prisoner. The player may have a better experience by just typing the walkthrough verbatim to avoid some likely frustration.
Back to Table of Contents
| | |
| --- | --- |
| Title: | Escape into Fiction |
| Author: | M27 |
| Author Email: | |
| Release Date: | February 2, 2010 |
| System: | Z-Code (Inform 7) |
| Version: | Release 1 |
| Reviewer: | Reiko Yukawa |
| Reviewer Email: | telyni SP@G gmail.com |
The story behind this one is more complex than it seems at first, but the simplistic and sometimes unclued actions necessary to get to the ending make it unclear whether it's worth it. It seems to be the story of a library and the sorts of tales a library might hold, but it ends up being the story of the PC after all, not that there's much of a chance to affect the result.
Part of the problem is that the author doesn't seem to know how to use semicolons or conjunctions, nor its and it's, so the text just isn't very much fun to read, besides being simplistic and vague. And why are just a couple of object names capitalized?
The puzzles are mostly just finding the right item, often with use of the Search command, although what needs to be searched is sometimes outright stated and sometimes quite obscure. Once you find the last item in the first story, control is taken away though. No choice about whether to use the item or not; the scene just automatically ends and dumps you back into the library.
There are theoretically two endings, but the only difference seems to be one action at the very beginning, which causes an event which seems trivial but somehow causes a change in heart in the PC by the end. The best part of the game is the very end, which opens up the complexity of backstory and motive that should have been layered throughout the game and not just explained at the end.
I think this could be presented much better as a static fiction short story, because none of the plot would be lost by removing the interactivity. Then again, the shortcomings of the writing would only be more glaring in a static fiction piece. I really can't recommend it either way.
Back to Table of Contents
| | |
| --- | --- |
| Title: | Fragile Shells |
| Author: | Stephen Granade |
| Author Email: | stephen SP@G granades.com |
| Release Date: | February 2, 2010 |
| System: | Z-Code (Inform 7) |
| Version: | Release 1 |
| Reviewer: | Reiko Yukawa |
| Reviewer Email: | telyni SP@G gmail.com |
I'm a sucker for science fiction, so I was looking forward to playing this entry in the competition not just because of the well-known author, but because of the beautiful picture of a space station orbiting over the ocean. Sure, space stations have probably been done to death along with alien planets and other SF tropes, but this one is done well, with just enough backstory to illustrate a bite-size escape.
The simple setup is that you appear to have been abandoned by your teammates on the space station after an explosion severely damages the structure and knocks you out. For the first few turns, it looks like you have a serious head injury, but soon your head clears and you see the area clearly and start getting flashbacks about what happened. Yes, there's some amnesia, but as with the space station, it's used deliberately and carefully to give the right setting without going overboard. It doesn't take long to figure out the way to get off the station, although implementing it will take a little longer. It's actually very much like the flash games where you can see the door right there, but there is a chain of steps needed to get it open.
The puzzles are always logical, although with a couple of them, it's easy to get a little sidetracked when a critical object isn't described in quite enough detail. Plus the station doesn't seem to be laid out in a sensible way, but that's mostly due to the explosion: objects have been thrown around all over the place. For instance, it wasn't obvious the first time I looked at it that the locked compartment was one of these objects, so it didn't make any sense that the trigger button would be in another room from the compartment. It's pretty realistic that this would happen given the extent of the damage though. That's where the story shines: it's realistic, built on sensible conceptions of space stations, with just a bit of technology that's beyond current capabilities; the most unrealistic part was the way the PC's brain has been programmed with the ability to calculate orbits and trajectories (I wish I could do that...).
If there's anything that could be improved, it would be the sense of urgency at needing to escape the station. As the suit's readout says, "Plenty of oxygen; no integrity issues." I'm not advocating an actual timer, but having a progression of atmospheric messages indicating running lower on oxygen, or perhaps the station's orbit decaying, would have improved the sense of needing to do this
now
. If there's plenty of oxygen and the station is orbiting fine, then there's time for a rescue from the ground. No, the PC needs to make the effort to escape by himself, or there's no reason to solve the puzzles.
Certainly this game is quite polished and well worth playing, a refreshing change from the clutter of the first-time submissions to the competition.
Back to Table of Contents
| | |
| --- | --- |
| Title: | Golden Shadow |
| Author: | The Technomancer |
| Author Email: | |
| Release Date: | February 2, 2010 |
| System: | Z-Code (Inform 7) |
| Version: | Release 1 |
| Reviewer: | Irfon-Kim Ahmad |
| Reviewer Email: | irfon SP@G ambienautica.com |
This review is short, as was the gameplay of this game. There are no real puzzles to be seen and very little story line. There's a bit of poetry which indicates that the actions in the game are likely meant to be metaphors, but this idea isn't very thoroughly fleshed out, and you don't have to think about it at all to play the game. The majority of the difficulty in the game comes from undefined objects that distract you from the game components -- you'll get a lot of "You can't see any such thing" messages. Once you narrow it down to the defined elements, combining them to solve the game is trivial, and total play time for me was on the order of three to five minutes.
Given that, is there value to a title like this? I think if more of the undefined objects were given descriptions so that the player could engage in interested exploration of their environment rather than being frustrated by the parser and if the strange philosophical setup and ending were filed off and replaced with something a little more relevant-feeling, it could serve as a great tutorial or introductory piece, especially for younger players. If you've played any IF before, however, or take
Golden Shadow
in its present state, there are a lot of other games that offer more meat to sink your teeth into.
Back to Table of Contents
| | |
| --- | --- |
| Title: | Heavenly |
| Author: | Jim Aikin |
| Author Email: | midiguru23 SP@G sbcglobal.net |
| Release Date: | February 2, 2010 |
| System: | Z-Code (Inform 7) |
| Version: | Release 1 |
| Reviewer: | George Oliver |
| Reviewer Email: | georgeolivergo SP@G gmail.com |
Heaven invites caricature like a diva expects compliments, and if you start a story in a 'nice' Heaven, it's a good bet the author is setting it up just to tear it down. Heavenly makes its intentions clear before you start the game -- its tagline is its "so nice, so mind-numbingly nice, you'd give anything to get away from here". But as I'll get to in a moment, near the end of this review, Heavenly falls short in a critical aspect of its intent, and therefore as IF as well.
Before the action of Heavenly begins you get a chance to wander the stage and see a bit of scenery. It's clear you're in the hands of an experienced and elqouent IF author here, in a well-stocked and described world for a game of this scope:
You peek into the lecture hall and see that Gandhi is warming up to give yet another lecture. You've already listened several times to his speech about nice ways to overthrow a colonial military power. And since there is no colonial military power in Heaven (or at least, not in so many words), the lecture imparts no information that would be of any practical use to you.
Still, as might be expected in a short and perhaps quickly authored game, it's not without moments of interactive dissonance:
> ask angel about cherub
"I don't know much about that," she admits. "Now, can you tell me – is my halo a little crooked? One of the cherubs was polishing it, and I think he got a little carried away."
and
> punch angels
But that wouldn't be nice!

> kiss angels
You can only do that to something animate.
Eventually you'll find yourself in the main situation. Without resorting to spoilers I'd like to say a few words about Heavenly's puzzle.
As I mentioned before, Heavenly's world is well-described, more than is typical, but not in the sense of the story-first games of our contemporary era. It's important to realize that Aikin is writing in the tradition of the puzzle games of the First Wave of modern IF, by which I mean the games that came out in the mid to late 1990s. Heavenly is hardly a puzzle fest, but because it traces its lineage to those games, it repays close attention. Though the main puzzle may not be explicitly laid out as a mathematical or visualization conundrum, the narrative still offers the perfect information necessary to reach a solution.
In essence, the main puzzle hinges on taking advantage of an detail in description that the casual observer may miss. In that sense, the puzzle rewards the veteran puzzle aficionado.
At the same time, Heavenly's puzzle is merciful to beginners. Its design affords them the opportunity to fail a couple of times before hitting on the solution (or resorting to the excellent in-game hints) and achieving the optimal ending. Some of this design probably was deliberate, since Heavenly was submitted to the Jay Is Games Casual Gameplay Design Competition for an audience of people less experienced with IF than the typical SPAG reader.
While the puzzle is I believe a success, unfortunately the game is not, as I'll try to elaborate.
Because the protagonist of Heavenly expressely wishes to get away from a Heaven that's just too nice, the game relies on one of two things. Either the player must believe the character does want to get away from Heaven, or the player must believe Heaven is just too nice and they would rather get away from it themselves. However, short of the rather undesirable act of quitting the game itself, this latter condition is not much to rely on. The player only expresses themself (in this game at least) through the protagonist, whose thoughts and actions are our own; so, we're left with what we think the character wants, expressed by what they see and think as we direct the protagonist through the game.
Curiously, the desires of the protagonist are very subtly made known. It takes a good amount of time and digging through descriptions to really hear what the protagonist thinks:
"The golden inscriptions describe, in vivid detail, an enormous quantity of good deeds. Most of them seem to have been performed by people in the Real World, but here and there, as you've learned by reading a fair number of them (there being not a great deal else to do in Heaven than sing, strum a harp, and read about good deeds) are descriptions of good deeds performed by angels. All of the good deeds described are, to be frank, just sickeningly good."
The strongest characterization of the protagonist comes during the main situation:
He snaps his fingers, and without transition you're carrying a big red book on whose cover is embossed (in golden letters, of course) "The Book of Things That Are Not Nice." You don't like to tell him that you deliberately tossed both the book and your harp off the edge of the nearest cloud the last time he went off on some business or other. You were hoping maybe the harp might hit somebody down below and make a nasty bump on their head, but no such luck. Apparently, it's just not possible to do things in Heaven that aren't nice.
But of course, this critical characterization is buried in the middle of the game, long after we need Heavenly to establish its motivation.
I should back up a little and say that perhaps this motivation is provided early in the game -- if you examine an exit in a certain way, an action that probably isn't immediately obvious to a player, beginner or otherwise.
Regardless, the motivation needs to be presented much more forcefully in a successful game. More than telling the player what they have in their pockets, or what they look like, or who they should talk to or what they should do, a successful IF should show the player why they're playing it -- or show them something in such a brilliant fashion that the player can't help but go along with it. Heavenly not only weakly characterizes its protagonist, but presents a setting of 'niceness' which, let's face it, by its very nature doesn't provoke strong reactions in an average player.
Perhaps the thought was that a light and humorous puzzle game -- like a short and comic story, for example -- doesn't need strong motivation or characterization to make it entertaining, but I would propose in response that this is a critical misunderstanding of IF itself. Because the player must work harder to play IF than read static fiction, the IF should provide 'something extra' to spur the player along their traversal of the work.
However I don't need to try to make my case by telling you -- in fact, let me show you how this characterization and motivation could have been done in the first few paragraphs:
"Day after endless day, stuck in this hideous palace. Its very greenness mocks you: There are no trees here that you can cut down. Every day you spend an hour or two whacking on the big log they put in your suite, but it's just not the same. For companions you have only an endless stream of anonymous, fawning courtiers, that dunce of a Scarecrow, the pathetically neurotic Lion, and - every time you turn around, it seems - the ill-mannered, ill-tempered brat and her yapping, incontinent dog.

The brat - give her her proper name, Dorothy - is the worst of the lot. Some way has got to be found to send her back to Kansas. And quickly!"
And that folks, is Jim Aikin's Tin, and what Heavenly could have been.

And another look at

Heavenly

, from Juhana Leinonen (juhana.if SP@G nitku.net):
You could describe
Heavenly
the same way you'd describe all of Jim Aikin's recent IF: technically solid, well-written, unambitious.
In
Heavenly
you play an angel who finds afterlife not an eternal bliss but extremely boring. Your goal is to find a way to behave so badly that you get kicked out of Heaven and sent to Hell. (Although eternal damnation does
sound like a bit of a rough alternative to being very bored.)
There's a small patch of
Heaven
to explore and the game's central puzzle to solve. Solving the puzzle requires that you use the NPC, DO X command structure. This is perhaps an unfortunate choice since that syntax is not obvious to someone who hasn't encountered it before and the game does not teach it at any point. I can imagine that this had an effect on the game's final score in a competition where there were more than the usual amount of players new to IF and its conventions.
Apart from the NPC commanding syntax the gameplay is smooth and the prose reads well. The game does everything right. It reaches the goals it has set, but the problem is that the bar is set so low that there's nothing to
celebrate by the game managing to reach it.
Jim Aikin is a professional writer and very adept at programming IF. Yet his games seem to focus on the puzzley side of IF, paying not much attention to the literary aspect, which in my opinion is a waste of his talent. I would like to play a puzzleless or near-puzzleless work by him.
Back to Table of Contents
| | |
| --- | --- |
| Title: | Hoosegow |
| Author: | Ben Collins-Sussman and Jack Welch |
| Author Email: | hoosegow SP@G red-bean.com |
| Release Date: | February 2, 2010 |
| System: | Z-Code (Inform 7) |
| Version: | Release 15 |
| Reviewer: | Irfon-Kim Ahmad |
| Reviewer Email: | irfon SP@G ambienautica.com |
Hoosegow
begins as a relatively straightforward Western with the well-worn "escape from prison" theme. Its real character doesn't come out at first blush, except in its subtitle, "A Wild West Wreck." However, as you play through Hoosegow, you discover that what initially seems like it will be a careful examination and plot under tightly surveiled circumstances turns into a vaguely out-of-control comedy of errors.
Hoosegow has some well-drawn and likeable characters. Your partner-in-crime, Muddy, is fun to interact with and has some unexpected and amusing talents. Pastor Pete gets a bit tiring by the end of the game, but has a surprising amount of well-written dialogue. The Deputy, for all his taciturn nature, has his moments. It's hard not to like Flash, the dog.
It's these elements that make up for a backstory that doesn't necessarily have as much traction as it could and a series of puzzles that have often-hilarious but just-as-often-repetitive solutions. This is a game that's easy to picture but occasionally surprises you, almost always in ways that make you smile, and which is relatively easy to get immersed in. It also provides a surprising amount of gameplay and a reasonable amount of depth for a single-room escape game that requires no notes or mapping, especially when compared to the other games in the competition. I think that it's mostly the charm and lighthearted fun of the game that has earned it all the kudos it's received.
Also well done are the multiple solutions available to many of the puzzles and the way that within the strictures of the story they're generally made as non-linear as possible, allowing you to easily drop a given puzzle and work on another until something comes to you.
If I have any complaints about
Hoosegow
, they are two: First, there are a few objects that you have to interact with which aren't mentioned in the room descriptions they're in, and second, both the writing and the general conception of the last couple of scenes don't hold up to the quality established earlier, and elements go so far as to strain plausibility in disappointing ways. By then you're on the straightaway for the endgame anyway, so it's easy to overlook, but I did find it pulled down my satisfaction in the resolution quite a bit. (There are also a couple of bugs near the end, which are surprising for a game in its fifteenth revision, but aren't enough to be really problematic.)
These are all relatively minor complaints, though.
Hoosegow
is fun. It doesn't take itself too seriously, and yet it provides decent gameplay that I think anybody with some patience and a decent head for puzzles will enjoy. Also, the alternate endings had some genuinely funny writing in them, which isn't always the case for "outtakes".
Although for the sake of time I made heavy use of hints and walkthroughs when playing the games in this comp,
Hoosegow
is the one where I held them in reserve the longest, both because the puzzles mostly felt graspable and solvable without a lot of frustration and time and because I was just enjoying the game enough that I wanted to experience it at face value as much as possible. I don't know that it was my favourite game of the comp, or that it had my favourite elements, or that it had the strongest writing, but it was a game that once I got started, I definitely wanted to keep playing and had a lot of fun doing so. Because of a few out-of-left-field puzzle solutions that were at required choke-points in the solution set, I don't know if I'd recommend the game to complete first-timers or people giving IF a second chance after being put off by frustrating puzzles in the past, but I think most other players will genuinely enjoy this game.
Back to Table of Contents
| | |
| --- | --- |
| Title: | I Expect You to Die |
| Author: | Anthony Schuster |
| Author Email: | |
| Release Date: | February 2, 2010 |
| System: | Z-Code (Inform 7) |
| Version: | Release 1 |
| Reviewer: | Irfon-Kim Ahmad |
| Reviewer Email: | irfon SP@G ambienautica.com |
For the most part, the title of this game gives you the bulk of the information that you'll need to determine if you're going to like it or not. It's a self-aware send-up of James Bond-style supervillain death trap escape sequences that mocks its genre without ever entirely transcending it. It also kills you at the drop of a hat, often without either any warning or any reason to believe that the action could have resulted in your death, other than the general warning the game provides you that any action could result in your death. As mentioned, however, it's a very self-aware game, so it does warn you of this up front along with a reminder that the undo function is available. Ultimately, the idea is not so much to avoid death as to use dying and undoing as a means of exploring your environment, and as such, the frequent instant death element of the game is less bothersome than it would ordinarily be.
The bigger issue with this game is that it seems, if nothing else, poorly play tested. It's hard to give examples without spoiling the puzzles, but it's as if someone offered you a pie with a hand grenade missing its pin in the middle. You could, of course, refuse the pie, but the game won't let you, so you spend quite a while trying to find ways to refuse the pie, only to fail every time at this extremely simple course of action. Later you discover that what you actually had to do was pick up a piece of luggage, which would prompt your character to say that their hands were full so they couldn't accept the pie. While this example is slightly exaggerated for effect and is completely made up, problems of this sort in
I Expect You to Die
were exceedingly frustrating. Also, there are many situations in which items you could really use are readily apparent in the description but unimplemented or multiples of an item exist strewn throughout the game but you're only allowed to use a specific one. There are also times when you're told to do things only to find them impossible and then later discover that you weren't supposed to do them (or weren't supposed to yet). Accomplishing a simple and apparent task takes an inordinate amount of verb or noun hunting. Lastly, the way the various movement directions are connected together felt very confusing to me, especially given that you're described as being in an essentially open space in which all of the sub-areas are open to each other.
Ordinarily, the accumulation of all these things would be close to infuriating, but the lightness of tone and enjoyable elements carry it through. Additionally, there is a genuinely fun and fresh take on the scenario in the latter half of the game that surprised and amused me enough to forgive many of its eccentricities.
One definite warning I would have is that if you're the sort of person who likes to fall back on the walkthrough when you get stuck, the walkthrough to
I Expect You To Die
as it currently stands is broken. It's possible to use it to determine if you had the right idea or not, but some of the specific directions and wordings provided don't work, although alternate directions and synonyms do. (This was particularly frustrating when I got stuck on a puzzle because, while I had the right idea, I wasn't using exactly the right noun, and the walkthrough also used the incorrect noun.)
Ultimately, although the story is fun and whimsical, this game is still a series of sudden-death puzzles with specific trick solutions. Most of them are reasonably obvious, but the game doesn't have a lot of depth. If you don't like this sort of game, the hiccups and general lack of a polished feel are likely to wear away the thematic goodwill such that it's unlikely to spark up the gameplay for you. However, if you do, it's a fun diversion with an entertaining theme.
Back to Table of Contents
| | |
| --- | --- |
| Title: | Into the Open Sky |
| Author: | Matt Lindquist |
| Author Email: | |
| Release Date: | February 2, 2010 |
| System: | Z-Code (Inform 7) |
| Version: | Release 251 |
| Reviewer: | David Monath |
| Reviewer Email: | dmonath SP@G gmail.com |
In many ways,
Into the Open Sky
's legendary backstory and vivid descriptions sell the story, and will especially entertain those whose preference in IF falls more toward the literary rather than puzzle end of the continuum. At times, the grandiosity of the writing, in both detail and drama are reminiscent of anime or Final Fantasy; for some reason, I pictured the PC's prominently featured sword ("Night") as a katana, although despite having the crest of the Empire and bejeweled hilt described in detail, the particular style of sword is not specified. There is a splendor in discovering and restoring the last of the mighty thirteen ships which once defended the empire, as there is in the few moments where Night is wielded for varying purposes.
There is more than one crisply framed scene which creates the impression of cinematic camera angles, and one can glean that the author has a distinctly visual orientation, although every sense but taste came into play at one point or another.
At times, the amount of text (several screens' worth on five or so occasions) borders on distracting and stretches one's attention span, but despite the volume and sporadically stilted phrasing (dialogue being weaker than narrative), the author is a compelling storyteller. Many elements will be curiously familiar (there's a farm, an aunt, an old Empire, new Empire, a Rebellion, a sword, a woman to rescue), but it's always the details which distinguish shared myth from triteness, and the author has crafted his own universe.
There are only a few minor technical problems with the game, although it's worth noting that there is an apparently dauntingly complex control system which in fact of use is more intuitive than one might fear. Those who don't appreciate
Into the Open Sky
will most likely be dissatisfied on grounds of narrative style, but it's refreshing to encounter such a degree of effort and substance woven into a functional, logical puzzle framework, especially in a casual game competition.
Back to Table of Contents
| | |
| --- | --- |
| Title: | Ka |
| Author: | Dan Efran |
| Author Email: | games SP@G efran.org |
| Release Date: | February 2, 2010 |
| System: | Z-Code (Inform 7) |
| Version: | Release 2 |
| Reviewer: | Irfon-Kim Ahmad |
| Reviewer Email: | irfon SP@G ambienautica.com |
Ka
has the distinct honour of being the only game of the Jay is Games CGDC #7 escape competition for which I actually kept a significant number of notes. (I did use my notes file to figure out a computer password in Mark's
Virtuality
). This isn't to say that the game is overbearing or tedious. It rather indicates the relative feeling of depth that Ka brings to the playing field.
The narrative of
Ka
is revealed a bit at a time, but is very rich and easy to get lost in. For me, of the games I played from this collection, Ka had the largest sheer amount of environmental wonder -- the stuff that makes otherwise sterile games like Myst so fascinating for so many people. (The runner up would probably be Andrew Plotkin's
Dual Transform
.) The sterility of beautiful puzzle-bound environments even integrates well with the game's theme.
What this all covers up is that
Ka
is basically a collection of puzzles, presented one after another for the player to solve. Most of the puzzles are literal, more akin to trying to find the secret to opening a crafted puzzle box than trying to discover the motivation for a murder. In structure, it's very close to the aforementioned
Myst
or other collection-of-puzzles graphical games like
The Seventh Guest
.
Normally, I don't warm up to this sort of game very well, if at all. There's little to no character interaction, not a lot of background information even after you've made it through the game's story arc, and plenty of opportunities to get stymied. I'd read a couple of other reviews of
Ka
before I played it, and it seems that some players got stuck on its sterility and puzzle focus. That didn't happen for me. Maybe it's because I like Egyptian mythology or maybe it's because Dan Efran's writing style painted such vivid pictures in my mind, but I was really drawn into this game.
That's not to say that I didn't get stuck on some of the puzzles. The initial several puzzles really set up the sense that you're always going to be handed what you need when you need it, and that aside from choosing which thing to use for a given situation, the game would be more an experience than a challenge. That challenge level proved ultimately to be very uneven, however, sometimes harming the pacing of the game by bogging you down unexpectedly on what sometimes seemed like minor plot points or elements of a wider solution. The game mostly does a good job of narrowing the player's focus to only relevant items and situations, but when combined with the extreme linearity of the game, this has the downside that if you can't see the way to achieve a solution, there's very little else to do in the meantime and sometimes little to point you in the right direction. There's also at least one puzzle in the game where, after consulting a walkthrough, I still didn't understand the solution (even though it did work) and had to ask around on the web. Having had it explained to me, I can say that it's fairly obscure. Others did manage to solve it, however, so this is more a feature of the game's difficulty rather than a bug. I did feel that there were some finicky timing elements toward the end of the game that frustrated more than added in a way that took me out of the immersion, but otherwise from a functionality perspective, the game played well, perhaps owing to the fact that it's been revised at least once since its initial release.
Overall, I think that while
Ka
had some rough points in its puzzle design, it mostly played smoothly, and the world and journey really worked for me. If you're even slightly interested in Egyptian mythology or fascinating-puzzle worlds, then I'd recommend checking it out.
Back to Table of Contents
| | |
| --- | --- |
| Title: | Lurid Dreams |
| Author: | Torgrim Mellum Stene |
| Author Email: | |
| Release Date: | February 2, 2010 |
| System: | Z-Code (Inform 7) |
| Version: | Release 1 |
| Reviewer: | Irfon-Kim Ahmad |
| Reviewer Email: | irfon SP@G ambienautica.com |
Lurid Dreams
is a truly wild ride. I'd like to end the review there, but of course, that's not very helpful. Still, it captures the spirit of the game.
Because the game is set in your dream world (and occasionally your memories), it tends toward the fantastic. A lot of games exploring the landscape of dreams have come out, and they all feel more or less similar to me.
Lurid Dreams
doesn't, if only because it explores not only some psychedelic descriptions and settings (actually, it does this less than many other games, in that its settings are usually very immediate and the game is focused very locally), but some psychedelic gameplay.
Whether that gameplay succeeds or not could be questioned. Certainly some of the most unique elements were also the most frustrating. Also, the font colour and background changes used to cue different play modes weren't always welcome. I found reading text against a red background particularly difficult. Still, the uniqueness of the gameplay is ultimately a kind of reward unto itself.
Less exciting for me were the storyline and the characterization. There's a good deal of background given throughout the game, but I still never felt like I got a great portrait of either of the major characters. At the very least, I would have liked to see some of the good times. As it is, it's hard to have any empathy for the mother character at all, and that ill will that accumulates around her over time dulls the impact of some of what were clearly supposed to be the most important moments of the game. Also, while the title clearly promises luridness, I was unprepared for the tone of the ending portions of the game and found myself cringing at it rather than with it.
The big issue for me, though, aside from all of the above, was the liberal use of timed puzzles, especially timed puzzles where the course of action is very poorly hinted. I really dislike timed puzzles. Not everybody feels that way. However,
Lurid Dreams
has the feel of a game that will barrel ahead with or without you (and the "without you" option isn't just quietly minding your own business), and while that's an effective way to create tension, I found it negatively stressful in this game more often than not. I had a tendency to reach for the walkthrough rather than go through an unpleasantly tense scene over and over, trying to determine the way to get past it.
Lurid Dreams
is worth playing as a grab bag of unusual ideas coupled with some unique interface elements, and as a game, it really does effectively set the tone and tension level that it's going for. Whether that's a plus for you or not probably varies widely from player to player.
Either way, it's a wild ride.
Back to Table of Contents
| | |
| --- | --- |
| Title: | The Manor at Whitby |
| Author: | L. E. Hall |
| Author Email: | |
| Release Date: | February 2, 2010 |
| System: | Z-Code (Inform 7) |
| Version: | Release 1 |
| Reviewer: | Irfon-Kim Ahmad |
| Reviewer Email: | irfon SP@G ambienautica.com |
The Manor at Whitby
has some nice writing, and I was really prepared to like it a lot. The initial information was a bit sparse but reasonably well rendered, and the title alone suggests a certain level of mystery and intrigue.
Unfortunately, a lot of the spit and polish that could have led to a really great game experience seems missing, and overall I have some questions as to whether this type of game works in this format or not.
The Manor at Whitby
is a Lovecraftian game, and it wears that rather openly on its sleeve. Depending on the path you take, you can be reading startling tales of eldritch horrors within a couple of moves of the beginning of the game, and no matter which way you go, you can't avoid the theme for long. A lot's been written about whether Lovecraftian storytelling translates well to games or not -- the crux of the issue for many being that Lovecraftian horror depends on the unknown, but since the player must experience the horrors firsthand, and is unlikely to be driven mad by a video game, eventually all of the rhetoric is going to get reduced to a guy in a rubber suit, so to speak. (I feel like I should be crediting that idea to Emily Short, but I'm not positive of that attribution and in any case it's highly paraphrased, so if you find it useful, you can feel free to investigate whether the credit is due her, but if you find it flawed, that's likely my translation.) While I don't disagree with the central idea, I have enjoyed a number of Lovecraftian games quite a lot, perhaps most notably
Anchorhead
and
The King of Shreds and Patches
.
Even between
Anchorhead
and
Patches
, though, I feel that there is a great gap of artistry.
Patches
is the more playable game, due to its arsenal of tools to help and hint the player and keep the plot moving.
Anchorhead
, on the other hand, nails the atmosphere much more accurately. [Disclaimer: I've never yet finished
Anchorhead
, so I don't whether or not the final reveal satisfies or not.] Part of this is, I think, the very effect of
Patches
' playability.
Anchorhead
is larger, longer and requires you to spend a lot more time exploring and poking at the environment before things start happening. Even when the plot gets underway, it gets underway very slowly. That allows it to develop the sense of undefined creepiness in a way that a shorter, faster game can't.
Whitby
is radically shorter than either of the games mentioned above and, as such, you're catapulted from arriving at an odd manor to unspeakable evil in record time, and for the Lovecraftian style, I'm just not sure that that works. This isn't necessarily the fault of Whitby's attempt -- the writing is reasonably solid. I'm just not entirely sure that it can work -- that it's possible to develop the necessary suspense and unsettling creepiness in the time available.
There are a few more technical issues with the game. The collection of objects mentioned in descriptions that aren't implemented (even so far as examination) are staggering, some of which are specifically described as inviting closer examination. A great number of the objects that can be taken and moved around have descriptions written that specifically refer to them being in their point of origin or even to characters who were present when you first found them but may no longer be. A number of the objects that can't be moved are inexplicable. (Why would trying to pick up a book elicit the response "That's hardly portable."?) Also, the game railroads you and enforces linearity in a couple of places in bothersomely overt ways. Some objects require you to interact with them in completely non-intuitive ways. Your character packs rather improbably for a journey (there's some advantage to having a suitcase contain only the single plot-necessary item, but it does simultaneously raise some eyebrows).
On the plus side, the game has one core non-ending puzzle that, while I found it obscure, would be fun and satisfying for more puzzle-focused players, and there are at least two endings that are equally interesting.
I think a game of this sort really would do better as a longer work with a much more thoroughly implemented world and considerable dose of subtlety. It's fairly playable, though, contains at least one nifty puzzle, and is a bit longer than some of the novelty works in the CGDC7 competition space, while still wrapping up easily in an evening or less.
Back to Table of Contents
| | |
| --- | --- |
| Title: | Monday, 16:30 |
| Author: | Alexander "Mordred" Andonov |
| Author Email: | sir.mordred SP@G gmail.com |
| Release Date: | February 2, 2010 |
| System: | Z-Code (Inform 7) |
| Version: | Release 1 |
| Reviewer: | Irfon-Kim Ahmad |
| Reviewer Email: | irfon SP@G ambienautica.com |
This game is difficult not to like, right from the get-go. Most people like office humour, especially office humour that emphasizes the little annoyances that we all think of as touchstones. This one has some of the cliches of the genre -- for example, the mystic relationship with the photocopier -- and some updated ones, like necessary supplies being lost to a paperless office initiative. The initial conversational gambit raised some implementation quality questions by never offering me any responses I actually wanted, but turned my irritation at that around on me by how it handled the choices I made. Overall, the game was off to a good start.
One thing I will definitely note for North American (and probably other non-European -- I think Japan differs in this sense also) players is that the game is easier to follow in a few key ways if you go and look up European paper sizes on wikipedia before you play. I went in to the game knowing that A4 is about (but not exactly) the same size as "letter" here, but it's helpful to know what the other sizes are and how they relate to each other.
Aside from this,
Monday, 16:30
is a mixture of frustration and fun. There are a few things which I'd consider "bugs" in the game (which others might not -- particularly, some of the "social interactions" got stalled at points where I'd already gleaned everything I needed to from them and taken actions to demonstrate that, but the game was waiting on other indications of that) and there are a lot of unimplemented synonyms that will either have you playing guess-the-verb (or occasionally the noun) or will convince you to discard paths of action that would have worked had you used another word. Also, the disambiguation falls anywhere from merely tedious (moving between the various cubicles) to downright irritating (especially toward the end when you're managing a lot of paper). And some of the puzzles feel more than a little like pointless contrivances rather than ones that really mesh with the story.
One major gripe that I had early on is also worth mentioning, as it largely threatened to spoil the whole experience for me. The author includes a lot of tongue-in-cheek meta-humour about IF that's clearly meant to be an in-joke that other players will enjoy, and I'm sure that some will have a lot of fun with things like the IF cliches list. I had a lot less patience for that element, possibly in part because I'm a relatively new player, and sometimes it felt a little insulting. The worst, however, is the game's hint system. The author has a clear opinion about hints and about players who use hints and goes out of his way to express that opinion at the expense of the player. This is a case where the author is laughing at you, not with you, which burned through a lot of my positive feelings about the game rather quickly and would lead me to not recommend this game to new players, if only because the overall sense of elitism which might leave them feeling excluded or mocked. I think that that joke especially is one where the game could be distinctly improved simply by removing it entirely.
On the other hand, its theme, a good chunk of the writing, and the goals are all so fun that most players with any patience (or those who don't mind seeking hints or looking at the walkthrough) can expect to enjoy the game. I think that with some more playtesting and filing off the bugs and sharp corners, this could be a fantastic little one-evening, no-mapping game.
My only real wish other than the debugging mentioned earlier is that the game had gone just a little further. The ending comes surprisingly quickly and robs you of at least one scene you're definitely looking forward to reading about.
I still feel that the concept of the game and many of the game elements were charming enough that the game is worth playing, and I'd love to see it honed and possibly even expanded in future releases.
Back to Table of Contents
| | |
| --- | --- |
| Title: | An Open Field |
| Author: | ColdFrog |
| Author Email: | |
| Release Date: | February 2, 2010 |
| System: | Z-Code (Inform 7) |
| Version: | Release 1 |
| Reviewer: | Irfon-Kim Ahmad |
| Reviewer Email: | irfon SP@G ambienautica.com |
Beginning with the titular open field,
An Open Field
initially feels like a trivial explore-the-environment game or perhaps something very small that relies on a gimmick. What it winds up being instead is an interesting series of nested scenarios with some nice connecting tie-ins. The game does a decent job of progressively moving from a very light-hearted situation to a much darker one, introducing elements in a way that drew me in fairly effectively. Despite a rather abrupt ending and one of the more well-worn settings within the "escape game" genre, I found the storyline fairly engaging. I would warn that players who do not like dark themes may feel a little bait-and-switched by its innocent beginnings. That said, the text is not egregiously lurid.
The biggest complaint I have is about uneven implementation. On the one hand, there are a number of non-critical objects that you can pick up, interact with, or examine. On the other hand, a good number of things found in location descriptions aren't implemented, which really breaks the immersion, and more than once I found myself hunting verbs or synonyms. Also, some objects respond with unrealistic default messages, which also serve to break the immersion. There's a particularly frustrating section where I burned through several dozen variant wordings for a key plot-driving action before giving up and consulting the walkthrough, only to discover that I had the right idea but the particular wording it wanted had been actively discouraged in my mind by other responses.
In the end, the game winds up being more focused on story than puzzles, which is interesting for a game of its genre. (I know I'm being circumspect -- that's an attempt to avoid spoilers.) Normally, I'd be very appreciative of that effort, since I tend to enjoy story-driven games. However, this game starts you off with a completely blank slate and no back story. While the structure and writing successfully drew me into the game as a game, it never overcame that initial lack to really pull me into the story as a story. There's ultimately too little information revealed about your character, even by the end of the game, to feel connected to them and their plight, and the world in which the game is based is sketched only very roughly. Possibly most problematic is that your character is kept a completely blank slate despite a series of revelations that should have had an effect. And yet, the fairly serious tone and theme make
An Open Field
hard to recommend as light entertainment.
In the end, I'd be interested in seeing a version of this game with much more story revealed, especially with regards to setting and backstory. I think it would also be interesting if players had more of a chance to explore each of the nested settings, rather than merely looking for a way to move from one to the next. I also think that the story could benefit from creating enough space between the player and the character to explore the character's change over the course of the game instead of leaving that to player experience. That said, it's reasonably solid for what it is, and I'm curious to see what else the author does, either with this beginning or elsewhere.
Back to Table of Contents
| | |
| --- | --- |
| Title: | Paint |
| Author: | Paul Van Koughnett |
| Author Email: | |
| Release Date: | February 2, 2010 |
| System: | Z-Code (Inform 7) |
| Version: | Release 1 |
| Reviewer: | Irfon-Kim Ahmad |
| Reviewer Email: | irfon SP@G ambienautica.com |
I'd heard rumours that
Paint
was an odd game, and those rumours are absolutely true.
In almost any game, a very delicate balance needs to be struck between having enough detail in the world and implementing enough of that detail that the world feels vibrant, deep, and believable while still maintaining focus on the elements necessary for completion of the game.
Paint
throws that out the window entirely. It's a game wherein an optimal path solution can be found such that you could type each necessary command with a different finger and still have one left over, but with a surprising amount of detail woven in, both in terms of narrative and in terms of stuff you can interact with and things (and even places) you can do (and visit) which have absolutely nothing to do with anything.
Ordinarily, I think that I'd find that frustrating and distracting, but
Paint
is so small and ultimately surprising that the fact that these diversions exist and are notably quirky in their implementation winds up being kind of amusing.
And yet, in the end, despite my claims of voluminous background cruft, it leaves you with more questions than answers, a good number of which I think I'd like to see this author explore, perhaps even through a series of similarly odd micro-games set in the same world.
It's hard to recommend
Paint
based on any astounding claims of its virtues. It's a single-puzzle game with an oddball solution and manages to pack in a little vocabulary hunting despite its duration. On the other hand, it's hard to dislike. It's unassumingly strange, it's so short that it would be nearly impossible for it to wear out its welcome, and it makes you curious beyond its scope, which I think is a valuable quality in a game.
Back to Table of Contents
| | |
| --- | --- |
| Title: | Party Foul |
| Author: | Brooks Reeves |
| Author Email: | BrooksSeveer SP@G gmail.com |
| Release Date: | February 2, 2010 |
| System: | Z-Code (Inform 7) |
| Version: | Release 4 |
| Reviewer: | Irfon-Kim Ahmad |
| Reviewer Email: | irfon SP@G ambienautica.com |
This game hit all the right buttons for me right off the bat. It provides just enough framing to set the stage, give you a sense of your character, and set up your motivation. Add to that that the concept is genuinely funny and the writing is crisp and enjoyable, plus the existence of a tutorial mode for those new to interactive fiction, and you've got the makings of a real winner. How the game plays out fell somewhat short of that for me, but not by a whole lot.
This was an entry into the Jay is Games escape contest, and it had a lot of fun with the concept of 'escape'. While most of the other games that I played in the contest were object-based puzzlers (think:
Myst
) in which you were literally escaping from the confines of an often hostile space, this one takes a much more social tack. You're invited to a soiree by the neighbourhood socialite and, unable to say no, you find yourself trapped in a sort of timeless social abyss, or, well, a party. Your goal: Get out. The obstacles (retrieve your coat, retrieve your casserole dish, retrieve your husband) are well laid out, the puzzle solutions entertaining and the flavour text (primarily dialogue from NPCs) is both copious and excellent.
The biggest failing of the game is the way in which it presents adversity. The annoying hostess is, well, annoying. Very annoying. Her husband is much more amusing and seems to be gritting his teeth through the party as much as you are, but his interference in your solutions feels contrived, especially when as a player you don't feel anywhere near as motivated to allow him to blockade you anywhere near as much as the game character does. Lastly, one of the most frustrating limitations in the game, especially as it combines with the former two, is your astoundingly tiny inventory limit. That's the one that ultimately drew me out of my immersion in the game, because having to artificially juggle several objects in order to hold the ones you wish to interact with at once not only feels more like manipulating a game interface than exploring a situation, fundamentally, but feels even more so when you're solving puzzles that in reality wouldn't require you to hold most of the objects in the first place.
That said, many of the frustrations above fit in with the theme of the game and make the conclusion that much more satisfying, and the game would be too trivial to encourage you to really explore and enjoy the environment and NPCs if there wasn't a way to frustrate what seem like otherwise obvious solutions, so take some of the above with a grain of salt. I'd love to see a larger version of this game with more NPCs, a few more rooms and more social challenges, but as it stands, this game is definitely a fun and well-crafted evening. The addition of suggestions for amusing things to try upon completing the game even adds in a small modicum of replayability that I enjoyed (although many of the amusing things weren't as amusing as advertised, perhaps).
Ultimately, I think that hardcore puzzlers will find
Party Foul
's puzzles both too intellectually easy and too circumstantially frustrating to get enough enjoyment from, especially given how brief the game is, but for a fun setting and great charactes, I give it my thumbs-up.
Back to Table of Contents
| | |
| --- | --- |
| Title: | Roofed |
| Author: | Jim Munroe |
| Author Email: | jim SP@G nomediakings.org |
| Release Date: | February 2, 2010 |
| System: | Z-Code (Inform 7) |
| Version: | Release 1 |
| Reviewer: | Reiko Yukawa |
| Reviewer Email: | telyni SP@G gmail.com |
Amid the "my first game" submissions and general clutter of a competition, established names really stand out. Polished and witty, this juxtaposition of the slightly futuristic with the escape from a mostly ordinary rooftop is memorable and certainly worth playing. It's not quite the stereotypical apocalyptic future, but simply a somewhat run-down and desperate future in Toronto where people scavenge advanced organic building materials to stay alive.
A bit annoying and immature most of the time, the PC's brother Anton is nevertheless lovable for his dog-like loyalty. He performs various ineffective antics while the PC is busily working on a plan for getting free. He is a source of general hints, though, some of them rather out of character for being too helpful compared to the rest of the silly things he babbles at intervals. He will happily hand over anything he's holding, and he is strong, particularly when he's angry. He can even offer his help unprompted when it's needed sometimes. He has to be manipulated at other times though, and has the emotional depth of a plate, getting excited for a short time and then going back to banging his head ineffectually at a problem. The room to express this much about him illustrates the complexity of an NPC that is fairly rare and quite pleasing to see in a game of this magnitude. As a person, he would be a fairly shallow not so smart jock type, but as an NPC, he is refreshing and amusing to watch and work alongside.
There are a few required actions to retrieve the materials needed, but almost everything else can be done in any order and in multiple ways, mostly depending on how much use is made of the bioengineered vegetables, which turn out to be quite versatile and even dangerous. And depending on which method is used, the escape sequence and ending are varied a bit.
I did have one issue with the losing ending I found. Similarly to the hints from Anton about in-game abilities, another character at the end offers an explicit hint about using the undo command at that point. Not using it will instantly result in death, but in the situation I had, I wasn't able to correct the problem by using undo. I had to revert to a saved game and correct the problem before I began the escape sequence. I don't know if this was a deliberate parody on the tendency of people to try to undo out of bad situations, but it was played a bit too straight for me to read it that way. I did try undoing several times to see if I could make a difference, and I couldn't find a solution from that point, so it just seemed misleading. Aside from that, there were only a few minor issues, such as the description of the container ending with a word missing: "...you can wear it on your ." ...What? Back, perhaps. Like Anton, that was more amusing than annoying.
The puzzles leading to the escape are well-clued and interesting to discover. It's easy to overlook the actual escape route given that the rest of what's in the location is more important up until you actually need to get out of there. But the objects are all well handled, so that experimentation will tell you most of what you need to know about using anything. There's a fair amount of backstory available, which makes sense for a story based on an actual filmed movie. The detail in the characters, down to the history of what they are wearing, is excellent. Not all of the story will necessarily be revealed in just one playthrough, though. This is a game that will reward digging and examining everything in sight over multiple playthroughs to try different strategies. Highly recommended.
Back to Table of Contents
| | |
| --- | --- |
| Title: | Survive |
| Author: | Baltasar |
| Author Email: | baltasarq SP@G yahoo.es |
| Release Date: | February 2, 2010 |
| System: | Z-Code (Inform 6) |
| Version: | Release 2 |
| Reviewer: | Sam Kabo Ashwell |
| Reviewer Email: | magadog SP@G gmail.com |
From the outset, it's clear that the author of
Survive
is not a fluent anglophone. Sometimes, a degree of non-fluency can be an asset -- generally when a writer has a solid grasp on vocabulary and grammar but is slightly shaky on idiom. The English here, however, is constantly and conspicuously weak; this renders the prose ungainly and overwrought, and what puzzles there are are mostly guess-the-verb. There are relatively few puzzles, though - the bulk of the plot is revealed with cutscenes which would be too long with the best prose in the world. Also, 1940s England was not known for its wolf-infested mountains. No testers are credited, and implementation is bare-bones; you're tied to a chair, and thus can do very little apart from try to guess the author's intent.
And another look at

Survive

, from Juhana Leinonen (juhana.if SP@G nitku.net):


As a big fan of old WWII adventure novels and movies I had good time playing
Survive
, despite its low ranking in the Jayisgames one-room competition.
Survive
fits this genre like a sniper in the belfry.
For a change the game's protagonist is a German pilot who is captured by the Allies. Curiously this doesn't have as large an effect that it could have: compared to typical WWII adventure fiction the usual stereotypes are all there and the only thing that's happened is that the nationalities have just switched place -- now the hero is German and the sadistic interrogator is British.
The author has obviously aimed at the horror or psychological thriller genre. The prose makes a lot of effort to crank up the sense of threat and danger, and in fact tries way too hard. The main narrational device is to constantly mention how terrified the protagonist is instead of actually describing the dangerous situations. The resulting effect falls quite far from the goal since this makes him seem more like a coward than a hero in peril (a prime example of how you should show, not tell.)
A big factor affecting how the player experiences the tone is the language. Many words sort of but not quite mean what the author wants to say and sentences sound a bit strange (from experience I can tell how important it is to have your work proofread by a native speaker if you're writing in a second language.) Due to unfortunate word choices the prose often comes out rather comedic which again goes against the intended tone. It's hard to build a threatening and distressing atmosphere when the player is still giggling at "the doctor incorporates and starts to talk to you."
It may not have been the author's intent, but with its unintentionally hilarious word choices and absurd situations the game delivers the same kind of campy experience as some of the most absurd war novels. If you're ready to play this as you would read Alistair MacLean, that is, not actually thinking whether it makes any sense, you can get good enjoyment out of it.
Back to Table of Contents
| | |
| --- | --- |
| Title: | Terminal |
| Author: | C. Everett |
| Author Email: | |
| Release Date: | February 2, 2010 |
| System: | Z-Code (Inform 7) |
| Version: | Release 1 |
| Reviewer: | Reiko Yukawa |
| Reviewer Email: | telyni SP@G gmail.com |
A short, amusing science fiction story about an AI escaping confinement. It was unfortunately more of a first effort than anything else. There was no self-description, and while an AI might very well have little concept of itself, for much of the game, it is inhabiting a drone which could have been described instead. Most items have no description other than "nothing special" also. The setting and story are thinly described and mostly forgettable.
At one point I had to turn to the hints to find a particular object I knew had to be present somewhere, but which happened to be hidden in an invisible drawer. I suppose by now we should all assume that a desk will have at least one drawer, but it really should be mentioned in the desk description.
There are two main paths to the end, each of which uses a different set of items to accomplish the goal. This seems like it would increase replayability, but mostly what it does is create items that are completely useless for following the other path. A better (but more difficult) design would be to create paths that use all the same items, but in different ways, with some items playing a larger or smaller role in the solution depending on the path.
There were some amusing bits, however, most notably the gratuitous references to
2001: A Space Odyssey
. The ending was amusing primarily due to the author's note inserted into the win text. Overall a decent first effort, certainly playable, but it can't be particularly recommended.
Back to Table of Contents
| | |
| --- | --- |
| Title: | The Usher |
| Author: | Brandon Rishel and Daphne Gabrieli |
| Author Email: | |
| Release Date: | February 2, 2010 |
| System: | Z-Code (Inform 7) |
| Version: | Release 1 |
| Reviewer: | Sam Kabo Ashwell |
| Reviewer Email: | magadog SP@G gmail.com |
Conceptually, this is an interesting take on the escape-the-room theme. The PC is an attendant entombed with a dead queen, intended to perform the final rites and then kill herself; but she has other ideas. The hook is effectively backed up with a well-established, intriguing setting; unfortunately, it has major design issues both as a game and as a story.
The juxtaposition of an upbeat, jauntily informal style and a fantasy setting is so commonplace in IF that it's hard to be sure whether it represents a conscious style decision, and its success here is fairly mixed; on the one hand, it reflects the PC's cynicism about the whole stupid affair well, but on the other it's not really bitter or scary enough for the subject. Lalu has been trained all her life to be a willing participant in her own futile ritual murder. She has been aware for a long time that this is not okay, and for all that time she'll have been aware of the fundamental hostility of her entire culture towards her. She's been living in anticipation of this day all her life. She'll have deeply encultured feelings about the ritual. This is live burial; this is your society telling you that you're only worth anything dead. It's pretty dark stuff; the chipper, comic-farce tone feels out of place. Nor does the chipper farce cohere very well with the drugged-up mystical surrealism, once that emerges. I can sort of see what was being aimed at here, but it doesn't really come together in the actual game.
The tone may not be coherent or quite right for the plot, but its individual elements are well-established and it works well with the shiny, light, full-of-pretty-things aesthetic. The basic texture of the prose is pretty good. What makes The Usher unenjoyable is the puzzle structure. It's made up of pretty traditional IF puzzles; well enough, but given this and the room-escape theme you'd expect the puzzles to follow on from each other in a fairly logical manner. The Usher doesn't quite manage this, and ends up linking puzzles with a good deal of deus ex machina. This makes the structure feel sort of arbitrary; by the conclusion, matters are taken out of your hands so profoundly that there's little satisfaction in it.
There's a logic puzzle shoehorned in, which would be bad enough in its own right, but also has unfortunate thematic implications. It's delivered by the people who are supposedly helping you escape, which rather detracts from the feeling of being helped -- it's sort of troubling to be rescued from a pointless step-by-step ritual by going through a contrived step-by-step puzzle. The similarity between the plan for your ritual suicide and the plan for your escape is so overt that one can't help but suspect that there's a satire on linearity (and on escape games in general) going on here.
The straightforward, lots-of-handholding nature of the puzzles is complicated by a sequence with a death-countdown. I assumed that this signalled the gripping climax -- which would have been a bad authorial decision, but not a surprising one - and that I couldn't hope to turn off the death-count, only escape before it ran out. As it turned out, this wasn't possible and I died a lot before going to hints. This wasn't helped by some pretty awkward bugs. including stuff that failed to make physical sense; there's a bit where you have to drop all your inventory to get somewhere (not great already) but then you need a certain inventory item, and... it's just there. After you dropped it in a different location earlier. And then there's the bit with the light-source that keeps switching off on a timer, and you can't carry it around with you, so you have to keep interrupting what you were doing to go back. There's more. I don't mean to give the impression that the game was an utter shambles; but enough was broken to prevent it from being very much fun.
For first-time authors, though, this is really quite promising. The problems are mostly high-level ones, the stuff of big-picture design, probably the result of inexperience and being rushed; the fundamental skills of implementation and prose seem pretty solid. There's the core of a good game here that could have been brought out with a couple more rounds of testing - an alpha for general design issues and a late beta to smooth out bugs.
Back to Table of Contents
| | |
| --- | --- |
| Title: | Virtuality |
| Author: | Mark |
| Author Email: | |
| Release Date: | February 2, 2010 |
| System: | Z-Code (Inform 7) |
| Version: | Release 1 |
| Reviewer: | Irfon-Kim Ahmad |
| Reviewer Email: | irfon SP@G ambienautica.com |
The introduction to
Virtuality
is quite thematically distinct from the rest of the game in ways that strongly echoed the introduction of
Critical Breach
(which I found frustrating), for me. Playing it fairly recently after playing that game, it was hard not to chafe at that a bit, but it seems to move forward between sections on rails at a much earlier point and the sections are tied together with an explanation such that it flows quite a bit better once you get there.
That said, the rest of the game certainly lives up to its initial claim of being "a little different". There's a lot less framing than there could have been, and most of your actions feel arbitrary. I would say most of your early actions, but the game continues to feel arbitrary almost throughout its gameplay. Many of the puzzles are comprehensible, have a reasonably low but still satisfying level of difficulty and require very little aimless trial and error than my comments might lead you to believe, so it's well-constructed in that sense. However, the challenges, especially those in the third space you enter in the game, while they're mostly internally cohesive, don't really connect to each other well, if at all.
Add to that the existence of an obfuscated checklist of things to do that don't form into any sort of overarching supertask, and an interface that's designed to directly mimic playing a traditional computer RPG style video game and "arbitrary" winds up being the overall feel of the gameplay as a whole. Most frustrating, some tasks must be performed repeatedly in the face of a negative result before they will turn into a positive, some elements of the gameplay fly directly in the face of reasonable expectations of how objects work, physically, and at least one puzzle where the input from one command directly dissuades the player from performing another that's necessary to complete the game, and I really was left feeling that the concept behind the game could have been given a lot more polish.
That said, the multiple endings and the overarching concept were interesting enough, and I really do think that spending some time overhauling the work could address the issues mentioned above. Some of the special elements developed specifically for the game, such as the statistics and achievements, are cool-but-distracting and I think the game would be better for having them removed (and streamlining or removing challenges that hinge on them directly), but for the most part what I think is most needed is the interstitial bits to glue the story together and the cueing to take a player from task to task, which could probably be introduced without harm to the story.
In the end, would I recommend
Virtuality
? There were parts that I genuinely enjoyed (some of which others might not -- I very much enjoyed the interface to the computer, but I've heard others state that people without prior experience with command-line computer interfaces might find it frustrating). At the same time, it was frustrating in equal measure. I don't know if I would have finished it without a walkthrough to refer to, and while all of the arbitrary elements were eventually explained and tied together, I don't know that it felt like it really gelled to me into a well-formed narrative. I'd like to recommend it, but I think I'd like to see it undergo a substantial overhaul before I do. In the meantime, it's certainly worth looking at if you're interested in its collection of unusual interfaces and interface elements.
Back to Table of Contents
| | |
| --- | --- |
| Title: | Zegrothenus |
| Author: | Poster |
| Author Email: | poster SP@G aurora.cotse.net |
| Release Date: | February 2, 2010 |
| System: | Z-Code (Inform 6) |
| Version: | Release 1 |
| Reviewer: | Jimmy Maher |
| Reviewer Email: | maher SP@G filfre.net |
The Jay is Games competition featured plenty of games worthy of serious criticism, but just a bare handful of efforts that were out and out unplayable. This, unfortunately, is one of those. Some of the final rankings surprised me a bit, but this game well and truly earned its 30th place finish.
So, you're an aging wizard of some sort, and your fellow wizards have locked you into your room, and you have to make a potion to show you're still every inch the wizard you were in your youth or you'll get kicked out of the wizard club, and blah, blah, blah. I'm not really being fair there, as the worldbuilding and the scenario setup are actually fairly well done, but who cares in a game with the debugging verbs still turned on, a game that allows you to pick up and carry around scenery even without using said debugging verbs, a game that features seven identical flasks and has made no effort to solve the disambiguation nightmares they present, a game where authorial to-do lists occasionally pop up in lieu of descriptions.
And yet there are the seeds of something worthwhile here, signs that the author knew what he was doing even. If you type something the game cannot understand at all, for instance, you receive the response, "You've discovered a verb that the game does not recognize. If you're frustrated, look for common verbs in the general IF help menu by tying 'help'." You don't see things like that in the typical clueless newbie, "my first game" entry. This game plays like exactly what its author confirmed it to be in the comments section of its Jay is Games page: a serious effort by a competent author who simply ran out of time to complete it, and therefore submitted it about halfway through the initial implementation phase -- not the testing or polishing phase, the
initial authoring
phase. Of course, this gives me even less sympathy for him and his game than I would have for a clueless newbie who simply doesn't understand that IF games have to be tested, and tested well, and polished, and generally obsessed over, to have a chance in a competition. Did the author, who boldly tells us in his ABOUT text that he created this game only to "win the Jay is Games competition" and for no other purpose, really think
this
would get the job done?
Too bad; it could have been a a fun effort if the author had had the patience to finish it and release it later, whether on its own or into another competition. As it is, though, it's just a waste of everyone's time -- including, most sadly, the author's.
Back to Table of Contents
| | |
| --- | --- |
| Title: | A Zeroeth Dimension |
| Author: | Dewey Morris |
| Author Email: | |
| Release Date: | February 2, 2010 |
| System: | Z-Code (Inform 7) |
| Version: | Release 1 |
| Reviewer: | Irfon-Kim Ahmad |
| Reviewer Email: | irfon SP@G ambienautica.com |
A Zeroeth Dimension
feels like that point in the development of a creative work where you're just throwing ideas at the wall to see what sticks. The ideas in it aren't necessarily terrible, but what they lack on cohesion and consistency, they make up for in hasty and often broken implementation.
The game has two major conceits, both of which could be interesting. The first is that the game operates in some sort of alternate dimension inhabited by a single fictional character. The second is that you have the means to communicate with that chracter in order to help them escape from this strange dimension in which they have apparently been trapped for fourteen years. Unfortunately, while either conceit could be granted to the game, the game itself doesn't follow through with them at all.
A Zeroeth Dimension
has few, if any, unique characteristics to set it apart from our ordinary dimensions space, and the text switches between first and second person periodically without what seems to be rhyme or reason.
My impression is that English is not the primary language of the author in question, and the Jay Is Games escape contest, which this was a part of, did draw in a lot of first-time authors. I feel bad dinging the game for these elements, especially insofar as it may discourage the author. However, the language often does make it not only difficult to interpret what the game is telling you, but makes "hunt the verb" especially challenging, as some of the verbs required are not real English words (or at least, can't be used as verbs).
Throw in to that a host of fragilities and implementation problems, a walkthrough that doesn't work, and direct instructions from the game that can put the game into an unwinnable state if followed and what you're left with is a work that might be fun to play several versions down the road, if thoroughly tested and edited, but currently is sadly pretty much unplayable.
Back to Table of Contents
A Survey of the TWIFComp Entries
by Valentine Kopteltsev (uux SP@G mail.ru)
---
[Jack Welch recently hosted a
competition
for
truly
snack-sized IF: each game's total text was limited to no more than 140 characters, the maximum length of a Twitter tweat. Aaron Reed's
> by @
won first place amongst a surprisingly crowded field of well over 40 entries.
I'd had plans to cover the TWIFComp in the
next
issue of SPAG. In the spirit of the competition itself, I thought I would see if I could attract some budding IF Robert Christgaus, limiting each review to a maximum of perhaps 70 carefully chosen words. Then, out of the blue, my buddy and faithful SPAG supporter Valentine Kopteltsev essentially did what I had been imagining for
next
issue in time for
this
one, sending me the following collection of capsule reviews and proving once and for all that great minds really do think alike. Thanks, Valentine!]
A short comment on how I rated the entries. The TWIFComp rules suggested a ten points system - basically the same that is used in the IFComp. However, this similarity is rather superficial, because it doesn't make sense to judge 140 bytes games by "full size" standards.
To set a departing point, I decided to rate an average one-move game a five (which means "unremarkable" on my scale). Indeed, the clear majority of the entries were of this type. If guessing this single action was hinted well (which doesn't mean "blatantly"), I gave the game an extra point. Games trying to do something more original received higher ratings: 7 (excellent), 8 or 9 (outstanding). On the other hand, entries with the single winning action being either to obvious or too obscure, entries that weren't games at all, etc. received lower grades.
My mini-reviews are basically arranged in an increasing order of the games' ratings, but there are a few exceptions - namely, reviews related to each other; in such cases, the corresponding entries are located adjacently, no matter what their ratings are.
Enjoy!
NAME: Mentula Macanus: Apocolocyntosis
AUTHOR: Adam Thornton
EMAIL: ?
DATE: 2010
PARSER: Perl
AVAILABILITY: Freeware
URL: http://dhakajack.templaro.com/node/56
The game, the comments on it and the editor's note made me really curious, but in order to play it, I'd have to install a virtual machine on my PC, then install Linux and finally learn how to work in it. With my busy schedule, I'm afraid I'd hardly be able to play any other entries within the judging period. Besides, if something went wrong with the PC, I'd probably be divorced by now (since my wife does her graduatew work on it). Considering all this, I had to give this one a pass. Sorry about that.
TWIFcomp score: Not rated
NAME: Void
AUTHOR: Johnicholas Hines
EMAIL: ?
DATE: 2010
PARSER: sed
AVAILABILITY: Freeware
URL: http://dhakajack.templaro.com/node/85
Unfortunately, couldn't play it (I have no access to a *NIX system, and have not enough spare time to find out how to run it on my Windows). Judging by the source code, seems like an interesting abuse of the good old stream editor, but there is hardly anything more to it.
TWIFcomp score: not rated
NAME: Decisions, Decisions
AUTHOR: Johnicholas Hines
EMAIL: ?
DATE: 2010
PARSER: awk
AVAILABILITY: Freeware
URL: http://dhakajack.templaro.com/node/86
An interesting abuse of awk;). Many things I said about the previous entry can be applied to this one, too, except that it seems to be more interesting to play: it's a "one move, one binary choice that matters" type of game.
TWIFcomp score: not rated
NAME: METEOR!
AUTHOR: Gunther Schmidl
EMAIL: ?
DATE: 2010
PARSER: GW-BASIC
AVAILABILITY: Freeware
URL: http://dhakajack.templaro.com/node/39
Here, you have to choose the only action leading you to the optimal ending (almost) entirely at random. Besides, I had some problems running the entry under the suggested version of GW-BASIC - it kept telling me about a syntax error. I guess it's just a problem of cooperation between hopelessly outdated software and Windows Vista, but it still didn't work to the favour of METEOR!.
TWIFcomp score: 1
NAME: Buttons
AUTHOR: Lucas Hartman
EMAIL: ?
DATE: 2010
PARSER: Inform
AVAILABILITY: Freeware
URL: http://dhakajack.templaro.com/node/61
This entry features two buttons. Each of them is awarded with just one point, because the game is uninteresting and trivial.
TWIFcomp score: 2
NAME: Short-Lived
AUTHOR: Duncan Bowsman
EMAIL: ?
DATE: 2010
PARSER: ADRIFT
AVAILABILITY: Freeware
URL: http://dhakajack.templaro.com/node/40
This one displays no descriptions, just an empty command prompt, and makes the protagonist die after one turn no matter what she does. I have no warm feelings about this entry.
TWIFcomp score: 2
NAME: Tumbleweed Hero
AUTHOR: Rob Dubbin
EMAIL: ?
DATE: 2010
PARSER: Inform
AVAILABILITY: Freeware
URL: http://dhakajack.templaro.com/node/87
This entry is unfair, since it's impossible to win here. "The name says it all" for a description isn't enough of a hint, so that I consider this entry a prank of a bad sort.
TWIFcomp score: 2
NAME: Dementia. An Epilogue.
AUTHOR: Marius Mueller
EMAIL: ?
DATE: 2010
PARSER: Inform
AVAILABILITY: Freeware
URL: http://dhakajack.templaro.com/node/37
Uhm, what a coincidence. The next entry has a "The title says it all" description. And yes, it can't be won, too - the only reward is the sole non-standard reply to a command you have to find out at random.
TWIFcomp score: 2
NAME: CHZBGR
AUTHOR: Jack Welch
EMAIL: ?
DATE: 2010
PARSER: Perl
AVAILABILITY: Freeware
URL: http://dhakajack.templaro.com/node/30
To eat or not to eat (a chzbgr) - that's the question. Bonus: several minutes of getting it run.
TWIFcomp score: 3
NAME: Prepare sheet of squared paper and red pencil.
AUTHOR: Vyacheslav (Âÿ÷åñëàâ) Dobranov (Äîáðàíîâ)
EMAIL: ?
DATE: 2010
PARSER: CYOA (development system is URQ)
AVAILABILITY: Freeware
URL: http://dhakajack.templaro.com/node/67
Instructions to draw a five-point star on a piece of paper. Not really a game.
TWIFcomp score: 3
NAME: Ring
AUTHOR: Dan Fabulich
EMAIL: ?
DATE: 2010
PARSER: ChoiceScript
AVAILABILITY: Freeware
URL: http://dhakajack.templaro.com/node/83
An implementation of the classic Bilbo Baggins' encounter with Gollum. One move, multiple choice. No, I'm not nostalgic enough to rate it a ten.
TWIFcomp score: 3
NAME: Twitterific
AUTHOR: Alexander (Àëåêñàíäð) Yakovlev (ßêîâëåâ)
EMAIL: ?
DATE: 2010
PARSER: CYOA written in HTML
AVAILABILITY: Freeware
URL: http://dhakajack.templaro.com/node/46
Probably the most mysterious game in the competition. I could make no head or tail of it, and finally was forced to think of a parable by Idries Shah - "the true meaning of our dialogue was to give me the opportunity to select those of you who were skilled enough to understand this dialogue has no sense at all". THe title verse is written in a fictional Mykhalych language; I tried to translate it both in Russian and in English, but still can't see what's about. The game left me with the feeling I spent more time on it than it deserved.
TWIFcomp score: 3
NAME: Äåïðåññèÿ
AUTHOR: Ajenta Arrow
EMAIL: ?
DATE: 2010
PARSER: CYOA (development system is QSP)
AVAILABILITY: Freeware
URL: http://dhakajack.templaro.com/node/63
The protagonist is depressed. He has a choice of three options what to do against it. Not very meaningful, or even clever.
TWIFcomp score: 3
NAME: Ó ïîïà áûëà ñîáàêà...
AUTHOR: Vyacheslav (Âÿ÷åñëàâ) Dobranov (Äîáðàíîâ)
EMAIL: ?
DATE: 2010
PARSER: CYOA (development system is URQ)
AVAILABILITY: Freeware
URL: http://dhakajack.templaro.com/node/62
This is a CYOA version of the traditional Russian recursive song that goes like this:
The priest had a dog and he loved it
It ate a piece of meat - he killed it
Buried it in a hole and wrote on the tomb:
"The priest had a dog and he loved it..."

Well, sort of that, except that it rhymes in Russian;). Not bad as a joke, but no game at all.
TWIFcomp score: 3
NAME: Navigator
AUTHOR: Stuart Allen
EMAIL: ?
DATE: 2010
PARSER: JACL
AVAILABILITY: Freeware
URL: http://dhakajack.templaro.com/node/76
The only virtue of this game is, you set your goal on your own;). In every other respect, it's pretty boring.
TWIFcomp score: 4
NAME: Hunter
AUTHOR: Ajenta Arrow
EMAIL: ?
DATE: 2010
PARSER: CYOA (development system is QSP)
AVAILABILITY: Freeware
URL: http://dhakajack.templaro.com/node/64
Having three weapons - a gun, a lasso, and a dagger - you have to use them in the right order to catch a tiger. Guessing the sequence is pretty trivial. Besides, I don't understand how a gun and a dagger can be used to catch a tiger and not to kill it - except, of course, you give the animal stun anaesthesia with the gun buttstock, and carry out an ego-altering operation on its brain with the dagger. Using a lasso in dense jungle is quite a feat, too.
On the other hand, I'm probably nitpicking because I'm on the tiger's side. (Hey, Bungalow Bill!)
TWIFcomp score: 4
NAME: Make all sad
AUTHOR: Alexandre Muniz
EMAIL: ?
DATE: 2010
PARSER: Perl
AVAILABILITY: Freeware
URL: http://dhakajack.templaro.com/node/93
The walkthrough says, the real puzzle is to figure out the pattern behind how your commands affect things. To my shame, I didn't figure it out even after examining the source code. Stupid me.
TWIFcomp score: 4
NAME: Monty Hall!
AUTHOR: Admiral Jota
EMAIL: ?
DATE: 2010
PARSER: QBasic
AVAILABILITY: Freeware
URL: http://dhakajack.templaro.com/node/78
A TWIF incarnation of the Let's Make a Deal TV show. I have the wrong cultural background to appreciate it at its true value.
TWIFcomp score: 4
NAME: Raison d'etre, raison de ne pas etre
AUTHOR: Mikhail Fiadotau
EMAIL: xlomid SP@Ggmail.com
DATE: 2010
PARSER: CYOA (development system is URQ)
AVAILABILITY: Freeware
URL: http://dhakajack.templaro.com/node/66
One-move joke. You can't influence the outcome.
TWIFcomp score: 4
NAME: To be or not to be?
AUTHOR: Valeriy (Âàëåðèé) Argunov (Àðãóíîâ)
EMAIL: ?
DATE: 2010
PARSER: CYOA (development system is QSP)
AVAILABILITY: Freeware
URL: http://dhakajack.templaro.com/node/55
Clever Shakespeare citing, but hardly can be called a game.
TWIFcomp score: 4
NAME: Turns of Karma
AUTHOR: Sergej Skiba
EMAIL: ?
DATE: 2010
PARSER: CYOA (development system is URQ)
AVAILABILITY: Freeware
URL: http://dhakajack.templaro.com/node/68
A work entered with good intentions, but it didn't grab me. And probably the worst English in the Comp so far.
TWIFcomp score: 4
NAME: TWIF
AUTHOR: Jerone West
EMAIL: ?
DATE: 2010
PARSER: Inform
AVAILABILITY: Freeware
URL: http://dhakajack.templaro.com/node/94
Winning is trivial, yet the game makes no sense at all - even by TWIFcomp standards.
TWIFcomp score: 4
NAME: Why?
AUTHOR: Aaron Reed
EMAIL: ?
DATE: 2010
PARSER: Inform
AVAILABILITY: Freeware
URL: http://dhakajack.templaro.com/node/44
Features three different jokes about crossing roads, all of which went over my head.
TWIFcomp score: 4
NAME: Zed
AUTHOR: Michael Baltes
EMAIL: ?
DATE: 2010
PARSER: Inform
AVAILABILITY: Freeware
URL: http://dhakajack.templaro.com/node/57
Simply not fun. That's probably because I didn't see Pulp Fiction.
TWIFcomp score: 4
NAME: Adventwiture
AUTHOR: Admiral Jota
EMAIL: ?
DATE: 2010
PARSER: Inform
AVAILABILITY: Freeware
URL: http://dhakajack.templaro.com/node/80
Looks like the author found the original adventure packed in a publicly available library. Clever move.
TWIFcomp score: 5
NAME: COD
AUTHOR: Michael Martin
EMAIL: ?
DATE: 2010
PARSER: Inform
AVAILABILITY: Freeware
URL: http://dhakajack.templaro.com/node/36
Guess the direction in which to go in order to win. Rather blatant hint included.
TWIFcomp score: 5
NAME: Do.
AUTHOR: Vsevolod Zoubarev
EMAIL: ?
DATE: 2010
PARSER: Inform
AVAILABILITY: Freeware
URL: http://dhakajack.templaro.com/node/89
Another "guess the command" game with the available scope wide enough to consider the guessing random.
TWIFcomp score: 5
NAME: LOTR
AUTHOR: Andrew Plotkin
EMAIL: ?
DATE: 2010
PARSER: Inform
AVAILABILITY: Freeware
URL: http://dhakajack.templaro.com/node/47
The game demonstrates probably the most obvious approach to converting The Lord Of The Rings into a TWIFcomp entry. An approach 99 people of 100 would choose. Since I belong to those 99%, the game had no hidden surprises for me.
TWIFcomp score: 5
NAME: Maigo
AUTHOR: Mikhail Fiadotau
EMAIL: xlomid SP@Ggmail.com
DATE: 2010
PARSER: CYOA (development system is URQ)
AVAILABILITY: Freeware
URL: http://dhakajack.templaro.com/node/74
You look for a woman in a number of locations. Finding her depends on the random generator entirely.
TWIFcomp score: 5
NAME: Metalanguage of Feeling
AUTHOR: Mikhail Fiadotau
EMAIL: xlomid SP@Ggmail.com
DATE: 2010
PARSER: CYOA (development system is URQ)
AVAILABILITY: Freeware
URL: http://dhakajack.templaro.com/node/65
Here, you can write anything using a limited set of words. This could be fun to play in a group.
The game blurb misinforms you as it says your vocabulary is limited to ten words. In reality, it's limited to nine words and a punctuation mark.
TWIFcomp score: 5
NAME: Ocn bttm
AUTHOR: Timothy Peers
EMAIL: ?
DATE: 2010
PARSER: Inform
AVAILABILITY: Freeware
URL: http://dhakajack.templaro.com/node/54
Another random action guessing, although this randomness is moderated somewhat by providing an object for the player to concentrate her efforts on.
TWIFcomp score: 5
NAME: Paradox
AUTHOR: Jesse McGrew
EMAIL: ?
DATE: 2010
PARSER: z-machine
AVAILABILITY: Freeware
URL: http://dhakajack.templaro.com/node/45
Reincarnation of the liar paradox; not really a game, but at least it does something original.
TWIFcomp score: 5
NAME: Ramirez
AUTHOR: Michael Baltes
EMAIL: ?
DATE: 2010
PARSER: Inform
AVAILABILITY: Freeware
URL: http://dhakajack.templaro.com/node/58
Typical "guess the action". Now, to be fair, since the game is inspired by the Highlander movie, the winning action is pretty obvious. Which, in its turn, makes this entry trivial.
TWIFcomp score: 5
NAME: Daigoro
AUTHOR: Michael Baltes
EMAIL: ?
DATE: 2010
PARSER: Inform
AVAILABILITY: Freeware
URL: http://dhakajack.templaro.com/node/59
Another "guess the action" by the same author. And yes - he's lucky TWIFcomp has no "don't use copyrighted works without permission" clause;).
TWIFcomp score: 4
NAME: Roulette
AUTHOR: Vsevolod Zoubarev
EMAIL: ?
DATE: 2010
PARSER: Python
AVAILABILITY: Freeware
URL: http://dhakajack.templaro.com/node/88
A Russian roulette simulation. I'd have to tank up beforehand to fully enjoy it;).
TWIFcomp score: 5
NAME: A-small-casual-game-with-138-characters-where-you-may-die-and-have-a-lot-of-extensive-conversation-and-maybe-some-fun-and-all-for-freee
AUTHOR: Martin Barth
EMAIL: ?
DATE: 2010
PARSER: Perl
AVAILABILITY: Freeware
URL: http://dhakajack.templaro.com/node/60
A game of dice simulation - no more, no less.
TWIFcomp score: 5
NAME: Ïðîôåññèîíàëüíàÿ îøèáêà
AUTHOR: Sergej Skiba
EMAIL: ?
DATE: 2010
PARSER: CYOA (development system is URQ)
AVAILABILITY: Freeware
URL: http://dhakajack.templaro.com/node/77
A dialog of two philologist robots working in a kolkhoz. This work is based on an anecdote from the Soviet times. However, for some reason, didn't feel as nostalgic as I probaby should.
TWIFcomp score: 5
NAME: Burning
AUTHOR: Marius Mueller
EMAIL: ?
DATE: 2010
PARSER: Inform
AVAILABILITY: Freeware
URL: http://dhakajack.templaro.com/node/38
Well, this one is much better. The single action needed to win can be guessed pretty easily based on the game blurb and the description of the room; it receives extra points for the losing ending, which gives the game depth... sort of.
TWIFcomp score: 6
NAME: L'oiseau
AUTHOR: Eric Forgeot
EMAIL: ?
DATE: 2010
PARSER: JACL
AVAILABILITY: Freeware
URL: http://dhakajack.templaro.com/node/84
Making you read a random article from Wikipedia is a strong move;). I'd rate this entry even higher, but the game is misleading, since it suggests you can consult the book you hold in your... wings?.. about various topics, which isn't true.
TWIFcomp score: 6
NAME: Love
AUTHOR: Dan Fabulich
EMAIL: ?
DATE: 2010
PARSER: CYOA (development system is ChoiceScript)
AVAILABILITY: Freeware
URL: http://dhakajack.templaro.com/node/81
One-binary-choice joke. Nevertheless, it moved me for some reason, hence the rather high score.
TWIFcomp score: 6
NAME: LP0: A Prequel
AUTHOR: Admiral Jota
EMAIL: ?
DATE: 2010
PARSER: Inform
AVAILABILITY: Freeware
URL: http://dhakajack.templaro.com/node/92
A prequel to Lost Pig. That's the game's only asset.
TWIFcomp score: 6
NAME: Manifest Destiny
AUTHOR: Doug Orleans
EMAIL: ?
DATE: 2010
PARSER: PLT
AVAILABILITY: Freeware
URL: http://dhakajack.templaro.com/node/79
Another joky entry. You play an American settler in 1840. Winning is trivial, but the idea is worth a laugh.
TWIFcomp score: 6
NAME: Sin 6
AUTHOR: Matt Weiner
EMAIL: ?
DATE: 2010
PARSER: Inform
AVAILABILITY: Freeware
URL: http://dhakajack.templaro.com/node/34
This is basically a "guess the action(s)" game, but the very title of the work provides a useful clue and thus makes this otherwise entirely random puzzle sort of satisfying to solve. (However, yours truly made it exactly the opposite way - he started trying out everything until hitting upon the ending, and started making thoughts about the title being a clue only after that;).
TWIFcomp score: 6
NAME: Sin 4
AUTHOR: Matt Weiner
EMAIL: ?
DATE: 2010
PARSER: Inform
AVAILABILITY: Freeware
URL: http://dhakajack.templaro.com/node/32
Basically the same idea as in Sin 6. The joke started getting old for me.
TWIFcomp score: 5
NAME: Sin 5
AUTHOR: Matt Weiner
EMAIL: ?
DATE: 2010
PARSER: Inform
AVAILABILITY: Freeware
URL: http://dhakajack.templaro.com/node/33
...and the joke keeps getting older.
TWIFcomp score: 4
NAME: Untitled
AUTHOR: Aaron Reed
EMAIL: ?
DATE: 2010
PARSER: Inform
AVAILABILITY: Freeware
URL: http://dhakajack.templaro.com/node/42
There is that saying, "all his life went before his eyes within a second". If you replace "a second" with "ten turns", it'll be the exact description for this entry.
TWIFcomp score: 6
NAME: You See Chaos Here.
AUTHOR: Andrew Plotkin
EMAIL: ?
DATE: 2010
PARSER: Inform
AVAILABILITY: Freeware
URL: http://dhakajack.templaro.com/node/49
The idea behind this game is too great to spoil it here. However, one point is removed because the entry is somewhat buggy.
TWIFcomp score: 6
NAME: :-|
AUTHOR: Jack Welch
EMAIL: ?
DATE: 2010
PARSER: Inform
AVAILABILITY: Freeware
URL: http://dhakajack.templaro.com/node/50
Moving is rewarded with smileys. Not really a game, but gives the player the opportunity to explore a bit. Not bad.
TWIFcomp score: 7
NAME: 43
AUTHOR: Jack Welch
EMAIL: ?
DATE: 2010
PARSER: Inform
AVAILABILITY: Freeware
URL: http://dhakajack.templaro.com/node/29
This is the game that set the TWIFcomp standards of quality;). If nothing else, it entertains the player reasonably well the few turns it takes to see how it works.
TWIFcomp score: 7
NAME: Bird
AUTHOR: Eric Forgeot
EMAIL: ?
DATE: 2010
PARSER: Inform
AVAILABILITY: Freeware
URL: http://dhakajack.templaro.com/node/35
You're a baby bird sitting in its nest. Developing the winning strategy can be considered a very good puzzle (by TWIF standards).
TWIFcomp score: 7
NAME: FGBG
AUTHOR: Timothy Peers
EMAIL: ?
DATE: 2010
PARSER: Inform
AVAILABILITY: Freeware
URL: http://dhakajack.templaro.com/node/52
The game may be not the most sophisticated, but the unusual setting won me over, and the response to "wrong" actions made my heart melt.
TWIFcomp score: 7
NAME: I have hands and I'm ready to LOOT!
AUTHOR: Yuri Pavlenko
EMAIL: ?
DATE: 2010
PARSER: MS-DOS batch
AVAILABILITY: Freeware
URL: http://dhakajack.templaro.com/node/73
A very symbolic game, an allegory of the modern consumer society. Clever implementation (although there is a non-critical bug). Finding out how to win can be considered a puzzle, and not a bad one.
TWIFcomp score: 7
NAME: Money
AUTHOR: Dan Fabulich
EMAIL: ?
DATE: 2010
PARSER: CYOA (development system is ChoiceScript)
AVAILABILITY: Freeware
URL: http://dhakajack.templaro.com/node/82
A classic CYOA with four endings, each of which makes sense, but still is unpredictable.
TWIFcomp score: 7
NAME: SWEDUN
AUTHOR: Chris Conroy
EMAIL: ?
DATE: 2010
PARSER: Inform
AVAILABILITY: Freeware
URL: http://dhakajack.templaro.com/node/75
A clever maze implementation, and I'm no maze-hater;).
TWIFcomp score: 7
NAME: Travel
AUTHOR: Jake Eakle
EMAIL: ?
DATE: 2010
PARSER: Python
AVAILABILITY: Freeware
URL: http://dhakajack.templaro.com/node/41
This sophisticated travel simulator is certainly worth a laugh.
TWIFcomp score: 7
NAME: > by @
AUTHOR: Aaron Reed
EMAIL: ?
DATE: 2010
PARSER: Inform
AVAILABILITY: Freeware
URL: http://dhakajack.templaro.com/node/43
Well worth playing. The setting is very detailed (by TWIFComp standards). To a no small degree, this was achieved by extensively employing symbolic language (as you can guess by the game title). Additional fun comes from the blurb.
TWIFcomp score: 8
NAME: Duel in the Snow: abridged version
AUTHOR: Utkonos
EMAIL: ?
DATE: 2010
PARSER: Inform
AVAILABILITY: Freeware
URL: http://dhakajack.templaro.com/node/91
It's unbelievable so much irony - about the original Duel in the Snow, a whole stratum of classical Russian literature, and the stereotypes foreigners have about Russia - can be squeezed into 130 bytes of source code!

Could be a nine if the author included a bear into the room description, and a ten if he made it an actual game.
TWIFcomp score: 8
NAME: The Mourning Do in Pinellas Park
AUTHOR: Timothy Peers
EMAIL: ?
DATE: 2010
PARSER: Inform
AVAILABILITY: Freeware
URL: http://dhakajack.templaro.com/node/53
Without knowing who Terri Schiavo was the game makes no sense. The author says he "wanted the title to be as poetic and dryly factual as the situation", and he succeeded. It worked very well for me.
TWIFcomp score: 8
NAME: SHOOT YOUR EVIL TWIN BROTHER WHO HAS TRAPPED YOU IN A MIRROR ROOM AND WHO DRINKS PEOPLE'S BLOOD
AUTHOR: Evgeny (Åâãåíèé) Bychkov (Áû÷êîâ)
EMAIL: ?
DATE: 2010
PARSER: URQ (yes, this is a parser abuse of an otherwise CYOA-oriented system)
AVAILABILITY: Freeware
URL: http://dhakajack.templaro.com/node/90
It's curious how TWIFcomp entrants look for alternative ways to convey information to the player; for instance, the game blurbs are used to tell about the setting and the plot of the game extensively - much more extensively than in the traditional IF-Competition. Mr. Bychkov went a step further and used sound effects to his entry's benefit, which allowed him to give his story much more depth than most of the competitors have. Someone will call this trick a cheat - but this cheat (a) is not forbidden by the competition rules, (b) requires A LOT of work, and (c) is clever anyway. In the end, we see a game with a decent puzzle, solid atmosphere, and great visual effects here. Add the wonderfully ironic ending, and it's just one point away from the ideal. It could make it there if the author managed to achieve the same level of quality by text-only means.
TWIFcomp score: 9

Other Game Reviews
---
| | |
| --- | --- |
| Title: | Raising the Flag on Mount Yo Momma |
| Author: | Juhana Leinonen |
| Author Email: | juhana.if SP@G nitku.net |
| Release Date: | February 28, 2010 |
| System: | Z-Code (Inform 7) |
| Version: | Release 3 |
| Reviewer: | Scott Bruner |
| Reviewer Email: | scottmbruner SP@G gmail.com |
Raising the Flag on Mount Yo Mama is a fairly short, entertaining little puzzler, where the humor falls well short of the mark.
The plot is fairly simple. You play an aspiring insult artist, who is trying to take on the reigning champion of "Yo Mama" jokes, the nefarious Gus. For the uninitiated, "Yo Mamma jokes," are jokes aimed at the sometimes clever, sometimes crude, but often funny insults aimed at disparaging a person's dear mum (i.e., "Yo mama so fat when she wears a yellow raincoat, people yell 'Taxi!'"). The action takes place within the confines of a comedy club, and you'll be searching the sparse few rooms to find clues to help you assemble an arsenal of insults that Gus won't be able to counter.
It is entertaining – and worth a couple of lazy hours to take apart the puzzles, but there's not much of a story here. The characters aren't one dimensional so much as they're actually caricatures. None of the puzzles are particularly difficult, but it's easy to miss a few important items or clues. Most of them are inventory puzzles, with unusual ways of using items in your possession. One character, "Sleazy McDouchebag," who attempts to hit on your character, is used to good effect for a couple of inventive puzzles
The innovative in-game hint system can give you a nudge in the right direction, or even tell you exactly what you need to do, simply by "thinking" about the problem you're facing. I had to revert to it a few times, usually just to backtrack when I'd missed an object, or missed an object I could search.
Technically, the game is well done, and I believe I only ran into one small typo. There weren't any bugs that I encountered. The dialogue can be a bit silly, but it matches the aesthetic of the game. The writing is crisp and clear.
The only major flaw with the game is that it's not particularly funny, and most of the jokes fall flat. Comedy is perhaps one of the toughest genres to write for, but I was particularly disappointed that the insults themselves, which are few and far between, aren't very funny. Being built around the "Yo Mama" joke premise, it was surprising that the insults weren't really part of the actual game play.
In the end, it's a charming puzzler, worth the couple hours of playtime, as an example of a well-crafted game with inventive and fun puzzles, but if you're looking for a good laugh, you're unlikely to find it here.
Back to Table of Contents
Working with Beta Testers: Some Guidelines for Authors
by Al (radical1 SP@G evcohs.com)
---
1. If the tester requests a list of how points are scored and a full walkthruough then send it. Also, if you don't yet have a complete walkthru or a point scoring list it's time to write both.
2. You should make a concerted effort to test each new version yourself before sending it out, checking to see if the bugs reported in the last version were in fact corrected.
3. If the tester suggests things that should be changed give it some thought before saying no. If the change sounds reasonable, make it and then test it for yourself. Compare it to what you originally did. If you agree then let the tester know that you have made the change. If you disagree tell the tester why you disagree. The tester is trying to point out things that other players may question in the future.
4. Listen to your testers and answer as honestly as possible. Answer
all
questions that your testers ask, and don't give a "politician's answer," which is in reality no answer at all.
5. If you're going to have one-way map connections or asymmetric map connections then tell the testers that such exist in the game. Don't make them try to guess what you're thinking about. By all means if you change map connections between game versions let your testers know that when you send out the new version, and if you changed something, tell them the reason for the change.
Back to Table of Contents
Some Comments from the Author of
Love is as Powerful as Death, Jelousy is as Cruel as the Grave
by Michael Whittington (mchlwhttngtn793 SP@G gmail.com)
---
A brief note, as I'm very busy getting things organized, about my last year's work of IF,
Love is as Powerful as Death, Jealousy is as Cruel as the Grave
.
It was badly specified. However, it succeeded
remarkably
well in its aims, which were unconventional for IF, and which SPAG readers may want to know about.
First, the game proved to have a remarkable ability to drag players through the plot-line. This was done with timers. If the player took too long to get to the next plot node -- usually an event in a conversation -- the NPC would take control, initiating conversation if need be, and raising the next topic. Once that topic was raised, whether by the PC or the NPC, the conversational logic would progress to the next step.
What's fascinating to me about the
Club Floyd transcript
is the extent to which those experienced players, who can't play the game well because it is so badly specified, nevertheless are moved through the plot quickly AND WITHOUT NOTICING THAT THE GAME IS TAKING CONTROL.
There is no sense of being forced, of being coerced. Their choices are all their own. But nevertheless, the game moves along at a good pace, and the players do not get bored. (I think the story alienated Jacqueline; but she was not bored.)
This is a remarkable accomplishment for a game that was, frankly, so poorly coded. Creating timer gates is incredibly easy and effective.
On
the OneWetSneaker blog
there's an
argument for how to make story-based IF
. Rather than seeing IF as a series of rooms that contain encounters, the logic of which changes over time, I strongly advise authors to see IF as a series of MOMENTS, each moment being interactive, and each of which is made to segue, fairly rapidly, into a sequel moment.
Second, several people have commented that the game is "creepy." And that's pretty remarkable if you look at what actually happens, which is very little. This is a big topic, which I cannot go into at length here, but the part of the brain that processes cause and effect, and therefore plot, is the non-dominant hemisphere. The non-dominant hemisphere specializes in metaphor and dream logic.
Everything that happens in the game is either background information or metaphor to describe what is happening at the level of the true story. Thus the story is smuggled in, past the audience's awareness and ability to critically evaluate the story. One of the Club Floyd players called the game, "Like David Lynch's eighth-grade diorama."
The eighth grade part is a consequence of my mediocre facility with the medium. The David Lynch part was intentional. Lynch communicates greatly through metaphor and analogy.
I am contemplating a sequel to this game, wherein the main character gets tangled up in some trouble overseas and returns home, only to find it has followed him there. I want to use that overt story to tell a covert story that takes up some matters that are important to me personally: In essence, I want to talk about the fact that I am an atheist who believes in God. I simultaneously accept a rational scientific model of inquiry and consider the notion of a ghost in the sky offensive to reason; and yet I have cultivated the habit of prayer and consequently had things happen in my life that I can only describe as miraculous. When I am in trouble, I ask people to pray for me -- strangers, even -- and have been convinced by personal experience that there is life after death; but I cannot justify any of that. What
better narrative vehicle for such a discussion than a little person who gets caught up in a Jason Bourne-like story? One who can forsee that it will only end badly and yet who is compelled by his nature to keep struggling?
Jason Bourne interests me greatly. You have perhaps seen him slip a cell phone into the pocket of someone who is about to be assassinated, so he can call him and direct him out of danger. It's so cool. But I wonder: Where did he get the cell phone?
What carrier did he choose? I envision him in a department store, looking over cell phones.
CLERK: Can I help you, sir?
BOURNE: Well, I'm interested in getting a cell phone, and I'm trying to figure out what coverage plan I want.
CLERK: Uh-huh. Will you use it locally, or do you travel? And how many minutes a week are you likely to use?
BOURNE: I travel a lot. Mostly I'm interested in something I can easily slip into someone's pocket so I can give them a call and talk them through a life-threatening situation. But I'm not sure what country I'll need to use it in.
CLERK: ...
How does Bourne activate his cell phones? Surely with a false name. But then does he have trouble adding minutes to them? Keeping all his identities straight? For that matter, what does he do for money?
What are the mechanics of being an international man of mystery, and what does someone who's not one -- someone more like the clerk -- do when they get tangled up in such a role?
For that matter, most people like Jason Bourne -- people with military or law enforcement training who go rogue -- are bad guys. They become hit men. They understand the system from the inside. What does a clerk do who is up against an evil Jason Bourne?
A story like this cannot be told in the traditional IF fashion, with a number of rooms that the player can more-or-less randomly access. And as impressive as Emily Short's work on conversation can be, it is simply too imposing a problem to hand-craft every conversation so that its threads can be randomly accessed throughout the game. It's
largely not necessary anyway: the experience of player choice does not work that high up the abstraction tree.
We experience choice when we are in a situation, and must understand it and choose what to do. Choice is forward-looking. At the moment of choice,
how we got there
is far less relevant to the immediacy of our experience. While she makes great games, I believe Emily makes more work for herself than is truly necessary for a well-crafted IF.
I have great confidence in IF as a new art form and am proud to be a witness and perhaps contributor to its development. Equally, I have pride and confidence in the IF community. Even our heated disagreements -- even our trolls -- seem to have at heart the desire to make better art, and to learn how to make IF compelling.

Thank you for helping to keep text adventures alive!